Understanding Metal Composite Material, Installation, and Systems
Distinguishing quality and understanding warranties
Sponsored by Metal Construction Association's Metal Composite Material Alliance
Learning Objectives:
Explain the difference between metal composite material (MCM) fabricators and MCM manufacturers.
Identify key actions that should occur during MCM installation.
Discuss characteristics and applications of dry-seal, wet-seal, and rainscreen systems.
Describe the distinguishing characteristics of quality fabricators and manufacturers.
Review codes and testing methods that apply to MCM fabricators and/or MCM manufacturers.
Credits:
This course can be self-reported to the AIBC, as per their CE Guidelines.
This course is approved as a Structured Course
This course can be self-reported to the AANB, as per their CE Guidelines
Approved for structured learning
Approved for Core Learning
This course can be self-reported to the NLAA
Course may qualify for Learning Hours with NWTAA
Course eligible for OAA Learning Hours
This course is approved as a core course
This course can be self-reported for Learning Units to the Architectural Institute of British Columbia
This test is no longer available for credit
While many products are marketed as metal composite materials, a significant number are not actually metal composite materials at all. Metal composite material (MCM) is made from several different components. It is a factory-manufactured panel consisting of metal skins bonded to both faces of a solid plastic core.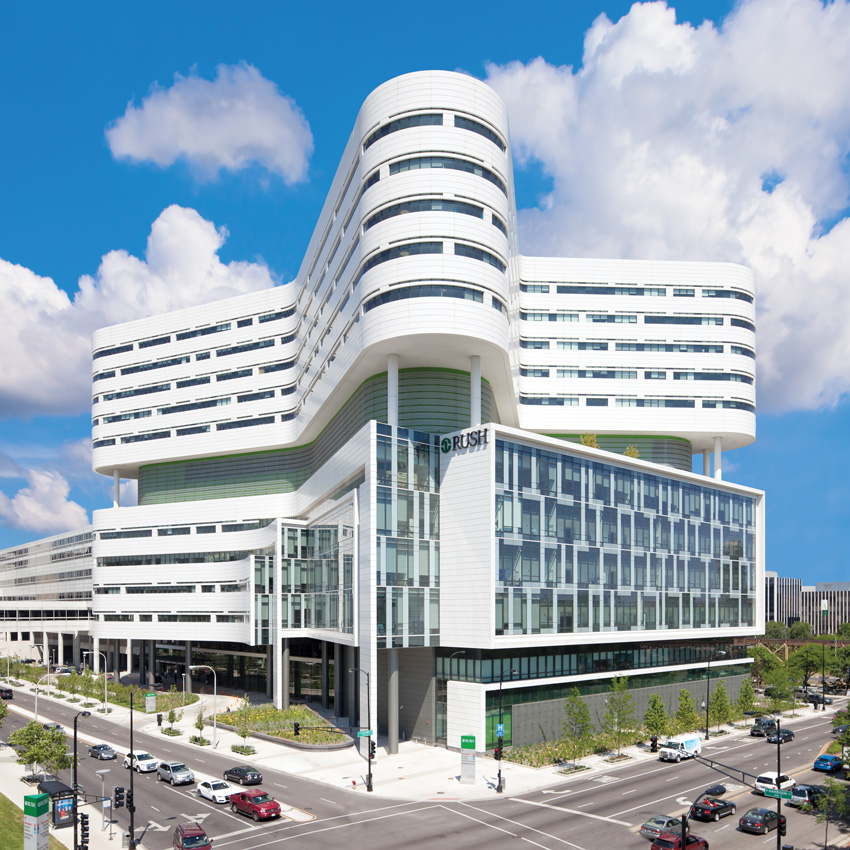 Photo: Robert R. Gigliotti; courtesy of Metal Construction Association
Rush University Medical Center's Tower Hospital in Chicago features a unique and functional exterior facade made of metal composite material, or MCM.
Metal Composite Material (MCM) History and Background
The term metal composite material is a more general and inclusive term than its predecessor, aluminum composite material (ACM).
The first ACM was developed in Europe in 1969. It was not until 1979 that the first ACM was produced in North America. In the early 1980s, there were a number of companies worldwide producing ACM and shipping to North America for architectural projects. By the 1990s, there were several ACM manufacturers producing products in North America. In addition, several other countries around the world were also manufacturing and providing ACM for North American import.
While the name ACM originally referred to products primarily made using aluminum coil, innovations and technological advances led to the use of alternate skin materials, such as copper, zinc, steel, stainless steel, and even titanium. With all these new skin material options, the common name of this material was changed to metal composite material (MCM).
Incorporating additional metals did not only provide more variety in function and cost, but it also provided more options when specifying aesthetically pleasing facades. MCM is often used in exterior cladding or rainscreens to help protect the building envelope from unwanted air and water intrusion. MCM products are available in many colors and finishes, allowing specifiers to provide unique facades while also providing health, safety, and occupant comfort. Today, the number of MCM manufacturers continues to grow worldwide, and the amount of variation in product offerings and quality continues to expand along with it.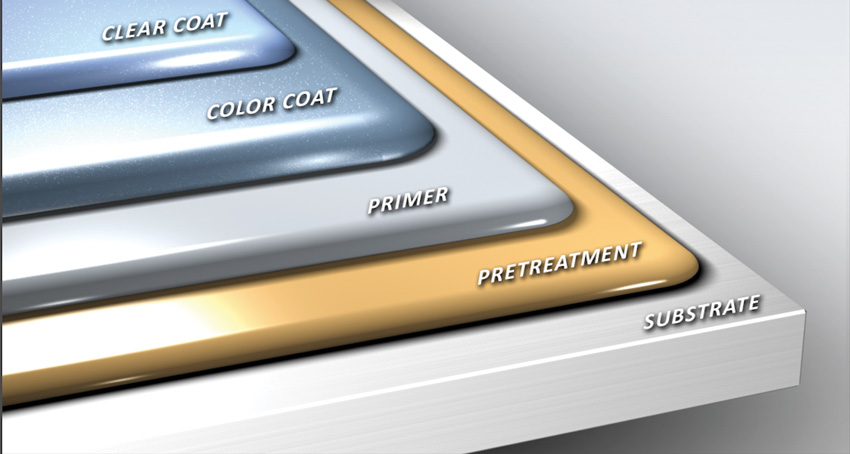 Image courtesy of Metal Construction Association
This illustration shows the layers of an MCM panel.
MCM Materials
MCMs are comprised of "skins" on both sides of the core. Skins often have finishes that enhance the appearance of the facade.
Skins
Skins can be a variety of metals, including stainless steel, zinc, copper, and even titanium just to name a few. Variations in metal, metal thickness, and finish are now much more common than they were just a few years ago.
When specifying materials, one should consider skin thickness first and foremost. A minimum thickness of 0.019 inch (0.5 millimeter) is required as a weather covering by the International Building Code (IBC). This thickness provides an acceptable protection layer for the material that resists normal exposure without significant visual damage.
Skins have three main purposes: to provide a substrate that can be painted or left in its natural state, providing a visually appealing product for a long period of time; to transfer the wind loading from the surface of the panel to the anchorage system; and to play a role in the overall fire performance of the panel.
Together, the panel limits unwanted air and moisture intrusion that impacts the facade performance, causes costly damage to building materials, and affects occupant safety and comfort.
Finishes
The metal skins provide a surface for the application of finishes. These skins will not expand or contract excessively due to temperature and will not negatively impact the finish.
There are many finish options and colors available for aluminum skins. Skins are typically painted with any one of a variety of finishes meeting the performance requirements of American Architectural Manufacturer's Association (AAMA) 2605. These finishes are available in everything from earth tones with low-gloss finishes to rich, vibrant colors with high-gloss finishes. Other options include finishes imitating wood, marble, granite, and other natural materials. Some finishes also have an additional clear coat added to protect the finishes and enhance the look to be metallic, prismatic, brushed, polished, or anodized.
Other sold metal plates, such as copper, zinc, stainless steel, and titanium, which would otherwise be very expensive for an architectural facade, could also be utilized at a fraction of the cost.
Structural Performance
MCM panels not only provide aesthetically pleasing facades but also protect buildings from the elements. Weather is uncontrollable. From high winds to ice and snow to excessive rainfall, the exterior cladding must protect the building from the overall impact of severe weather. Durability, long-lasting building materials and installation systems that perform over many years are critical for both new construction and retrofit.
Due to the extreme flexibility of MCM panels, with metal skins on both the interior and exterior sides, excessive wind loads generally do not create a permanent problem with the visual appearance of the panels. While the MCM does deflect in high winds, the panel returns back to the flat appearance that was originally fabricated and installed on the building. To meet certain code requirements, aluminum profiles may be adhered to the backside of the panel using structural adhesive. These profiles limit the deflection of the panel; however, MCM panels have been known to deflect 3 inches or more and return to flat with no permanent negative effect on the panel's visual appearance. The engineering completed by the panel fabricators determines if stiffener extrusions are required and how the final panels are designed.
Having been in use for more than 50 years, MCM panels have shown resilience to excessive wind load without compromising the high-quality paint finishes or the metal skins used in the manufactured products.
The images above illustrate the tight radius that can be achieved using MCM panels. While there is a maximum limit to how far the finish layer can be stretched without "whitening," if fabricated correctly, this point of flexure can perform through many years of wind loading.
To form this tight return, the interior skin and a significant thickness of the core material are removed, leaving the exterior skin to act as a hinge and allowing attachment of the panel to the anchor profiles.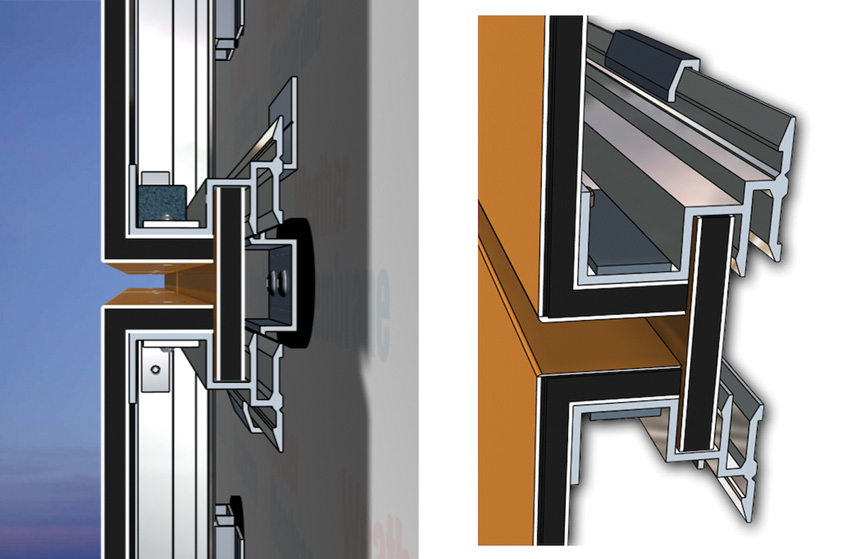 Images courtesy of Metal Construction Association
This illustration shows the back skin and a portion of the MCM core.
Originally published in Architectural Record
Originally published in December 2020
Notice