Forging the Future
Exploring the Dynamic Intersection of Metal and Design
Sponsored by Metal Construction Association
Learning Objectives:
Explain the significant advancements in metal construction technologies, including solar-integrated metal panels, reflective coatings, insulated metal panels, and above sheathing ventilation (ASV) systems, and their impact on sustainability in modern architecture.
Explore how metal construction techniques and materials can enhance energy efficiency in building design, and learn how to integrate these strategies into architectural projects effectively.
Examine a range of aesthetic possibilities offered by metal in architectural design, and discover innovative approaches to leveraging metal's versatility to create visually striking and contemporary structures.
Gain insights into the role of metal and metal panel systems in revolutionizing sustainable architecture, and learn how architects and designers can utilize metal construction to minimize environmental impact and promote long-term sustainability.
Identify best practices for incorporating metal construction techniques and materials into architectural projects, considering factors such as durability, maintenance reduction, comfort, safety, and cost-effectiveness, to ensure successful implementation of designs.
This course is part of the Metal Architecture Academy
This webinar is part of the Metal Architecture Academy
Join our expert panelists as they explore cutting-edge advancements in metal construction and its role in shaping the future of building design. Discover how advanced technologies, such as solar-integrated metal panels, reflective coatings, insulated metal panels, and above sheathing ventilation (ASV) systems, are revolutionizing sustainability, energy efficiency, and aesthetics in modern architecture. Gain valuable insights into the latest trends and best practices that leverage metal's durability, versatility and performance to create progressive and eco-friendly structures. Our distinguished panel will bring to life real-world applications through recent projects where innovative metal design and construction took center stage.
Verse Design LA Principal Courtenay Bauer will present a case study of the award-winning Thirty75 Tech building in Santa Clara, CA. The six-story, 238,000-square-foot building is leased to Amazon Web Services and is the largest Silicon Valley single-tenant transaction post-pandemic. The building's aluminum-louver façade is both performative and dynamic. Although each piece is painted the same champagne color, the louvers are angled to reflect daylight differently throughout the day, providing a color-shift effect. This design complexity also mitigates heat gain and glare. This project won the 2023 MCA Design Awards Best Overall Project and Best Building of the Year (Custom/Ornamental and Solar categories), a LOOP Design Award, and several local honors.
CO Architects Principal Alex Korter will discuss the firm's award-winning use of metal in high-performance facades. CO's portfolio of metal-placemaking facades includes Cal Poly Pomona's Student Services Building, which has a two-acre aluminum roof contoured to match the nearby mountain range, and the University of Arizona Health Sciences Education Building's copper façade made from locally manufactured materials. Additional standout projects include the 2022 Metal Construction News/MCA Project Excellence Awards Best Overall winner, City of Hope's Northeast Parking Structure. This striking structure uses a kinetic wall made from nearly 20,000 wagging aluminum tags and is inspired by the hospital's colorful wishing trees with multi-colored ribbons around their branches. At the end of these dynamic presentations, there will be a brief Q&A session to discuss key points from the webinar.
Bob Zabick, Technical Director will present information and updates on the metal construction industry's work in advancing the use of metal in the building envelope. He will specifically address the concepts of sustainability, durability, and resilience in the context of the presented projects. Key to these concepts is the ability of metal to perform its function to protect people and property from fire, seismic events, and extreme weather without concern for combustibility, organic degradation and creep, which can greatly limit other materials ability to do this for the entire building lifecycle.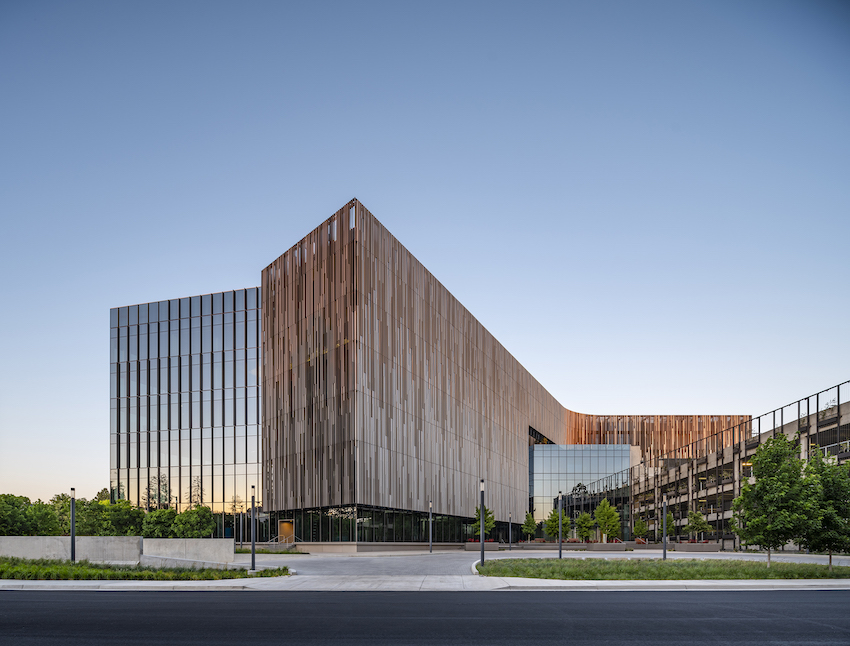 Photo by Tim Griffith
Thirty75 Tech by Verse Design LA,
| | |
| --- | --- |
| | Courtenay Bauer, is a Principal and co-founder of Los Angeles architecture firm Verse Design LA. She has worked in the architectural design and construction industry since 2000, both as a project manager and project architect. Courtenay applies focused experience in architectural planning, design, and contract administration to commercial, civic, and hospitality projects in the United States and China. Courtenay's work is committed to the ideas and importance of efficient and sustainable construction, while advocating for the implementation of innovation in our built environment. She holds a Bachelor of Science in Architecture from the Catholic University of America and a Master of Architecture from Pratt Institute in Brooklyn, New York. A registered architect since 2013, Courtenay's connectivity with the profession includes academia, having taught visual studies seminars and design studios at SCI-Arc, UCLA, and USC. |
| | Alex Korter, AIA, RIBA, LEED AP BD+C, is a principal at CO Architects. He leads the firm's Building Facades Group and hiring/onboarding efforts. Alex's experience throughout the U.S. and in Europe includes design, technical coordination, and management of academic, commercial, healthcare, and civic projects. He has worked on award-winning projects for clients such as the California Department of General Services, University of Arizona, Cal Poly Pomona, and Kaiser Permanente. Alex is committed to making environmental, economic, social, and functional sustainable design a fundamental part of every project. Born in Belgium, he holds a Bachelor in Architecture from the University of Manchester and a Diploma in Architecture from the Glasgow School of Art. |
| | Bob Zabcik, Technical Director, is Member and President of Z-tech Consulting and Technical Director of the Metal Construction Association. He is a Professional Engineer and a LEED Accredited Professional with 30 years of experience with the last 25 in the metal construction and metal building industry where he was most recently Director of Research and Development with a major manufacturer. He also worked for 2 years as a business unit leader with P&L responsibility for a solar technology company focused on roof-mounted solar and BIPV. Throughout his career, he has been actively involved in numerous trade associations and representing industry interests with ANSI accredited standards developers. He currently serves at the chair of the AISI Committee on Thermal Design standards and on the RICOWI board of directors. He is also a consultant to the ASHRAE 90.1 Envelope Subcommittee where he represents both MCA and MBMA. He has a degree in Architectural Engineering from the University of Texas at Austin. |
| | |
| --- | --- |
| | The Metal Construction Association brings together a diverse industry for the purpose of expanding the use of metal in construction through marketing, research, technology, and education. MCA member companies gain tremendous benefit from association activities that focus on research, codes and standards, market development, and technical programs. www.metalconstruction.org |
Originally published in November 2023
Notice