Building Green with Windows and Doors
With the growth of Green Building, windows and doors take on an increasingly significant role for occupants' well-being and energy efficiency.
This course is no longer active
Advertorial course provided by Marvin Windows and Doors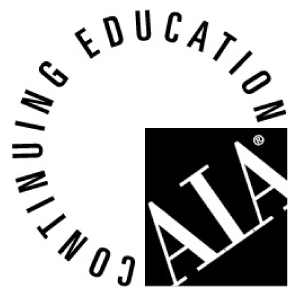 Continuing Education
Learning Objectives - After this course, you should be able to:
Be familiar with how windows and doors play a role in Green Building.
Understand how the features of windows and doors impact energy efficiency.
Have knowledge of standards and criteria that apply to specifying windows and doors for Green Buildings.
Credits:
Gone are the days when merely specifying insulating glass was enough to satisfy a demand for energy efficient windows and glass-paneled doors. Now, with Green Building going mainstream, knowledge of glazing, coatings and framing options is essential for new construction. Furthermore, with the growing number of projects achieving U.S. Green Building Council (USGBC) LEEDâ"¢ (Leadership in Energy and Environmental Design) certification many more architects are needing to pay special attention to windows and doors as they plunge into the sometimes complex practice of calculating LEED points. Already, 360 buildings have earned LEED certification, while 3,775 buildings are LEED registered.
One key characteristic of the current Green Building movement is quantification made possible by today's computers. Delivering proof of efficiencies is the most significant difference between today's Green Building and the solar movement of the 70s, notes USGBC board member Murray Levi, AIA LEED. Equally significant is the current holistic approach which emphasizes all aspects of a project's impact on the site/environment/energy consumption/materials and processes, says Paul S. Alter, AIA, principal, Lee H. Skolnick Architecture + Design Partnership. Green Building now includes far more than data and performance of the building and the individual items that comprise it. Occupants' comfort, well-being, air quality, daylight and views are other issues that impact Green Building and are critically important when designing for the unique needs of children.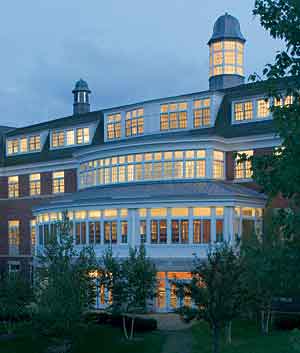 Salisbury School Centennial Library and Humanities Building designed by The Office of Michael Rosenfeld, Inc., Architects. Argon-filled, low-E coated insulating glass windows have extruded aluminum cladding.
Photo credit: Marvin Windows and Doors
A product can be energy efficient in performance, but environmentally harmful in manufacturing and disposal. Life Cycle Analysis (LCA) attempts to quantify the impact of a product or building over its complete lifecycle from acquisition of raw materials, product manufacturing process and performance through demolition and reuse, recycling or disposal. Currently there is a lack of data to feed into software tools to allow for an LCA on the overwhelming majority of building products, including windows and doors. Yet, given the industry's commitment to Green Building, LCA will most likely be implemented at some time in the future-as it already has been by some automobile companies in Europe. Meanwhile it offers a strong mindset model when researching and specifying building products, materials and methods-and responding to the increasing number of clients who demand the spirit of green if not the certification of a LEED project.
Originally published in Architectural Record.
Notice