Integrated blinds offer controlled daylighting, occupant comfort, indoor air quality, and low maintenance
Sponsored by Intigral, Inc.
Learning Objectives:
Explain key research and studies establishing the importance of occupant comfort, daylighting, and indoor air quality (IAQ) in today's buildings.
List key benefits of integrated blind systems, including occupant control, thermal comfort, low maintenance, IAQ, and controlled daylighting.
Highlight key features to look for when evaluating integrated blind system options.
Discuss case studies in key markets where integrated blinds are popular.
Credits:
This course can be self-reported to the AIBC, as per their CE Guidelines.
This course is approved as a Structured Course
This course can be self-reported to the AANB, as per their CE Guidelines
Approved for structured learning
Approved for Core Learning
This course can be self-reported to the NLAA
Course may qualify for Learning Hours with NWTAA
Course eligible for OAA Learning Hours
This course is approved as a core course
This course can be self-reported for Learning Units to the Architectural Institute of British Columbia
This test is no longer available for credit
As sustainability continues leading the charge in most building projects today, daylighting, occupant comfort, indoor air quality (IAQ), privacy, durability, and low maintenance play a prominent role.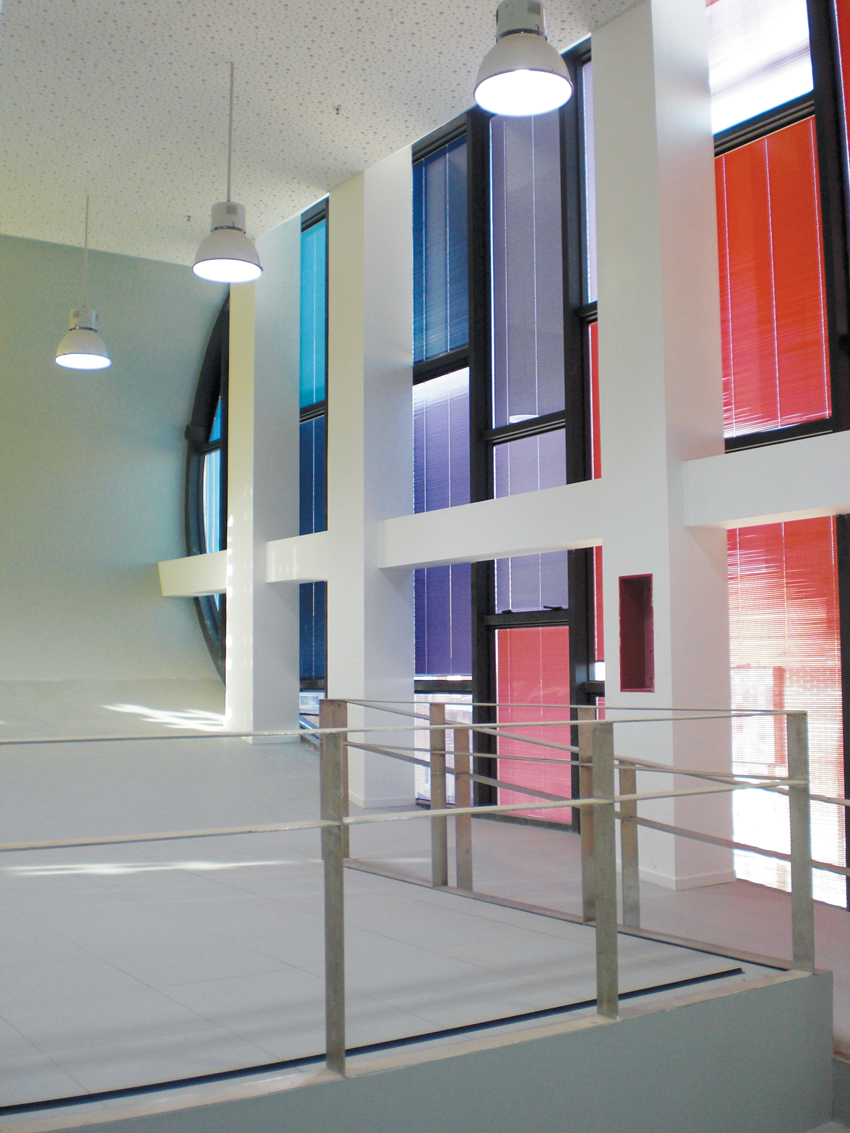 Photo courtesy of Pellini
Easy to clean and operate, durable blinds between the glass (BBG)—like this aesthetic design for Madrid's Centro de Arte di Alcobendas—are a great choice for glare-free daylighting.
While particular building materials, products and systems may offer one or two of these important features, few directly address all of them.
With daylighting playing a major role in building designs, architects are constantly challenged with designing shading systems for these openings to optimally promote natural light while minimizing glare, hot spots, and solar heat gain.
For many commercial facilities, particularly schools and health-care settings, blinds between the glass (BBG) are a compelling option.
"BBG solutions are often appropriate when the owner is looking to lower their carbon footprint with a sustainable, low-maintenance facade," states Alexander Cox, business development manager, West Coast, Permasteelisa North America Corp., San Francisco. "Key attributes of these systems are high occupant comfort resulting in a higher 'comfort net-lettable area,' an abundance of managed daylight without glare, lower cooling energy and lighting costs, and an excellent acoustic performance."
And unlike other internal blinds and shading systems that collect dust and dirt, require frequent cleaning and maintenance, and take up a larger footprint in the doorway, integrated blinds—hermetically inside the panes of glass—are a clean, easy-to-operate, seamless, and maintenance-free solution.
Taking a closer look at today's building owner needs and relevant research, just how important are healthy, naturally lit, comfortable buildings?
Prominent Studies
"Owners on all our projects are keenly aware of the importance of thermal control, light control, maintenance, and privacy in their projects," asserts Moshe Levi, project architect, Spector Amisar Architects, Tel Aviv, Israel.
"User comfort and privacy are high priority," agrees Maribel Martinez-Wyatt, junior interior designer, HGA Architects, Sacramento, "especially in emergency department or waiting rooms where end users are spending longer lengths of time."
She also stresses the importance of patient rooms having control over thermal comfort and glare. "By providing control, users can modify their spaces to best accommodate them," she adds.
In a similar vein, Nico Kienzl, DDes, LEED Fellow, ASHRAE HBDP, director, Atelier Ten, New York, relates, "In general, we see expectations for workplaces increasing with the adoption of WELL [Building Standard] and increased realization of the value of high-performance workspaces that have access to daylight but need to balance visual and thermal comfort."
In fact, Marc Zobec, technical director, Permasteelisa Group, Vittorio Veneto, Italy, sees current research addressing the relationship between occupant comfort and productivity, which he anticipates will significantly change the way buildings respond to occupant needs.
Along these lines, he sees systems like BBGs as an effective way to address occupant comfort. "Shifting the blind away from the interior of the building and toward the cavity is not only a more effective configuration with regards to the control of solar irradiation and heat gains but also thermal discomfort due to thermal asymmetry from either excessively hot or cold surfaces relative to the indoor conditions." Zobec explains.
Looking at some statistics, Dodge Data & Analytics' "The Drive Toward Healthier Buildings 2016" report reveals nearly three quarters of U.S. architects saying that the health impacts of buildings are influencing their design decisions and two-thirds stating that health considerations affect how they design and construct buildings.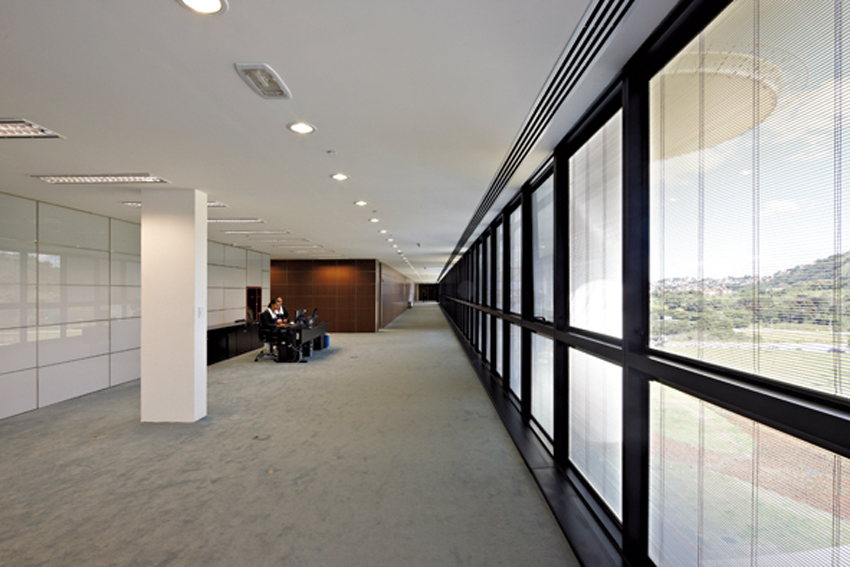 Photo: Courtesy of Pellini SpA/Jomar Bragança
An integrated blind design, as shown here at the Tancredo Neves Administrative City building in Minas Gerais, Brazil, optimizes solar control and thermal comfort by positioning the blinds in between the cavity.
Furthermore, out of the 373 architects surveyed in the Dodge report, 89 percent believe that daylight has a high impact on health, and 69 percent of owners and interior designers agree. In addition, 72 percent of architects, 67 percent of interior designers, and 58 percent of contractors link wide accessibility to outdoor views with emotional/mental health.
Meanwhile, Professor Monika Frontczak, Technical University of Denmark, in her "Human comfort and self-estimated performance in relation to indoor environmental parameters and building features" Ph.D. thesis lists sunlight, temperature, and air quality among the most frequently used words building occupants use to describe comfort.
In addition, she states, "In office buildings, it was shown that occupants' satisfaction was affected not only by indoor environmental parameters (thermal, visual, acoustic environment, and air quality) but also by workspace and building features, such as the view, control over the indoor environment, and amount of privacy."
Interestingly enough, a survey of close to 500 occupants in a LEED Platinum office building in Charlotte, North Carolina, by researchers from the University of North Carolina and Kansas State University actually found that the visual qualities proffered by natural light and a nice view created an elevated perception of a thermally comfortable environment.
That said, a pair of well-known Heschong Mahone studies originally created a significant buzz around the benefits of daylighting in reporting that call center workers in daylit spaces with views of nature processed calls 6–12 percent faster and performed 10–25 percent better on mental function and memory tests. The second study revealed a 20–26 percent faster learning rate in schools with optimal daylight.
Taking these statistics to heart, today's green building rating systems as well as codes and standards are requiring higher levels of daylighting in buildings.
For example, in the state of New York, Daniel Donovan AIA, LEED AP BD+C, associate principal, Ashley McGraw Architects, Syracuse, New York, explains that the code requires the window in a classroom to be 50 percent of the length of the exterior wall of that room, which can be a sizable amount of glazing. Consequently, Ashley McGraw likes to specify BBGs, configured strategically so that they can give classroom occupants more control over both daylight and privacy.
In another seminal study back in the 1980s, Roger Ulrich, Ph.D., EDAC, currently professor of architecture at the Center for Healthcare Building Research at Chalmers University of Technology in Sweden, reported an 8.5 percent reduction in hospital stays in rooms with views of nature. And another compelling study by researchers from the University of Pittsburgh and Carnegie Mellon University found a 22 percent decrease in the need for pain medication for patients with sunlit hospital rooms.
Adding to the mix of sound research contributing to the notion that daylight and views directly affects well-being and productivity, a study by Judith Heerwagen, Ph.D., who is currently working for the U.S. General Services Administration's Office of Federal High-Performance Green Buildings, finds that workers showed reduced signs of stress and levels of frustration, increased patience, and overall satisfaction when they have views to nature through windows. In one of her studies, she states, "Positive moods turn out to be critical for a wide range of outcomes...including job satisfaction, work involvement, motivation, organizational attachment, and lowered absenteeism."
More recently, Manchester's University of Salford Holistic Evidence and Design (HEAD) project conducted a detailed "Clever Classrooms" survey of 153 classrooms and found that good light, temperature, and air quality created a 16 percent variation in learning progress over the course of a year for the 3,766 pupils included in the study.
Originally published in Architectural Record
Originally published in May 2019
Notice