Flooring for Laboratory Designs
Rubber flooring products offer more options and better performance than some traditional materials
Sponsored by Interface
Learning Objectives:
Identify and recognize the aesthetic significance of laboratory and industrial floor surfaces as part of the overall interior design and project documentation process.
Assess the health and safety performance aspects of laboratory and industrial floor surfaces as they relate to durability, suitability, and sustainability.
Explain the importance of proper flooring preparation and installation techniques to enhance overall flooring and assembly performance.
Determine ways to incorporate the principles and topics presented into building design and documentation as evidenced in project case studies.
Credits:
This course can be self-reported to the AIBC, as per their CE Guidelines.
This course is approved as a Structured Course
This course can be self-reported to the AANB, as per their CE Guidelines
Approved for structured learning
Approved for Core Learning
This course can be self-reported to the NLAA
Course may qualify for Learning Hours with NWTAA
Course eligible for OAA Learning Hours
This course is approved as a core course
This course can be self-reported for Learning Units to the Architectural Institute of British Columbia
This test is no longer available for credit
Some building uses are inherently tough on flooring. A very good example are laboratory settings that can be the function of an entire building (i.e., higher education science/research buildings, bio-pharmaceutical facilities, etc.) or part of another building (i.e., health care, manufacturing, etc.). All of these settings typically involve processes or activities that can require the use of chemicals, biological organisms, or heavy traffic from people and/or equipment. The flooring in these spaces, in particular, needs to hold up to these conditions in a way that is good for not only the buildings but also the people who use them. This means architects and designers are often challenged to find flooring solutions to meet the rigorous demands of these spaces while still achieving human comfort, excellent appearance, ease of cleaning, and long-term durability. This course will look a bit closer at these demands and assess some of the common flooring choices that have been used in the range of buildings where laboratory settings are found. In particular, we will investigate the growing use of rubber flooring products that have emerged as a proven alternative to some other traditional flooring materials and the qualities that have made them the preferred choice of many architects, designers, and building owners in laboratory settings.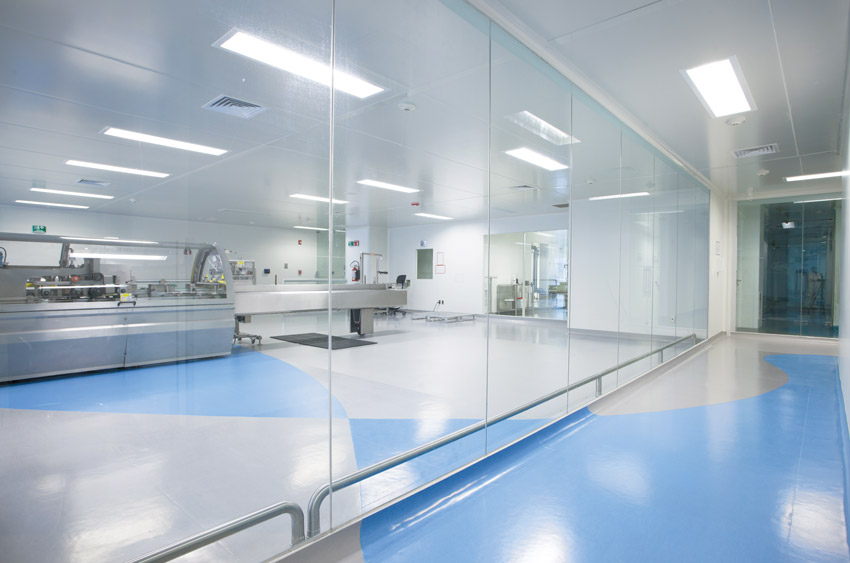 Photo courtesy of nora
Floors in laboratory settings are subjected to a lot of challenging conditions. Choosing a material that works well in addressing physical as well as human needs can make a notable difference in the success of laboratory designs.
LABORATORY FLOORING OVERVIEW
While the specific uses and types of activities can vary widely between different laboratory settings, the one thing they all have in common is that they need to address conditions that are not typical outside of the laboratory. Science and research laboratories located at college and university buildings may contain a range of substances that need to be very carefully isolated and controlled since they can be damaging to materials or harmful to people. Bio-pharmaceutical companies may have some of the same substances and chemicals but are often processing them at a much larger scale and in higher concentrations. Health-care facilities have labs (either within the facility or remotely located) that may be focused on other organisms and substances but have similar needs for containment. Clean rooms in manufacturing facilities can take the separation and isolation to an extreme in the interest of maintaining as nearly perfect an indoor environment as possible.
All of these facilities need people and equipment to operate them, which can mean a lot of foot traffic and rolling loads. They usually need to be kept quite clean too to avoid any unplanned interactions between chemicals or harm to people. In some cases, such cleanliness may be for sanitation to avoid any biological growth or chemical interactions that would jeopardize the operation of the lab. That can mean introducing some harsh cleaning agents that just add more complexity to maintaining and managing these facilities.
Recognizing the breadth and depth of all of these challenges that can be present or introduced into laboratory settings, there are two general categories of considerations—physical and human—that often influence the choice of flooring for these spaces, both of which are discussed in the following sections.
Physical Considerations
The physical, built conditions inside laboratories are usually designed to address a range of concerns, including the following: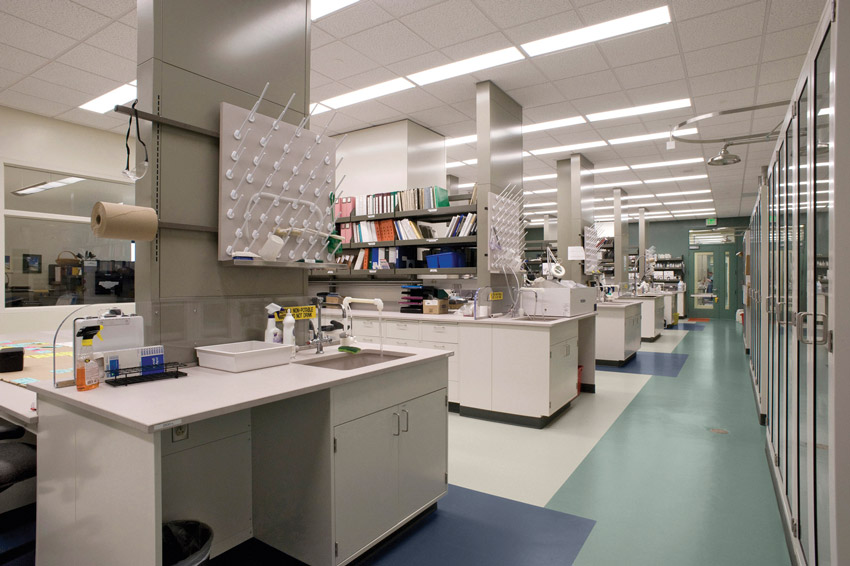 Photo courtesy of nora
Physical conditions in a laboratory can vary greatly, meaning that the flooring needs to resist many different types of spills, chemicals, and operations.
Spill resistance: In the normal course of any given day, an accidental spill of some material can happen. If the spill is a nonsignificant material such as water or an inert substance, then it's not necessarily a problem. But if the spill involves chemicals, abrasives, disinfectants, or other harsh materials, the flooring may be damaged, stained, or even ruined.
Chemical resistance vs. stain resistance: Chemicals may or may not cause a reaction and create physical damage (e.g., a deteriorated floor surface). Such deterioration could cause a problem with the integrity of the flooring and potentially create a safety hazard as well. But even if that never happens, there is a good chance that the chemicals may leave a visual stain on the floor. That may not seem like a big deal in other spaces, but management and maintenance staff often see this as a big concern in labs. Beyond the unsightly nature of the stain, it may also affect their ratings as a laboratory by accrediting bodies or inspectors, such as pharmaceutical lab audits by the Food and Drug Administration (FDA). Outside agencies like this include the appearance of the lab surfaces as part of their procedures and ratings. Hence, both chemical resistance and stain resistance from spills or operations need to be considered.
Long-term durability: The owners of buildings that contain laboratory facilities are typically long-term owners that have a vested interest in the building remaining operational and durable for extended periods of time. This means that they want the materials, especially the flooring, to hold up and look good for as long as possible, without having to budget for interruptions and flooring changes.
Lab space turnover: While the focus is on the long-term, there are often short-term changes within a building. This can mean that a lab designation may change from needing to be a more sterile environment than it was previously. The type of lab may get upgraded or downgraded in terms of its use or classification. This may impose conditions on the space that did not exist before for greater control, resistance, or cleanliness. The lab space may then need to be retrofitted with a change of materials, including a change of the flooring. Being able to either do this quickly or provide flooring that can accommodate a range of needs can help minimize the down time of the lab and control the cost of the retrofit.
Regulatory conditions: Certain labs may need to meet federal or other regulations in order to operate or for the products that come out of those labs to be used commercially. Bio-pharmaceutical labs in particular are very much regulated and need to comply with the federally mandated current good manufacturing practices (cGMP) in order to stay in business. Some of those practices relate to the materials used in the labs and the details of how they are installed to address "bioburden." This is defined in the context of testing to determine the number of bacteria living on a surface that has not been sterilized. Bioburden testing is an important quality-control tool for pharmaceutical and medical products and relates directly to eliminating material seams or other conditions that can harbor bacteria.
Human Considerations
We have noted that people need to use these laboratory spaces, often for extended periods of time and on a repeated, regular basis. Hence, all of the usual workplace criteria for meeting human needs of health, safety, welfare, and general comfort also apply, including: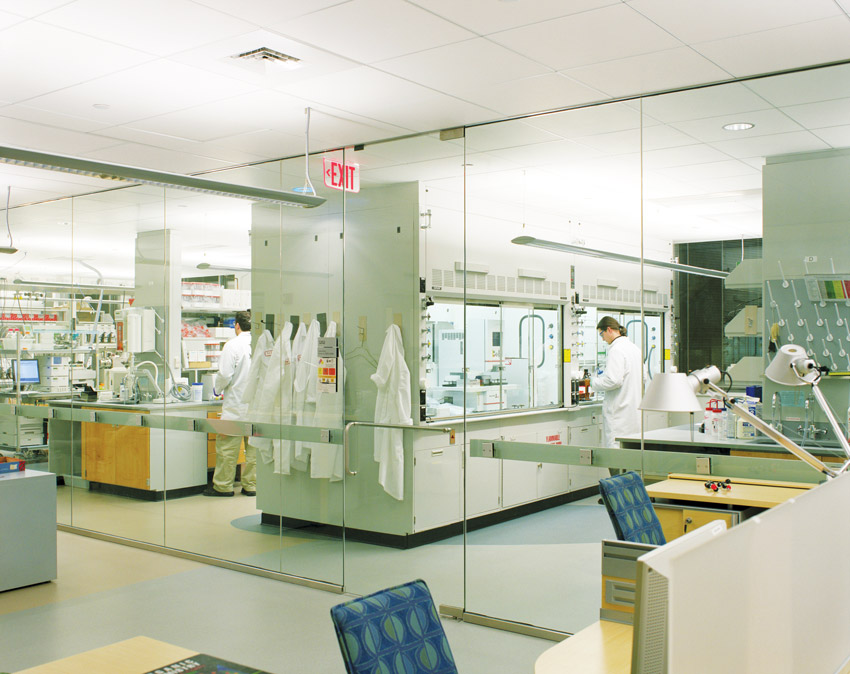 Photo courtesy of nora
Lab spaces are operated by people who need the spaces to meet their needs not only for health, safety, and welfare but also for a positive workplace environment.
Slip resistance: This is a fundamental safety aspect of any flooring. It is especially a concern if wet or humid conditions are a normal part of the space, creating an ongoing hazard. Even intermittent conditions are a concern, such as an accidental spill or normal cleaning with water on the floor. It can also be a concern if protective coverings are worn over shoes that may be prone to reducing slip resistance.
Acoustics: Labs can be made up of a lot of hard surfaces that reflect sound, causing echoes or simply exacerbating the noise from equipment or people walking. The sound can be generated within the space by normal activity and equipment or, in the case of flooring, it can generate from shoes striking the floor and creating noise. Using materials that help control that sound can create a better environment that is more conducive to focused work and concentration when needed.
Muscle fatigue: Many people who work in laboratories can be on their feet for extended periods of time. If they experience discomfort and pain in their feet and leg muscles, they will likely complain about the feel of the flooring. It may not be possible to add mats or other cushioning devices to the floor, so addressing this concern up front is more prudent.
Visual relief: Some people simply assume that laboratories need to look sterile, monochromatic, and uninteresting. However, there is a distinct trend by architects and designers to not only avoid that outcome but also actively seek ways to inject color, appropriate patterns, and other items of visual interest to improve and enhance the working conditions.
Electric charge protection: In some cases, laboratories will have a concern over the presence of electricity, in the form of an electrostatic discharge (ESD) from static electricity. On certain types of flooring, people can build up a static electric charge that is released when they go to touch something that can cause harm to equipment, people, or both. Similarly, there may be a need to protect against unwanted electrical conduction coming from equipment.
There are certainly other considerations that can be part of a laboratory design, but these are the most common ones. All of them need to play a role in the decision-making process around what type of flooring to use that can meet both the physical and human needs of laboratory spaces.
Originally published in Architectural Record
Originally published in October 2019
Notice