Two Reasons to Specify Experience on New and Existing Health-Care Projects
Avoid installation mistakes and prevent HAI's with INSTALL and ICRA-certified professionals on the job
Sponsored by INSTALL, International Standards & Training Alliance
Learning Objectives:
Explain how poor flooring installations compromise the safety and cleanliness of health-care environments.
Use the language from the Master Specification written by the Department of Veterans Affairs to ensure only qualified professionals are selected to install carpet or resilient flooring in health-care facilities.
Describe how construction work in occupied health-care facilities can expose patients to dangerous pathogens.
Identify construction teams capable of erecting containment barriers and creating negative air pressure to effectively contain and control dangerous contaminants.
Credits:
This course can be self-reported to the AIBC, as per their CE Guidelines.
This course is approved as a Structured Course
This course can be self-reported to the AANB, as per their CE Guidelines
Approved for structured learning
Approved for Core Learning
This course can be self-reported to the NLAA
Course may qualify for Learning Hours with NWTAA
Course eligible for OAA Learning Hours
This course is approved as a core course
This course can be self-reported for Learning Units to the Architectural Institute of British Columbia
This test is no longer available for credit
Designers are no strangers to education and certifications. Years of school followed by continuing education requirements and a number of available specialties and designations offer never-ending opportunities for architects to further educate themselves on design trends, technology, best practices, and more. Today, the benefit of professional and specialized training is available to many in the design and construction industry, including the contractors and construction professionals tasked with the installation of these advanced systems and new materials.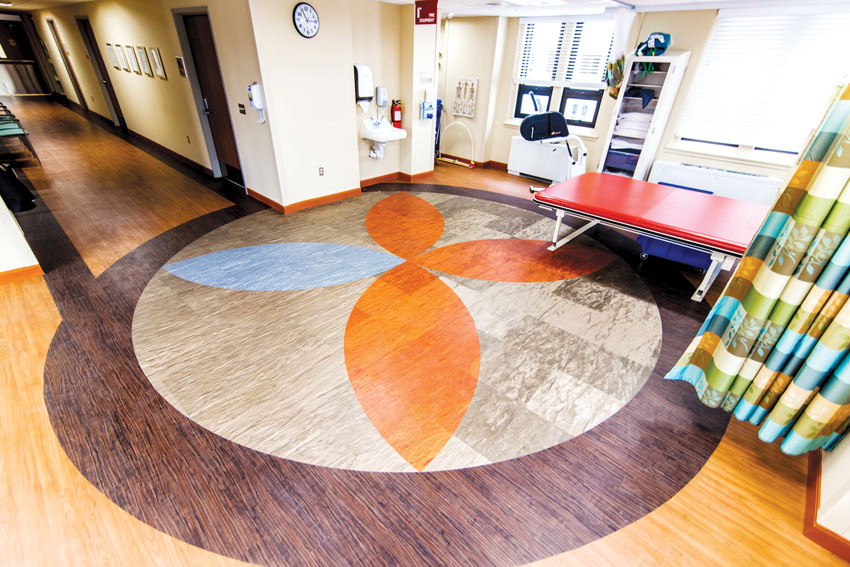 All photos courtesy of INSTALL
New training programs are available to help installers, contractors, and construction-related personnel complete projects correctly while protecting patients and creating safe and sterile health-care interiors.
There is no other place where extra training may be more important than projects in health-care facilities. Improper product installation can create hiding places for germs and bacteria, breeding grounds for mold and mildew, and, ultimately, compromise the safety and sterility of the health-care space. Beyond the potential hazards presented by poor or improper installations, fixing them costs time and money, often a significant amount.
This course will explore two new certifications designed to create health-care facilities that will protect patients by providing the sterile and safe environments they need both before and during the occupation of the facilities. First, it will take a closer look at the way in which the United States Department of Veterans Affairs (VA) altered its specification and alleviated its flooring installation headaches by partnering with the International Standards and Training Alliance (INSTALL), the construction industry-endorsed floorcovering installation and certification program, to ensure that qualified flooring professionals were tasked with installing the carpet, athletic carpet, and resilient flooring throughout VA facilities. Then a special new training designed to teach contractors and construction teams as well as hospital staff and designers the infection-control risk assessment (ICRA) protocols and procedures will be reviewed.
The VA'S Flooring Issues
As of September 2014, the VA reported that it owned 6,081 buildings covering more than 151.5 million square feet, and it had a flooring-related problem that could potentially affect every square foot. "Like any other entity that owns and operates many institutional buildings, we have had a long history of flooring failure," says Orest Burdiak, principal interior designer at the VA.
While faulty products caused some of the issues, improper or substandard installation was the key reason for the vast majority of the flooring failures that occurred. "From poor floor prep to improper testing for moisture to inadequate moisture mitigation, we have experienced a laundry list of installation-related flooring issues across hundreds of projects," Burdiak explains. These flawed flooring installations cost the VA considerable time and money, delaying project completions and, in many instances, requiring that flooring be completely or partially replaced in order to make the interior a suitable health-care environment.
"At the end of the day, as a government entity, we owe it to the taxpayers to approach construction projects in a way that delivers quality facilities in a cost-effective manner," Burdiak says. "While the VA is a nonproprietary organization that doesn't endorse specific products or manufacturers, we realized the significant costs we kept incurring for subpar flooring installations and decided to require that installers working on VA projects have a certain level of training as a way to reduce the amount we spent fixing mistakes."
There are many issues that can and have arisen during a flooring installation at a VA facility. Some of the most common and, in some cases, most detrimental, include poor flooring preparation, improper flash coving, sloppy seaming, and pattern-matching mistakes. These flawed installation techniques can cause the flooring to fail prematurely, buckling, lifting, bubbling, blistering, or breaking, and create a situation where the flooring becomes a breeding ground for mold and mildew. All of these problems can pose significant health and safety risks, especially in health-care environments.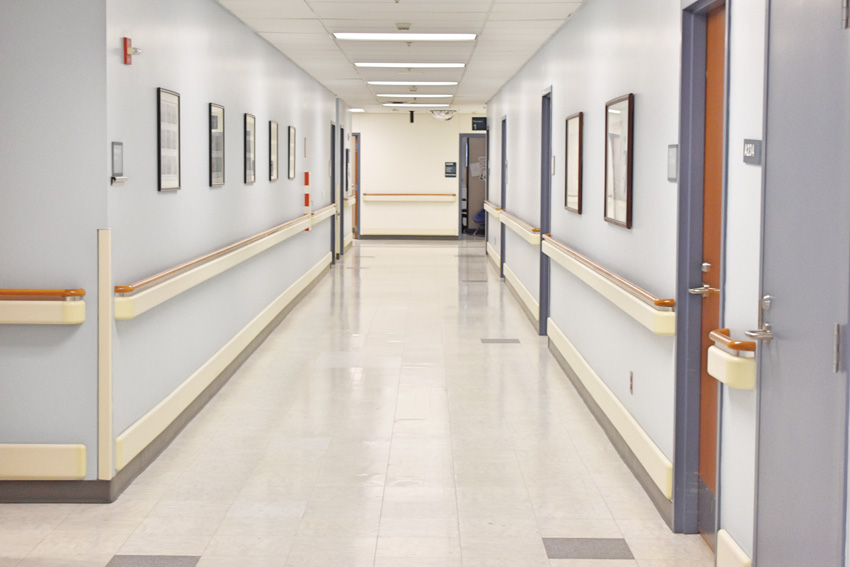 Improper flooring installation has caused floorcoverings to bubble and fail prematurely in numerous VA projects.
Poor Flooring Preparation
Flooring preparation refers to the preparation of the substrate, the material upon which the flooring will be installed. While there are many aspects of the substrate that must be evaluated, the amount of moisture in the concrete is one of the most critical because the substrate must be dry enough to properly install flooring upon it. Applying a floorcovering when the substrate is too wet can result in flooring failure, alkalinity issues, and rampant mold and mildew growth.
Although concrete substrates are commonly found on commercial projects, the amount of drying time necessary before the flooring can be installed must be determined on a project-by-project basis because drying times for concrete slabs vary based on concrete mix, slab thickness, and weather conditions.
The specific flooring selected for a project must also be considered. Different types of flooring respond to and manage moisture differently. For example, the structures of some types of floorcovering provide escape routes where moisture from the concrete can evaporate. Other floorcoverings are impermeable so moisture collects between the floorcovering and the substrate, where it can dissolve the adhesive holding the floor in place or host mold.
In order to determine that the concrete substrate is dry enough for a successful floorcovering installation, the level of moisture in the concrete must be measured and, if necessary, steps to mitigate the potential issues caused by the moisture present should be taken. A common moisture-mitigation technique is to put down an impermeable barrier between the substrate and the floorcovering so the moisture won't affect the adhesive. Selecting a different adhesive or type of floorcovering better suited to withstand the existing moisture levels is also a possible mitigation solution.
Accurate moisture testing and adequate moisture mitigation are vitally important to the success of the floorcovering installation. Unfortunately, moisture tests are often taken improperly or not taken at all, and moisture mitigation efforts can be lackluster or ineffective. When flooring is installed upon a surface that is not properly prepared, the only way to fix it is to rip out the floorcovering, ensure the substrate is correctly prepped, and reinstall, which can be extremely costly.
Improper Flash Coving
Flash coving is a technique that is commonly used in health-care environments to make the floors easier to clean by eliminating corners and tight edges that can collect germs and bacteria. With flash coving, instead of installing the flooring to the edge of the wall and then installing a separate wall base, which creates different edges and surfaces where germs and dirt can hide, the floor sheet is extended up the wall to form a wall base that is contiguous with the floorcovering. These integral coves are easily wiped or swept clean.
Unfortunately, flash coving is a significantly more advanced type of flooring installation. Flash coving can fail for several reasons, such as a missing cove stick, which is a unique type of support used to install the floorcovering up the wall. Without the necessary support, the cove can split and require a full replacement of the flooring.
Sloppy Seaming
Joining multiple sheets of flooring together in a way that makes the entire floorcovering one beautiful, sterile, and seamless flooring surface is the goal of a flooring installation, especially in a health-care setting. Heat welding is the process commonly used to join sheets of resilient flooring material together. However, poor hot or cold welding technique or inexperienced installers' work often result in less-than-perfect and problematic seams that are unable to hold the flooring materials in place as needed.
Bad seams in resilient flooring can feature gaps or lips, both tripping hazards and dirt traps. Failed heat weld seams will physically split, creating openings in the flooring surface that compromise sterility and cleanliness by allowing bacteria and dirt to hide in the cracks and providing any mold and mildew that may exist under the floor access to the interior space.
Unfortunately, heat welding is a very nuanced technique, and it is easy for things to go awry. Problems can arise if the seams are trimmed and grooved too quickly, if the installer moves too fast, if the welding gun is not at the correct temperature, if the wrong welding rod is used, or if adhesive makes its way into the seam—and these are just a few of the potential issues.
Some manufacturers of rubber flooring stipulate a process called cold welding, or chemical welding. As the name implies, chemical welding uses a chemical solvent to fuse the two sheets together. While cold welding does not require the specialty tools used in the heat-welding process, it does require knowledgeable and experienced installers to avoid common pitfalls that ultimately compromise the appearance and performance of the flooring.
If sloppy seaming practices have resulted in gapping, lipped, or split floor seams, the problem is more than unsightly. These imperfections in the flooring surface compromise the sterility and safety of the health-care space and will be continually aggravated with every cart or shoe that shuffles over it. If the problem is noticed immediately, there may be an opportunity to correct a bad seam, but once the flooring surface is damaged, it must be replaced.
Pattern-Matching Mistakes
In the health-care space, many designers use flooring as an aesthetic element and select surfaces that feature ornate patterns or use flooring to support wayfinding for patients, visitors, and staff. Whether aesthetic or informative, getting the pattern installed correctly is important to realizing the design intent of the space.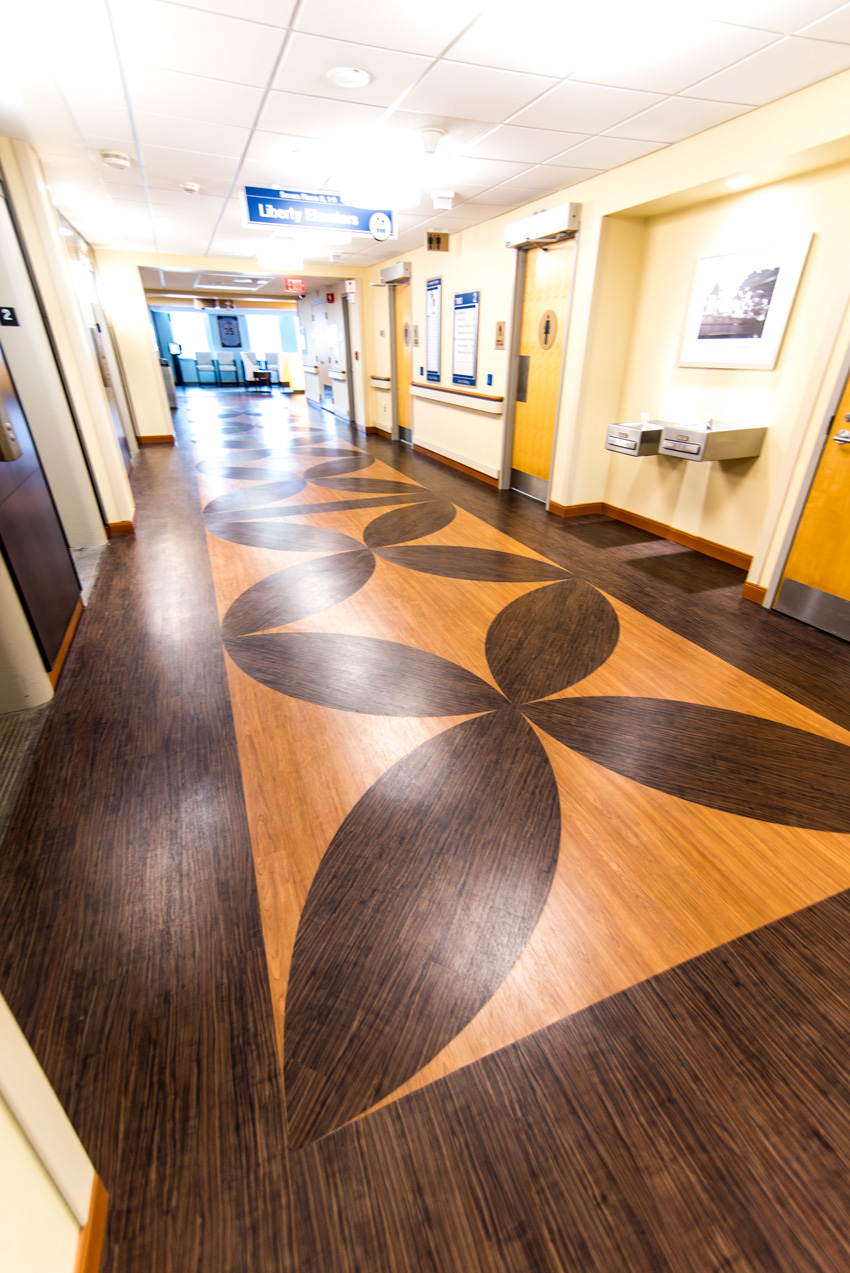 The INSTALL training program helps installers avoid the many common problems that can occur when installing a patterned floorcovering.
There are several problems that often occur when an inexperienced contractor attempts to install a patterned flooring surface. The floorcovering can be cut and fit improperly, compromising the appearance of the pattern. It can also be difficult to maintain the pattern in areas that have strange dimensions. Patterns can be accidentally elongated or shrunk depending upon the space, and poor or novice planning may quickly result in patterns that are not centered or that simply seem to run out of an area or collide with a wall.
Originally published in Architectural Record
Originally published in August 2018
Notice