Three Hot Topics in Commercial Bathroom and Shower Design
ADA Compliance, the Rise of Modular and Overcoming Field Problems
Sponsored by Inpro
Learning Objectives:
Identify the role that commercial bathrooms and showers play in a well-designed building for the health, safety, and welfare of users.
Recognize some of the applicable design and construction details related ADA compliance in commercial bathrooms and showers.
Review ways that modular construction is being used to create bathrooms and showers that incorporate the principles and topics presented.
Determine the relevant design considerations in commercial bathrooms and showers in order to overcome problems in the field.
This course is part of the ADA Academy
Commercial bathrooms and showers are a necessary and often integral part of many different building types. Their design is influenced by a wide variety of different factors including codes, standards, cultural norms, changing views on privacy, etc. They can also be seen as security or safety risks in facilities with patients who have behavioral or mental health needs. In all of these cases, the cost of bathrooms and showers is often a concern since they can be among the most expensive spaces on a square foot basis in a commercial building or facility.
Based on all of the above, this course looks at three significant topics in the design and construction of commercial bathrooms and showers related to the health, safety, and welfare of the users. First, aspects of accessibility following ADA and ANSI 117.1 Standards are reviewed. Next, the specific concerns of behavioral health facilities are looked at to help prevent self-harm. Finally, the continuing trend of modular and pre-fabricated construction related to commercial bathrooms and showers is looked at for its cost and time efficiencies. Panelists also discuss the practical design and construction aspects of working these principles into real projects and review examples.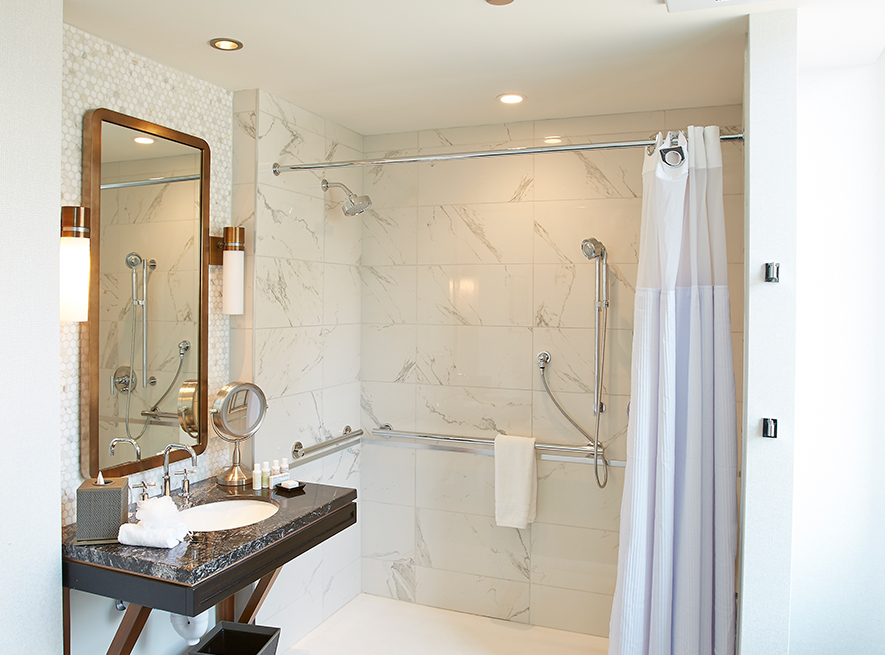 Photo courtesy of Inpro
| | |
| --- | --- |
| | Peter J. Arsenault, FAIA, NCARB, LEED-AP is a registered architect, sustainability consultant, author, and speaker based in Greensboro, North Carolina. A 1977 graduate of Syracuse University, his multi-faceted work has focused on principles of high performance buildings including energy, code compliance, safety, and sustainability. |
| | Travis Aldridge, Regional Sales Manager – Washroom Systems, Inpro has been in the solid surface industry since 1996. During that time his career has covered virtually all aspects of the industry from engineering solid surface materials, plant layout, machine design, engineering solid surface product lines, mold designs, sales of solid surface products, project management, to presenting information to the architect and design community. Since 2005, he has focused on designing and promoting commercial solid surface shower products with an emphasis on ADA code compliance. With this experience he brings not only compliance information but years of hands-on project management experience in the construction industry. |
| | Meghan Campbell, Associate Architect, Giattina Aycock Architecture Studio is a licensed architect with an engineer's mind for functional detail. She has worked in the modular industry for the last 10 years specializing in medical modular components and the development of implementable solutions for the AEC industry. She currently leads the "Standard Module" program for BLOX, LLC where she is responsible for the design and manufacturing of fully-loaded, code-compliant, plant-inspected and field-installed modular bathrooms, headwalls, sinkwalls, footwalls, and other patient room components for the healthcare industry. |
| | Estevan Garza is the Product Manager for Inpro's Endurant Commercial Washroom division. Estevan was born and raised in Michigan before studying at the Illinois Institute of Art in Chicago where he earned his Bachelor's Degree. His passion for design and innovation lead to his transition into Product Management where he works collectively with the Sales, Manufacturing and Design teams to support Endurant's product portfolio and bring exciting new products to the commercial market for the past 7 years. Estevan is inspired daily by his wife and two young children. They enjoy watching movies together, traveling, and spending quality time in Wisconsin's great outdoors. |
Founded in 1979, Inpro® is a global provider of high-performance, design-forward architectural products for building professionals.

Inpro's product categories include door + wall protection, washrooms, expansion joint systems, privacy, elevator interiors, architectural signage, and commercial window treatments.
Originally published in November 2020
Notice