Elevating Exterior Design with Glass and Glazing Solutions
High-performance glass facades offer aesthetic versatility and greater energy efficiency
Sponsored by Guardian Glass
Learning Objectives:
Identify and recognize the range of performance requirements of a glass facade as part of the overall exterior design and building enclosure to ensure a safe, energy-efficient environment.
Assess the safety performance aspects of glass building facades.
Explain the integration of glass and glazing facade materials and systems as they relate to environmentally friendly, sustainable building design.
Determine ways to incorporate the principles discussed as related to the design and performance of buildings as shown in the featured case studies.
This course is part of the Glass in Architecture Academy
This webinar is part of the Glass in Architecture Academy
Today's architectural glass and glazing design solutions feature glass facades that successfully combine stunning aesthetics with greater neutrality and better performance to ensure the health and well-being of occupants and the environment. The variety of sustainable glass options available for facades allows architects and designers to control every aspect of performance, from thermal and solar control to security, color, and the overall design statement of the building. This webinar will feature presentations of several case studies where high-performance glass and glazing not only provides a beautiful-to-look-at façade but also increased performance at every level. Product types to be discussed include curtain walls, curved glazing, spandrels, roofs and skylights, bird-friendly glazing, and, oversized glazing … to name a few.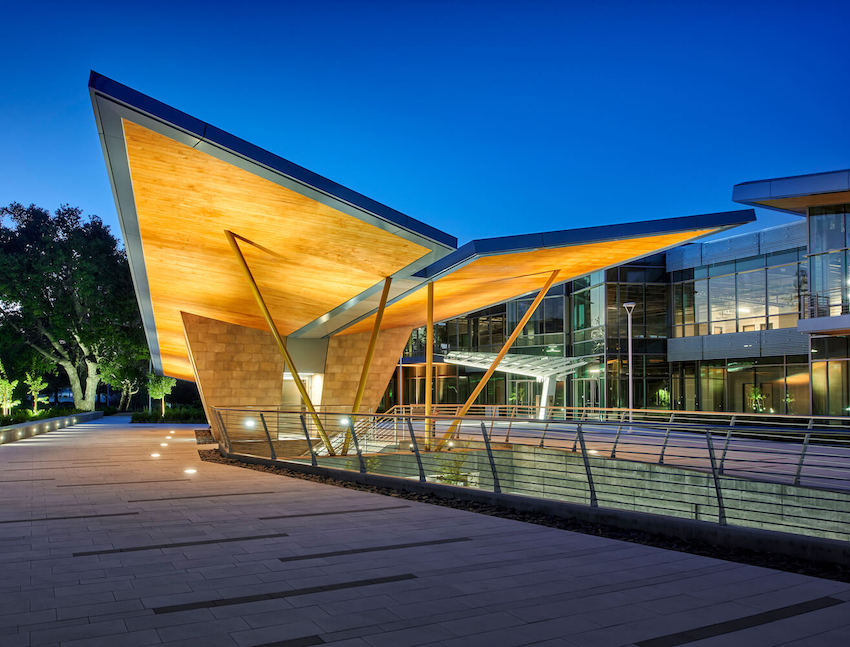 Image © John Sutton
Named for its butterfly-inspired angular canopies that adorn the project's exterior, Folded Wings is a speculative office campus designed by Form4 Architecture in the technology epicenter of Palo Alto, CA.
Our first presenter, John Marx, will discuss Form4 Architecture's use of architectural glass in the Bay Area, which has some of the country's highest energy-efficiency standards. The firm uses light and shadow, in a lyrically expressive way, to control heat gain while naturally illuminating office spaces. Design features often include overhangs for shading, combined with contrasting materials and textures. Representative projects in the presentation include Folded Wings tech campus, Innovation Curve Life Science Park, and Verdant Sanctuary, a recently entitled office/R&D building that uses passive sustainability strategies and mass timber.
Kevin Bell of Leers Weinzapfel Associates (LWA) will present the award-winning Anonymous Hall at Dartmouth College. Named for alumni and friends who have quietly supported the college over two centuries, the $28M project reuses and adds to a vacant 1960s library in the heart of the medical school quad, transforming it into a vibrant administrative and social center for the Graduate School of Arts and Sciences and a communal hub for the north campus. Part of a wider campus renewal plan, metrics show the project is close to net zero energy use.
The building was stripped to its columns and slabs to remove hazardous materials in the existing library walls before construction could begin. As a reused concrete structure in a cold climate, the choices of highly insulated terra-cotta-clad walls, triple glazed windows, and a photovoltaic canopy created a building with low embodied energy that approaches net zero energy usage. The facade system is first-of-its-kind in the U.S., comprising multiple advanced technologies including vacuum-insulated panels, krypton-filled triple glazing, metal mesh integral shading, and toggle-held structural glazing (2″ IGUs).
Rounding out our panel is Jacob Kasbrick, who will present a project that features innovative glass design. At one time, 225 Polk served as Nashville's Main Public Library. The building has been revitalized by Hastings Architecture with a commitment to the original design, maintaining the original curtainwall framing with high-performance coated glass on a low-iron substrate. This glass makeup delivers superior clarity, removing the color normally visible in standard glass while delivering high visible light transmission and low solar heat gain to help reduce the building's energy use.
The presentations will be followed by a moderated discussion focused on how these innovative projects address several key issues.
| | |
| --- | --- |
| | John Marx, AIA, Founding partner, CAO, Form4 Architecture is the Chief Artistic Officer and founding design principal of Form4 Architecture in San Francisco. Since 1998, Form4 has specialized in Silicon Valley tech and life-sciences buildings for clients such as Google, Facebook, and Allergan. John Marx has lectured and exhibited internationally, including at the Venice Architecture Biennale. His design work and writing have been published in more than 100 publications, including The Architectural Review, Architect Magazine, and The Architect's Newspaper. John and Form4 have won more than 210 design awards, and he was a 2017 Laureate of the American Prize for Architecture, one of the highest public tributes for architecture in the United States. |
| | Kevin J. Bell, AIA, Associate Principal Leers Weinzapfel Associates is a graduate of the University of Michigan and native Michigander, Kevin received his Master of Architecture from the University of Virginia where he was a cofounder and editor of the interdisciplinary design and research journal lunch. Kevin joined Leers Weinzapfel Associates in 2006; bringing with him unique experience in allied fields including graphic design, information technology, and a hands on approach to design and construction. Kevin has five years experience as a graphic artist with the University of Michigan Medical School working on a variety of projects from interactive mapping, extensive print and web work, to temporary and permanent signage. Within the studio, he leads and coordinates digital technologies and their incorporation in the design process. Kevin has been an integral part of award-winning academic and infrastructure projects from the time of his arrival. |
| | Jacob Kasbrick is the Director of the Guardian Glass North America Commercial Segment and Technical Services. He is responsible for the complete architectural supply chain, including the fabrication, architecture and glazing segments. After starting his career in the automotive industry, Jacob moved into building material supply in 2009. He joined Guardian in 2010 as Architectural Design Manager for the Gulf South Region and briefly covered New York and Washington, D.C. In 2018 he was promoted to Regional Architectural Manager and managed the West Coast ADM team before becoming Director in 2022. Jacob has used his expertise on the aesthetics and performance of Low-E coated glass products to conduct American Institute of Architects-accredited seminars for thousands of professionals in the architecture, building construction and glass industries. |
| | |
| --- | --- |
| | Guardian Glass, a major business unit of Guardian Industries, is one of the world's largest manufacturers of float,coated, and fabricated glass products, offering a range of low-emissivity and interior glass options to meet performance and design requirements. www.guardianglass.com |
Originally published in December 2022
Notice