Insulation Gets More Effective
Continuous insulation and the next generation of high-performance masonry walls
Sponsored by Oldcastle® Architectural
Learning Objectives:
Discuss the prevailing energy codes and how they treat insulation as a means of achieving energy efficiency in order to improve the integrity of a building.
Explain the differences between cavity insulation and continuous insulation in terms of thermal bridging and contributing to overall energy conservation of a building.
Describe the goals of an insulation material with regard to R-value, moisture management, air tightness, wind and fire resistance, aesthetic versatility, and other characteristics that protect the building users.
Compare the characteristics of foam panel and insulated concrete masonry block systems and their ability to meet R-value targets and other aspects of an energy-efficient building envelope.
Credits:
This test is no longer available for credit
As a material or combination of materials, insulation of the building envelope helps keep cold air out and heat in during the winter, while keeping warm air out and cool air in during the summer to improve comfort and save energy. Insulation is widely considered the most effective way to improve the energy efficiency of a building, and can save significantly on heating and cooling costs. However, any time the insulating layer is interrupted, the effective R-value, or efficiency of the insulation, decreases. In view of this, national energy codes have moved beyond cavity insulation, encouraging the use of continuous insulation (CI) systems, which provide an uninterrupted insulation layer over an entire wall, not just in the wall cavities. Faced with code compliance and the pressing need to design for green building goals and save on energy costs, architects are turning to CI as an effective approach to eliminating segmented insulation with open gaps, blocking thermal bridging, and helping to improve thermal performance of the wall assembly. This article will discuss the requirements of the prevailing energy code in terms of continuous insulation and offer a comparative discussion on various options for achieving it in masonry construction.
Energy Codes—Where We Stand Now
According to the U.S. Energy Information Administration, the amount of energy used by buildings is nearly 40 percent of the total U.S. energy consumption, totaling some 40 quadrillion BTUs. In response to these numbers, the building industry has been adopting sustainable, resource-efficient practices that can drive more energy-efficient structures. In addition, various codes have emerged in an effort to decrease these energy usage figures, requiring designers to reconsider traditional systems and examine new approaches for their ability to meet ever-increasing energy performance goals.
The primary baseline energy code for private sector building is the International Energy Conservation Code (IECC). The primary energy-efficiency standard for buildings other than low-rise residential is ANSI/ASHRAE/IESNA Standard 90.1. The IECC is written by the International Code Council, a member-focused association dedicated to helping the building safety community and construction industry provide safe, sustainable, and affordable construction through the development of codes and standards used in the design, build, and compliance process. Most U.S. communities and many global markets choose the International Codes. The International Codes, or I-Codes, published by ICC, provide minimum safeguards for people at home, at school, and in the workplace and constitute a complete set of comprehensive, coordinated building safety and fire prevention codes. The IECC references several ASHRAE Standards, in particular the ASHRAE 90.1 for commercial building construction.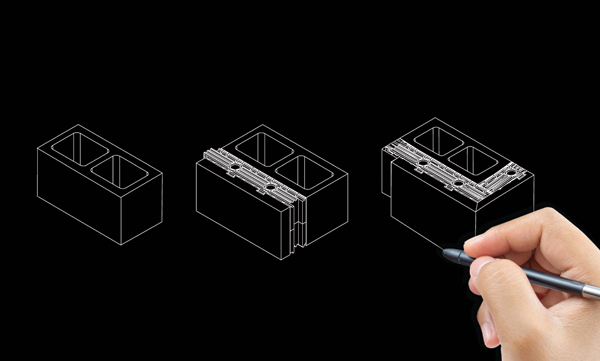 Image courtesy of Oldcastle® Architectural
Next-generation insulation systems are completely thermally broken, meeting or exceeding current energy codes.
Originally published in November 2014
Notice