Bathroom Design: The Differentiating Factor
How to help (or harm) your building's reputation with bathroom design
Sponsored by ASI Group
This test is no longer available for credit
Supporting Cast: Selecting the Best Elements to Enhance Your Design
Specifying Restroom Products and Materials
Beyond design and layout, making good product and material choices also plays directly into the overall user experience of restrooms and locker rooms. A seamless, fluid design creates an enjoyable, easy space. By carrying design through to accessories, the architect ensures that choices and material selections are complementary. This includes toilet partitions, lockers, washroom accessories, and plumbing fixtures. In that regard, it is important to work with manufacturers that can provide a variety of choices to meet the full range of needs in different restrooms. With an understanding of what the design goals are for your restroom, you and your team can make better-informed decisions about what products to specify and how.
Toilet Partitions
Toilet partitions make one of the biggest visual impacts in the restroom simply because they take up a lot of the real estate in a bathroom. They are also vital to user privacy. In his study of human behavior in public restrooms, sociologist and University of South Florida professor Spencer E. Cahill (et al.) notes that "toilet stalls in public bathrooms are publicly accessible yet private backstage regions." Restrooms, and specifically toilet stalls, are where we take a break from social performances. It's where we go to be alone, and it should meet that desire accordingly.
Additionally, of course, restrooms must be analyzed for volume of use, ease of maintenance, and potential levels of abuse to determine the proper layout, number of stalls required, and types of partitions that can create the best user experience possible. Take the time to design and efficiently place not only the partitions but the accessories that go with them. Design accessible partition systems with extra care as to dimensions and fixture locations.
There are a number of partition material options: powder coated, stainless steel, solid plastic, plastic laminate, and phenolic.
Powder Coated
Powder-coated partitions are the most common partition style in the United States. These are common because they are economical, fairly durable, provide a Class A fire rating, and are available in virtually any desired color. One of the advantages of powder-coated products is the large selections of choices based on color charts. Powder-coating facilities have the ability to match any color. However, these partitions are average when it comes to their vandalism rating, meaning they are easy to scratch, dent, and rust. The powder coating adds corrosion resistance to the galvanized steel, but these partitions should not be used in areas with high moisture content, such as shower rooms. Moisture is a primary consideration in the longevity of any product within the bathroom. The makeup of powder-coated steel partitions makes them low on the water-resistance scale.
Stainless Steel
Stainless steel is often perceived as a higher-cost, higher-end product that provides a very seamless and beautiful aesthetic. These partitions resist rust and are available in a variety of finishes, from standard satin finish to diamond pattern or leather grain. Stainless steel is Class A rated and is fairly vandal resistant, but a diamond texture finish can enhance vandal resistance. A leather-grained or diamond-grained texture can help conceal unsightly fingerprints, streaks, scratches, and impressions from daily use.
Stainless steel varies in gauge and type. Type 304 stainless steel is the standard for the washroom industry.
Nevertheless, some manufacturers may use a lesser grade of stainless with lower nickel and chromium levels. These lower content levels directly affect the corrosion resistance of the material and will lessen the life cycle of any accessory that is supplied in this manner. It is wise for designers or building owners to ask for certification of 304 stainless steel.
Solid Plastic
Solid plastic HDPE partitions are used in a variety of applications but are more critical in environments where moisture resistance is required. HDPE stands for high-density polyethylene, which is used in the production of plastic bottles and corrosion-resistant piping and is highly recyclable. Many HDPE partitions are manufactured using recycled content. The partitions are hydrophobic and completely moisture resistant, which makes them mold, mildew, and corrosion resistant and very easy to maintain. These partitions have a low susceptibility to dings and dents.
Solid plastic used in toilet partitions should meet the National Fire Protection Agency (NFPA) 286 standards.
While solid plastic is generally at the middle end of the cost spectrum, its high durability and moisture resistance make them an excellent choice in terms of sustainability, hygiene, longevity, and performance. Many designer colors are readily available, and selecting stock colors is recommended, especially for smaller jobs. Varying texture finishes are also available and can add something to your restroom aesthetic. Higher-textured finishes also typically increase the vandalism resistance.
Plastic Laminate
On the lower end of cost spectrum is plastic laminate. Plastic laminate is the least fire resistant of all the partition products. It has very low vandal resistance, and this material is fairly easy to graffiti, scratch, dent, and break. It is average on maintenance but very low on water resistance. The seams in the plastic laminate allow for water and moisture penetration and allow the MDF core and particle board to expand and absorb moisture, swell, and delaminate. However, some manufacturers have been able to overcome this challenge by creating a 3-millimeter edge banding that closes the seal seams and provides a beautiful seamless aesthetic as well increasing the longevity of moisture resistance by threefold. The other advantage many architects find in using plastic laminate apart from cost is its availability in a vast array of color.
Phenolic
A material that is becoming more prevalent in today's market is phenolic. Phenolic bathroom partitions are comprised of a melamine sheet and multiple layers of resin-saturated craft paper pressed together in a high-compact laminate process. This produces an extremely vandal-resistant material that is highly durable. Phenolic comes in two options black core or color-thru. Color-thru provides a consistency throughout the phenolic. Overall phenolic is fire rated as Class B and sometimes A. It is very easy to maintain and is completely moisture resistant. Phenolic is often found in high-end buildings, swimming pool projects, and areas with frequent vandalism issues. Phenolic partitions have a seamless aesthetic appeal and offer many design options. They are available in a variety of privacy and mounting styles as well. Phenolic partitions offer a large range of colors.
European-Style Privacy Partitions
At the cutting edge of bathroom design, European Style Privacy Partitions have entered the mainstream in the United States over the past few years. These partitions are defined by their extra height for both doors and panels, designer hardware, built-in privacy to eliminate sightlines into the stall, and elegant designs. While typically used in higher-end office buildings and hotels, privacy partitions are gaining a foothold in school districts, entertainment facilities, and public and municipality facilities seeking to create a greater sense of privacy and safety for people from every walk of life.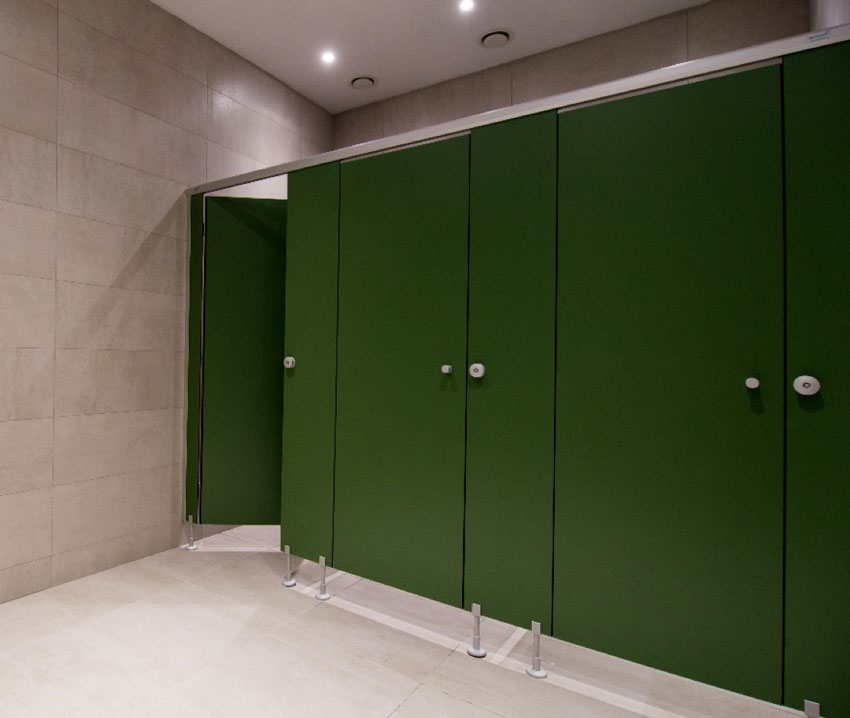 Privacy does not have to be an optional attribute in bathrooms. The availability of European-style partitions means greater options in design that take into account privacy for occupants.
Codes and Standards Related to Partitions
With the increased use of HDPE as a building material, the four code organizations concluded that ASTM E-84: Standard Test Method for Surface Burning Characteristics of Building Materials testing was insufficient. NFPA 286 is the preferred method because it is superior at determining the hazard of an interior finish, as opposed to the traditional tunnel test used in ASTM E-84. This is especially true when testing plastics that melt and fall to the floor of the ASTM E-84 tunnel. Moving forward, NFPA testing should be used.
Partition Attachment Methods
There are many options today for mounting toilet partitions: floor mounted, overhead braced, floor anchored, ceiling hung, or floor to ceiling. How partitions are mounted will also impact the amount of privacy and the aesthetic of your restroom. It may also impact the materials from which you can select.
Partition attachment also dictates privacy. The height of doors and panels affect privacy, so too do hinges and side fillers, which can eliminate sightlines into the compartment. Standard partitions have open sightlines on the side and bottom of each compartment. Using taller doors and privacy hinges eliminates this invasion of privacy.
Uneven floors or changes in wall dimensions during construction can cause gaps between the doors and pilasters and can even cause locking mechanisms to get compromised if the stalls are installed askew. If there is concern over these conditions occurring, specifying European-style partitions, with extra height on both doors and panels, adjustable pedestals to accommodate for uneven floors, superior hardware, and routed edges at sightlines between doors and pilasters can eliminate visibility into the stalls.
Fasteners, anchors, and blocking are critical to a sustainable installation. For example, even though solid plastic partition materials are easy to maintain, they are not as strong as metal. The hardware for this product must be very heavy duty and designed to distribute structural loads evenly across the system. Fasteners and partition panel hardware need to be coordinated with the substrate. A proper partition system is a combination of appropriate materials and hardware sized for the level of use in the toilet room.
Use your product manufacturer as a resource and seek out product manufacturers that offer multiple material and construction options so you can find the right solution for your specific design case.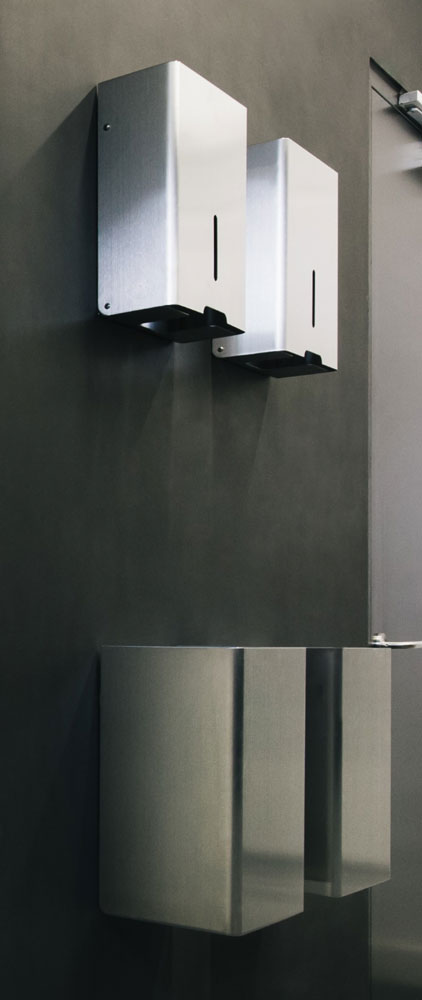 Careful selection of accessories means securing design, performance, and compliance for your washroom.
Originally published in Architectural Record
Originally published in December 2017
Notice