Sustainable Building Design: Improving the Global Footprint
Projects that exemplify sustainable design in action
Sponsored by Armstrong Ceiling and Wall Solutions
Learning Objectives:
Describe the reasons behind the design decisions for the presented projects.
Identify the key sustainable elements in each of the projects.
List two design constraints to sustainability in the projects.
Discuss the sustainable building strategies used in these projects.
Credits:
This course is approved as a core course
This test is no longer available for credit
This webinar is part of the Sustainability Academy.
Join us for this Sustainability Academy webinar highlighting projects that exemplify sustainable design in action. Architects, as leaders in the movement to promote awareness of the environmental impact of buildings, are the standard-bearers for new innovations in design and engineering. Learn how these projects are improving the sustainable footprint of the global built environment.
Rives Taylor, principal with Gensler's Houston office and the firm's sustainability leader, will discuss the new Houston Advanced Research Center (HARC) headquarters, which recently received LEED Platinum certification. With a goal of preserving as much of the original site as possible, designers used natural elements and reclaimed building materials to reduce the new building's environmental impact. In addition, a smart building envelope design and on-site solar and geothermal energy generation meet all of the building's heating, cooling, and electricity needs. This webinar will also demonstrate the interactive story map, created to allow anyone to view the entire planning, design, and construction processes.
Sean McGreal, principal with ZGF, will present the Conrad N. Hilton Foundation Headquarters, Phase 1 and 2 in Agoura Hills, California. The LEED Platinum Phase 1 building is designed with sustainable features, including a green roof, solar energy panels, passive heating and ventilation systems, a stormwater collection system, and is net-zero energy ready. Currently in design, Phase 2 builds in key learnings from Phase 1 and reflects the evolving environmental goals of the foundation. Together, these projects reflect the foundation's primary objectives of providing innovative solutions to maximize energy efficiency and environmental protection, including setting a regional precedent for environmental stewardship.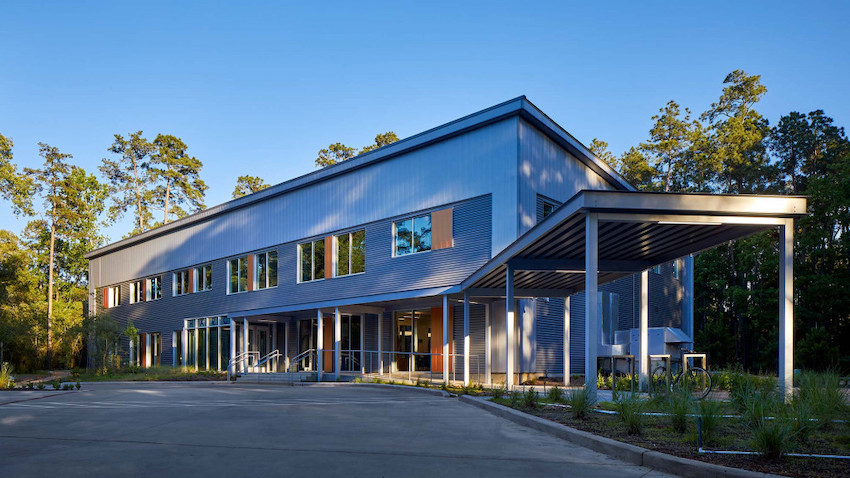 Photo courtesy of Gensler Architects
| | |
| --- | --- |
| | Rives Taylor, FAIA, LEED AP BD+C, Regional Sustainability Leader, Principal, directs Gensler's Firmwide Design Performance teams and initiatives. He is a recognized global expert in resilient, high-performance, and sustainable design and has been a faculty member of both Rice University and the University of Houston for 25 years. Rives has authored more than 150 articles for diverse publications like Urban Land Magazine, WIRED, Fast Company, and Texas Architect and has been an invited speaker at symposiums on five continents. He founded the Houston Chapter of the USGBC and recently received the Center for Houston's Future's Impact Award. A member of the prestigious AIA Fellowship, Rives holds a Bachelor of Arts in architecture from Rice University and a master's degree from the Massachusetts Institute of Technology. |
| | Sean McGreal, Partner, has 18 years of professional experience in the design of academic, residential, judicial, research, and office facilities, as well as historic renovations. As a designer, he is responsible for the quality of design and documentation throughout all phases of a project, beginning from conceptual design through construction administration. Growing up in rural West Virginia, his admiration for the sights around him—whether of newly constructed buildings, dilapidated barns in a frozen state of collapse, or abandoned cars overgrown with weeds—led to his interest in architecture. This perspective of man-made structures interacting with Mother Nature inspired his love for design and the way the esoteric notions of beauty can be combined with the rationality of engineering. Sean holds a Bachelor of Architecture from the University of Tennessee, Knoxville. |
Armstrong World Industries is a leader in the design and manufacture of innovative commercial ceiling and wall systems. At home, at work, in health-care facilities, classrooms, stores, and restaurants, Armstrong Ceiling & Wall Solutions offer interior options that help create healthy, sustainable spaces that protect people and cultivate well-being and comfort so they can be at their best.

Armstrong is committed to developing new and sustainable ceiling solutions, with design and performance possibilities that empower its customers to create beautiful, high-performance residential and commercial buildings. Armstrong continues to grow and prosper for the benefit of all its stakeholders. armstrongceilings.com/commercial


Originally published in June 2019
Notice