Embodied Carbon: Take Action to Reduce the Carbon Emissions of Building Materials
Sponsored by Armstrong Ceiling and Wall Solutions
Webinar On-Demand

1 AIA LU/Elective; *1 ZNDC Credit; 0.1 ICC CEU; 0.1 IACET CEU*; 1 AIBD P-CE; AAA 1 Structured Learning Hour; This course can be self-reported to the AANB, as per their CE Guidelines; AAPEI 1 Structured Learning Hour; This course can be self-reported to the AIBC, as per their CE Guidelines.; MAA 1 Structured Learning Hour; This course can be self-reported to the NLAA.; This course can be self-reported to the NSAA; NWTAA 1 Structured Learning Hour; OAA 1 Learning Hour; SAA 1 Hour of Core Learning
Learning Objectives:
Learn how to accelerate the transformation of the building sector to radically reduce and ultimately eliminate the embodied carbon in building materials and construction.
Gain an understanding of embodied carbon and how to take action to reduce carbon emissions. Embodied carbon refers to carbon dioxide emitted during the manufacture, transport and construction of building materials, together with the use phase and end of life emissions.
Learn about the Embodied Carbon in Construction Calculator (EC3) Tool, an open source tool for architects, engineers, owners, construction companies, building material suppliers and policy makers to compare and reduce embodied carbon emissions from construction materials.
Experience a case study on embodied carbon for a major adaptive reuse project.
This course is part of the Sustainability Academy
This webinar is part of the Sustainability Academy
The building sector is the world's single largest emitter of Green House Gases (GHGs), accounting for 30-40% of total global GHG emissions. Although operational emissions account for more of a building's carbon footprint over its entire life, between now and 2030, almost 75% of the carbon footprint of that 900 Billion square feet will be embodied carbon, NOT operational emissions. Embodied carbon will be responsible for almost half of total new construction emissions between now and 2050.
Building products can reduce their carbon footprint and even become carbon sinks that help remove excess greenhouse gases from the atmosphere. Organizations like Architecture 2030, AIA, USGBC, ILFI, materialsCAN are continuing to raise the awareness of embodied carbon. Unlike operational carbon emissions, which can be reduced over time with building energy efficiency renovations and the use of renewable energy, embodied carbon emissions are locked in place as soon as a building is build.
It is critical that we get a handle on embodied carbon now if we hope to phase out fossil fuel emissions by the year 2050. This webinar will equip manufacturers, architects, designers, and other building industry professionals with specific and practical strategies for selecting products and materials that reduce embodied carbon emissions and move the industry toward making buildings part of the solution instead of less of the problem.
The presentations will be followed by a moderated discussion.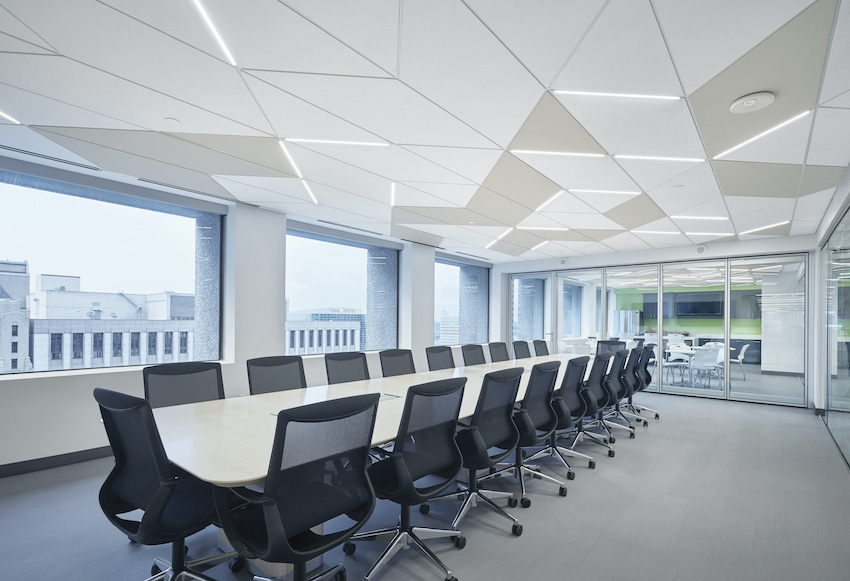 Photo courtesy of Armstrong Ceiling and Wall Solutions
| | |
| --- | --- |
| | Kirsten Ritchie, PE, LEED® AP O+M, Consulting Project Director, Principal at Gensler, serves as one of our firm's leading sustainability ambassadors, championing healthful and forward-thinking design solutions and leading public discussion around innovative and high-performance design and operations. Kirsten's experience encompasses the workplace, retail, hospitality, education, transportation, aviation and infrastructure sectors; and she is a recognized authority in green product standards and sustainability rating systems (including LEED and LBC). She serves on numerous boards and in other advisory positions, including roles with the Material and Technical Advisory Group at USGBC, Board of Directors of the Green Electronics Council, Board of the Ecological Building Network, and as advisor to the Health Product Declaration Collaborative. |
| | Stacy Smedley, LEED BD+C, Living Future Accredited, is Executive Director, Building Transparency. Stacy's resume includes the first LEED for Homes Platinum certified project in Washington and first project in the world certified under Living Building Version 2.0, the Bertschi School Living Science Building. At Skanska, Stacy leads sustainable initiatives and progressing sustainable construction methods. She is co-founder and CEO of SEED Collaborative, creating environmentally restorative learning spaces that educate and inspire. Stacy is committed to engaging her community in sustainable design and has served as a member of the AIA National Materials Knowledge Working Group, advisory board member for the Carbon Leadership Forum, founding member of Washington Businesses for Climate Action, Membership Chair for Cascadia Green Building Council, Regional Emerging Professionals Recruitment Chair for USGBC, Sustainable Curriculum Consultant, and 2013 Scholar in Residence for the National Association of Independent Schools. |
| | Anita Snader, LEED AP BD+C, Environmental Sustainability Manager. As the Sustainability Manager of Armstrong Ceiling and Wall Solutions, Anita is part of the Sustainability team at Armstrong World Industries. She manages our product sustainability strategy. She leads Armstrong's commitment to Health and Wellbeing of occupants called Better Spaces; and drives the material health and transparency efforts through Armstrong's SUSTAIN™ portfolio of high performance ceiling systems. Anita has led the Armstrong Ceiling Recycling Program which reaches its 20 year anniversary this year. As a LEED AP, she co-chaired the LEED EB Platinum certification for their Headquarters in June 2007, and recertification in 2014. Just recently, she led the FitWel Certification for the new Customer Avenue renovation on the Armstrong Campus. |
Armstrong World Industries is a leader in the design and manufacture of innovative commercial ceiling and wall systems. At home, at work, in health-care facilities, classrooms, stores, and restaurants, Armstrong Ceiling & Wall Solutions offer interior options that help create healthy, sustainable spaces that protect people and cultivate well-being and comfort so they can be at their best.

Armstrong is committed to developing new and sustainable ceiling solutions, with design and performance possibilities that empower its customers to create beautiful, high-performance residential and commercial buildings. Armstrong continues to grow and prosper for the benefit of all its stakeholders. armstrongceilings.com/commercial


Originally published in June 2021
Notice