Building Resiliency in Healthcare Spaces
Resiliency strategies and designing for adaptability to improve patient outcomes
Sponsored by Armstrong Ceiling and Wall Solutions
Learning Objectives:
Discuss the importance of resilience planning and design in terms of the indoor environmental quality of healthcare settings.
Describe the potential consequences stemming from pandemic surges and extreme weather events that could affect the safety and well-being of patients, staff and visitors of healthcare facilities in the context of indoor environmental quality.
Discuss the design strategies and building product types utilized in the highlighted projects to increase resilient performance and maintain a healthy building interior.
Explain ways costs can be reduced by incorporating resilience planning into the design of healthcare facilities, specifically indoor spaces.
This course is part of the Indoor Environmental Quality: Healthy Design Academy
This webinar is part of the Indoor Environmental Quality: Healthy Design Academy
From pandemics to climate change, the landscape of healthcare indoor environments is rapidly evolving. For healthcare settings maintaining interior integrity, safety, and occupant health standards are integral to overall indoor environmental quality (IEQ), which has proven effects on patient outcomes and staff/visitor well-being. The consequences of climate change or highly contagious diseases can include increased airborne contaminant concentrations and challenges in providing acceptable environmental conditions during patient recovery periods.
Additionally, during planning and designing stages, incorporating more resilient performance right from the start can help reduce costs by improving building performance throughout the healthcare facility's lifecycle. The days of waiting until after a crisis to implement resilience efforts are long gone.
This webinar will focus on the importance of resilience planning and designing for healthcare setting interiors, as well as design strategies used in a variety of healthcare facility projects to maintain interior environmental quality standards.
Alyssa Scholz, principal from Gensler, will present Mass General Brigham Health's new series of ambulatory care facilities. Featured in this presentation will be a discussion of indoor environmental quality (IEQ) for the project, which was critical to its success. Through the selection of materials, the project will work to reduce carbon emissions, perpetuate the circularity of materials, and eliminate harmful chemicals in our built environments. The material selection for the project will follow these three criteria when being considered for specification: 1) carbon reduction; 2) circularity of materials: specifying materials with recycled content and/or work with manufacturers that take back and recycle materials; and 3) chemical elimination: avoiding materials that contain chemicals known to be harmful to humans and the environment.
Armstrong's Kristin Moore will focus on why the need for action around resiliency in healthcare settings is even greater today, and why we should care.
The presentations will be followed by a moderated discussion focused on key issues featured in the webinar.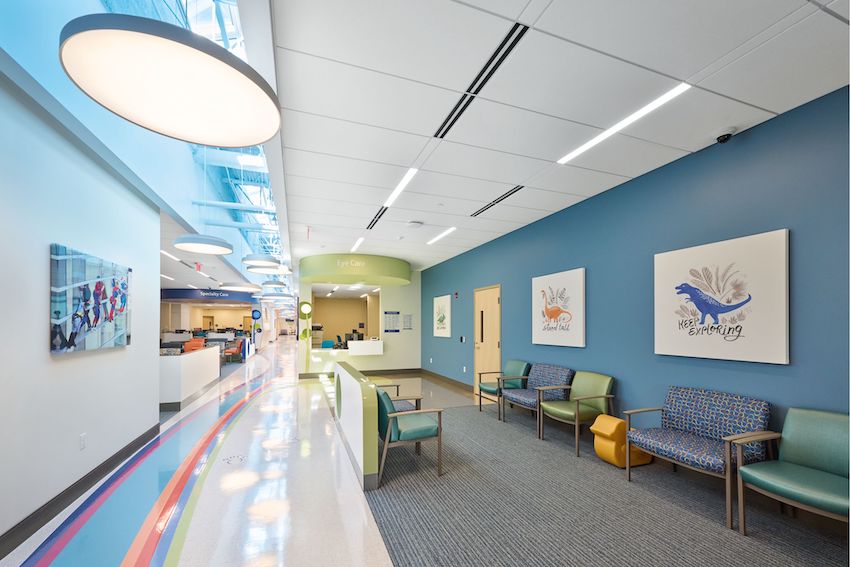 Photo courtesy of Greenfield Architects, Noelker and Hull Associates
Penn State Health Pediatric Hospital
| | |
| --- | --- |
| | Alyssa Scholz, NCIDQ, IIDA, Principal at Gensler brings more than two decades of diverse design experience focused on designing healthcare spaces including regional healthcare systems, academic medical centers, clinics, and medical office buildings. She understands the power of space to satisfy all functional care giving requirements alongside improving the users' experience through environments that inspire and engage. |
| | Kristin Moore, is the VP of Market Segments at Armstrong World Industries (AWI), Inc. With 25+ years of construction industry experience she partners with global leaders to innovate solutions supporting organizational goals around improved employee outcomes, cost savings, and IEQ, while still focusing on staff centered design. She strives for collaborative solutions that create opportunities to ultimately differentiate and accelerate leading institutions. |
Armstrong World Industries is a leader in the design and manufacture of innovative commercial ceiling and wall systems. At home, at work, in health-care facilities, classrooms, stores, and restaurants, Armstrong Ceiling & Wall Solutions offer interior options that help create healthy, sustainable spaces that protect people and cultivate well-being and comfort so they can be at their best.

Armstrong is committed to developing new and sustainable ceiling solutions, with design and performance possibilities that empower its customers to create beautiful, high-performance residential and commercial buildings. Armstrong continues to grow and prosper for the benefit of all its stakeholders. armstrongceilings.com/commercial


Originally published in November 2022
Notice