Renewable district energy offers a homegrown opportunity to avoid inefficient energy grids with local ingenuity.
This course is no longer active
From GreenSource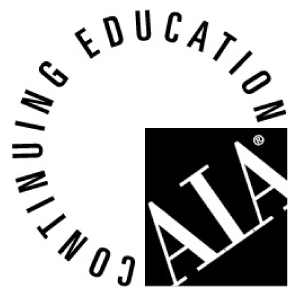 Continuing Education
Learning Objectives - After this course, you should be able to:
Understand the concept of district energy.
Give three examples of renewable energy-powered district systems.
Consider how local, renewable energy can be tapped in your state.
Discuss the issues of scale when siting renewable sources.
Credits:
RENEWABLE DISTRICT ENERGY
In February 2009, prominent politicians in Washington D.C. met to discuss the future of renewable energy development. The half-day National Clean Energy Project forum featured members of Congress and members of the President's cabinet, with labor, environmental, and business leaders. Their goal was to raise the visibility of climate change and alternatives to fossil fuels among policymakers. Former Vice President Al Gore, Speaker of the House Nancy Pelosi, and others spoke about the importance of massive infusions of capital into power plants fueled by the sun and wind and into an upgraded transmission grid to move that power around the country. The consensus appeared to be the opinion articulated by Secretary of the Interior Ken Salazar who said: "Our big question becomes, 'How do we get the energy that is produced from those [remote] areas to the places where it's going to be consumed?'" The forum members seemed to envision acres of solar arrays in the Southwest and huge wind farms in the Midwest, all sending electrical power-via high-voltage transmission towers- to distant population centers.
Although it's refreshing to hear Washington insiders discuss renewable energy, centralizing largescale renewable power production poses several problems. Siting the expensive towers will take time and endless red tape, and they'll face local opposition for health and safety concerns. Long-distance lines are notorious for substantial transmission losses. And these massive projects would probably be the domain of large utility companies eager to claim the profits from this power production and distribution.
HOMEGROWN ECONOMY
In November 2008, the Institute for Local Self-Reliance (ILSR) published a study as part of the New Rules Project that examined the availability of various renewable sources-primarily wind, solar, and biomass-around the United States. Authors John Farrell and David Morris tallied the amount of energy that could be generated by states tapping into renewable resources within their borders. They calculate at least half of the 50 states could meet all their internal energy needs, and most of the rest could meet a significant percentage.
"For example," say the authors, "if Ohio's electricity came from North Dakota wind farms-1,000 miles away-the cost of constructing new transmission lines to carry that power and the electricity losses during transmission would surpass the lower cost of production, resulting in an electricity cost 15 percent higher than local generation with minimal transmission upgrades." Moreover, local production would help protect states from multi-state blackouts. Farrell and Morris conclude: "While significant variations in renewable energy among states exist, in most cases, when transmission or transportation costs are taken into account, the net cost variations are quite modest. Homegrown energy is almost always cheaper than imports, especially when you factor in social, environmental, and economic benefits." ILSR argues that federal policies should concentrate on helping states develop local resources rather than transport energy long distances.
GEOTHERMAL HEAT & POWER
Oregon Institute of Technology, Klamath Falls, Oregon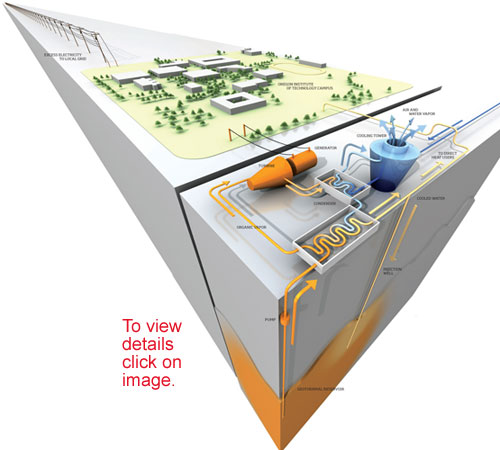 OIT, in a plan to become an "all green-energy campus" by early 2010, has expanded its longstanding geothermal heat capability. A new 5,300-foot-deep well, tapping 300-degree geothermal fluids,will run a 1.5 to 3.0-megawatt power plant capable of more than satisfying all the campus's electricity needs. Excess heat and power will be sold locally.
Illustration by Bryan Christie Design
Originally published in GreenSource
Notice