A multidisciplinary team of consultants tackles the tricky restoration of a pair of iconic Chicago towers.
This course is no longer active
From Architectural Record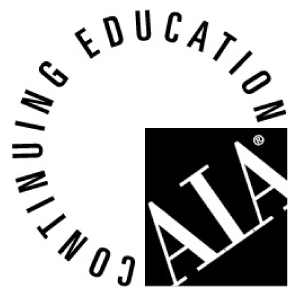 Continuing Education
Learning Objectives - After this course, you should be able to:
Describe the challenges inherent in restoring a Modernist building.
Discuss how codes, budgets, and maintenance issues complicate restoration of a Modernist building.
Explain how the restored buildings at 860-880 Lake Shore Drive differ from the originals.
Explain how the 860-880 restoration team preserved the original design intent.
Credits:
Few architects are as closely linked with their aphorisms as Ludwig Mies van der Rohe. Any student of design, as well as many members of the general public, will readily associate him with phrases like "less is more" or "God is in the details." The mottoes are so memorable, at least in part, because they vividly capture the essence of his buildings. And of all his work, no project represents the rationalist, "almost nothing" aesthetic embodied in his quips quite as well as the set of 26-story apartment towers he designed for Chicago's Gold Coast: 860 and 880 Lake Shore Drive.
Mies's primary goal for the twin buildings was to express the logic of the towers' structural skeletons on their facades. The supporting columns and spandrels provide the key organizing elements, with the elevations further subdivided by vertical mullions and then infilled with floor-to-ceiling windows. The buildings sit on a triangular plot of land, with their rectangular, three-by-five bay footprints facing each other at right angles. The glass-enclosed lobbies are pulled away from the perimeter columns, making the buildings appear to almost float on a shared travertine, plinthlike plaza.
Completed in 1951, the buildings were Mies's first realization of his vision for a glass-and-steel skyscraper. The pair, along with a handful of other midcentury projects, including Pietro Belluschi's Equitable Life Assurance Building (1947), in Portland, Oregon, and Skidmore, Owings & Merrill's Lever House (1952), in New York City, would become the prototype for postwar high-rise development around the world.
The Lake Shore buildings have long been recognized as icons of Modernism. They were placed on the National Register in 1980 and designated Chicago Landmarks 16 years later. However, this status did not make either 860 or 880 immune to the not-so-unusual effects of exposure to the elements: After more than half a century of freezing and thawing, wind and rain, surface corrosion was readily visible on the towers' gridded facades. At their base, the lobbies' storefront system was badly deteriorated, pavers were cracking and spalling with water seeping into the below-grade garage, and rusted exterior lighting fixtures left the plaza underilluminated.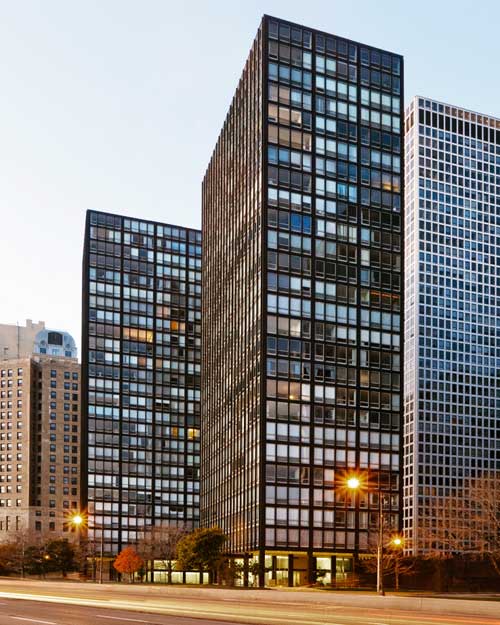 The Lake Shore Drive facades express the logic of the towers' structural frames.
Photo © William Zbaren
Originally published in Architectural Record
Notice