Model Behavior: Anticipating Great Design
Cutting-edge projects throughout the Middle East rely on a variety of simulation programs to inform design and predict building performance
This course is no longer active
From Architectural Record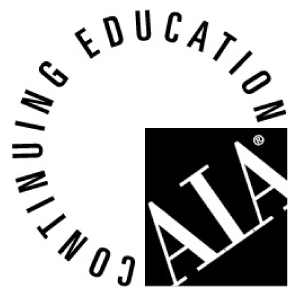 Continuing Education
Learning Objectives - After this course, you should be able to:
Describe how different simulation software is used for predicting energy use and climate effects on buildings.
Discuss incorporating culturally important concepts into building design.
Explain why engineering consultants need to be brought in at the early stages of design.
Credits:
The Middle East is a land of extremes-economic, climatic, and cultural. When it comes to building construction, it is also a place for superlatives, with projects that are the biggest, the tallest, and the most expensive in the world. Added to that is a growing list of structures that promise to be among the most innovative in terms of design and energy performance. To determine the feasibility of these complex projects-many of which engage natural phenomena created by the wind, sun, and moon-architects are increasingly relying on building simulation programs, utilized both in-house and by consultants who are now being called on during the earliest stages of the design process.
Chicago-based Adrian Smith + Gordon Gill Architecture (AS+GG) and Environmental Systems Design (ESD) used a host of simulation programs to develop the design for their competition-winning Masdar Headquarters in Abu Dhabi's Masdar City, which is expected to be the world's first zero-carbon, zero-waste city fully powered by renewable energy. "When we started the competition, we knew that in order to meet Masdar's goals we needed to have an integrated practice approach, bringing the engineers in at the concept phase," explains AS+GG partner Robert Forest, AIA.
Eleven imposing, steel-and-glass-enclosed cones define the eight-story building. When completed by the end of 2010, the headquarters will be the world's first large-scale, mixed-use, positive-energy building, producing more energy than it consumes. Simple building orientation and shading studies were carried out by the architects using Ecotect, a software recently acquired by Autodesk. The three-dimensional architectural model was then transported into eQUEST, a sophisticated building-energy-use analysis tool initially developed as part of DOE-2, which allowed the engineers to optimize the mechanical and electrical systems, as well as the building envelope. According to Forest, "These programs are used to bring up the minutiae of energy performance so we can fine-tune different components of the building." By taking a section of the exterior wall, for instance, the designers are able to examine facade orientation and overhang size to study heat gain.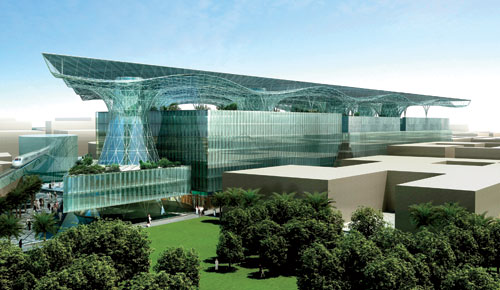 The Masdar Headquarters in Masdar City, Abu Dhabi, UAE, will be the world's first large-scale, mixed-use, positive-energy building (above). The design consists of eleven glass-enclosed wind cones, some of which will have gardens and water features in the courtyards at their base (below).
images courtesy Adrian Smith + Gordon Gill Architecture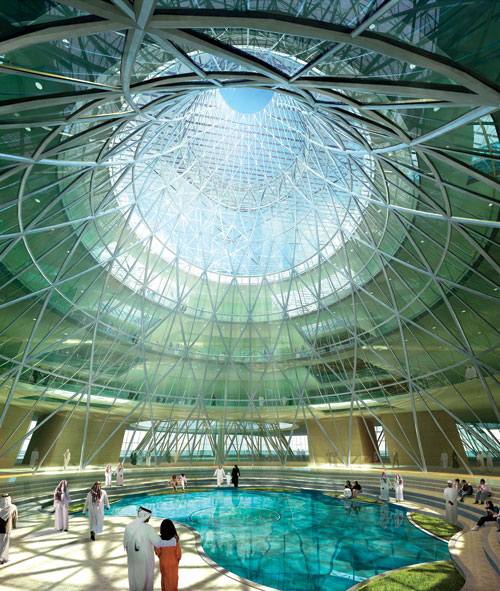 Originally published in Architectural Record
Notice