An ambitious plan for a world-class research university in Saudi Arabia's desert spurs an unprecedented building project.
This course is no longer active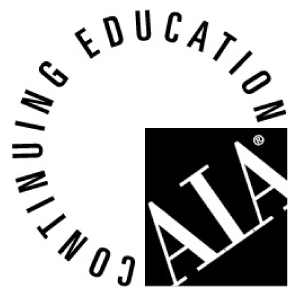 Continuing Education
Learning Objectives - After this course, you should be able to:
Explain the challenges KAUST's site presented in its design and construction.
Describe the challenges KAUST's program presented in its design and construction.
Identify passive-sustainable-design strategies used at KAUST.
Describe how and why traditional Arabic design elements were incorporated into KAUST's contemporary design.
Credits:
It seemed like a far-fetched idea. Build a world-class research university from scratch on the edge of the desert that would contain state-of-the-art facilities and be an exemplar of sustainable design. And do it in under three years. But since the idea belonged to Saudi Arabia's King Abdullah bin Abdulaziz Al Saud, it got done. The result is King Abdullah University of Science and Technology, known by its acronym, KAUST.
Getting it done required the intense collaboration of architects, designers, engineers, builders, and suppliers around the world. With 24 offices in North America, Europe, Asia, and the Middle East, HOK was in a unique position to coordinate the job. By coincidence or not, it had also designed Saudi Arabia's first large-scale university, King Saud University in Riyadh, more than 30 years earlier - at the time (1975-83) considered the single largest building-construction project in the world. Originally hired in October 2006 to do a master plan for KAUST, which included a commercial center, a research park, and residential areas for the school's students and staff, HOK was awarded the commission for the architectural, landscape, structural, m/e/p, interior, and lighting design of the campus's 23 buildings in March 2007.
Located along the coast of the Red Sea in Thuwal, home to a small fishing village about 30 miles north of Jeddah, KAUST's 5.5-million-square-foot campus would spread out over 100 acres in one of the world's most extreme climates. On the one hand, its design had to mitigate the intense sun and ubiquitous sand of the desert. On the other, it had to contend with the high humidity and unusually high salinity of the marine site, which included a unique coral reef ecosystem that required protection.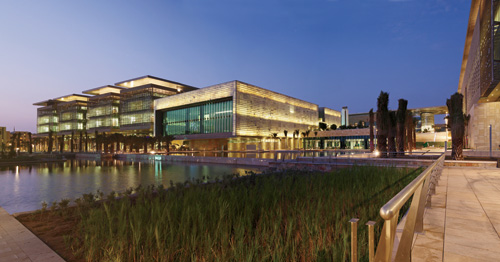 KAUST's glowing library sits between the commons and several lab buildings. Behind it is the oval-shaped rotunda.
Photo: © JB Picoulet
Originally published in Architectural Record
Notice