An Energy-Conserving Technology From Europe Makes Inroads in the U.S.
American design teams discover the advantages of chilled beams, a mechanical device popular abroad for more than a decade
This course is no longer active
From Architectural Record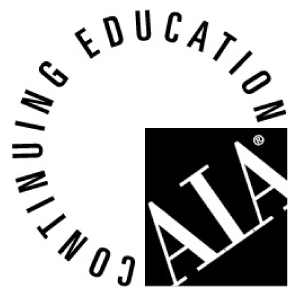 Continuing Education
Learning Objectives - After this course, you should be able to:
Discuss how chilled-beam technology works.
Describe the differences between passive and active chilled beams.
Explain the benefits of passive chilled beams over conventional cooling systems.
Credits:
An efficient HVAC technology known as "chilled beam," popular in Europe as well as Australia for more than a decade, is beginning to attract attention in the U.S. The oddly named mechanical device is not a structural beam and is sometimes not even chilled. Resembling a fluorescent light fixture, it is part of a ceiling-mounted system that can provide cooling, heating, and other building services. It uses far less energy than conventional variable air volume (VAV) systems, and some U.S. design teams are adopting it as one strategy toward creating better-performing buildings.
A key difference between chilled beams and conventional systems is that the former deliver cooling via water instead of air. Because water is many times more dense than air, it can provide equivalent cooling energy in a fraction of the volume. And the pumps that move the water require less energy than the fans that move the larger volumes of air. When asked how soon this technology will take off in this country, Donald Haiges, a senior vice president at WSP Flack+Kurtz in Boston says: "It's already begun. There are big benefits in horsepower savings, comfort, and quiet operation."
Passive but effective
The simplest form is known as the "passive chilled beam." Chilled water is piped to a coil, which usually consists of aluminum fins on copper tubing within a perforated metal casing. There, it cools the surrounding air, which drops into the room. Natural convection drives the warmer, more buoyant room air up to the ceiling and into the casing, where it is cooled and naturally drops again. A small space between the top of the chilled beam and the underside of the structure allows the warm air to rise above the beam, turn, and accelerate past the fins of the heat exchanger.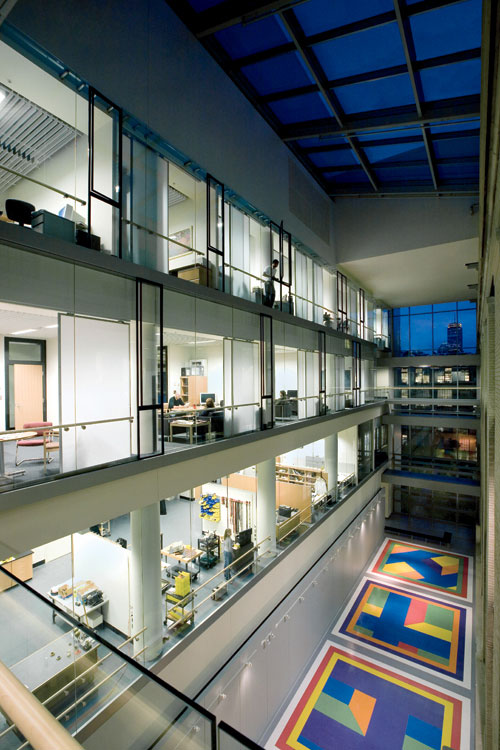 For PDSI, a renovation and addition project at the Massachusetts Institute of Technology, Payette Associates chose passive chilled beams to supply cooling to low-occupancy spaces, such as offices.
Images © Peter Vanderwarker
 
Originally published in Architectural Record
Notice