American Institute of Steel Construction
Learning Objectives:
Describe the plan conceived for the Empire State Building project for meeting the goal of not only protecting the public and workers but also to allow for the strengthening of the mast and tower without having to resort to sidewalk bridges.
Detail the potential benefits of a composite structural-steel frame instead of a steel frame around a reinforced concrete core in Seattle's Rainier Square Tower project.
Discuss the structural challenges and various solutions for the construction of Washington, D.C.'s Espionage Museum, specifically as they relate to the project's use of steel and metal.
Identify ways in which structural and composite steel were used in the featured projects to meet performance and aesthetic design goals.
Summarize the unique benefits of steel as a building material per Frank Lloyd Wright's 1927 essay series, "In the Cause of Architecture."
Credits:
This course is approved as a core course
This test is no longer available for credit
This course is part of the Steel Academy
Below are a set of links to building type studies from Architectural Record, which are in-depth analyses of particular kinds of buildings, with photos, drawings, specifications, detailed descriptions, and design solutions. Click on each link below, read the article then complete the quiz to earn your credit and certificate of completion.
From the Empire State Building to Seattle's Rainier Square Tower and Washington, D.C.'s striking International Spy Museum, steel plays a major role in the integrity, strength, safety, seismic design, and even aesthetics of these unique structures. Through content from the editorial pages of Engineering News-Record, this course takes an engineering perspective on a number of high-profile construction projects that use steel as a building material. Additionally, the course includes excerpts from a 1927 essay by Frank Lloyd Wright in which the famed architect provided an overview of steel's unique role as a desirable building material in contemporary design.
How to Add 39 Tons of Steel to the Top of the Empire State Building
The goal was to increase the carrying capacity of the mast.
Tom Saywer
Rainier Square Tower's Composite Steel Frame Called a Game-Changer
A team in earthquake-prone Seattle is daring to deliver an 850-ft-tall "proof of concept" for a composite structural-steel frame, instead of a steel frame around a reinforced concrete core.
Nadine M. Post
D.C. Espionage Museum Displays Stunning Facade
Concealment is a necessary skill in espionage, but many of the secrets behind the new International Spy Museum are hidden in plain sight.
Bruce Buckley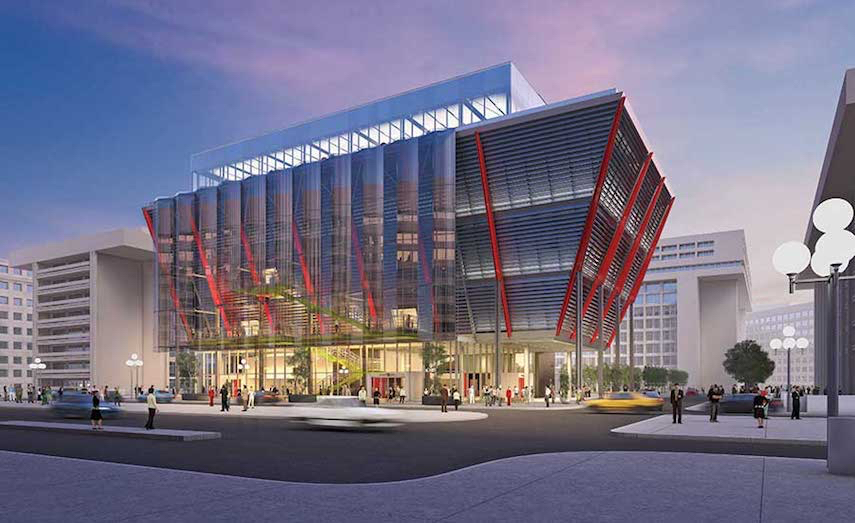 ©International Spy Museum
| | |
| --- | --- |
| | AISC is the leading advocate and trusted resource for American structural steel. Grounded in unsurpassed science, quality, and craftsmanship, our vibrant industry is ever-advancing and ever-improving. That's why for nearly 100 years, AISC has proudly innovated with breakthrough research and applied technology for fabricators, engineers, architects, and the construction industry. We set the standard so you can focus on delivering visionary projects of the highest quality for your clients. As we move into our next 100 years, we'll continue to advocate for, champion, and strengthen this vital industry. www.aisc.org |
Notice