Specifying Aluminum High-Performance Windows and Doors
Aluminum framed windows and doors continue to expand sustainable and luxury design opportunities for all projects
Sponsored by All Weather Architectural Aluminum
Learning Objectives:
Describe the advantages to building owners and occupants of selecting high-performance aluminum windows and doors in both residential and commercial projects.
Recall the sustainable attributes of aluminum when selecting window and door frame material.
Explain how integrating superior frame technology with glazing strategies helps to create energy-efficient aluminum windows and doors.
Discuss how reducing air and water leakage and increasing daylight using aluminum extruded windows and doors will improve indoor environments.
Credits:
This course can be self-reported to the AIBC, as per their CE Guidelines.
This course is approved as a Structured Course
This course can be self-reported to the AANB, as per their CE Guidelines
Approved for structured learning
Approved for Core Learning
This course can be self-reported to the NLAA
Course may qualify for Learning Hours with NWTAA
Course eligible for OAA Learning Hours
This course is approved as a core course
This course can be self-reported for Learning Units to the Architectural Institute of British Columbia
You are not currently logged in to your CE Center account.
Log in
to view and complete the quiz questions that are embedded in this article.
Aluminum production has recently decreased its environmental footprint dramatically, and aluminum extrusion technology has advanced considerably to make aluminum one of the most sustainable materials and aluminum windows and doors top performers. This course covers the production enhancements and developments in the design of unique aluminum extrusions that, when combined with innovative thermal barrier materials, create window and door systems that save energy, increase healthy indoor air quality, and improve safety, sustainability, and aesthetics. The course begins with case studies of buildings using high-performance windows and doors with custom extrusions.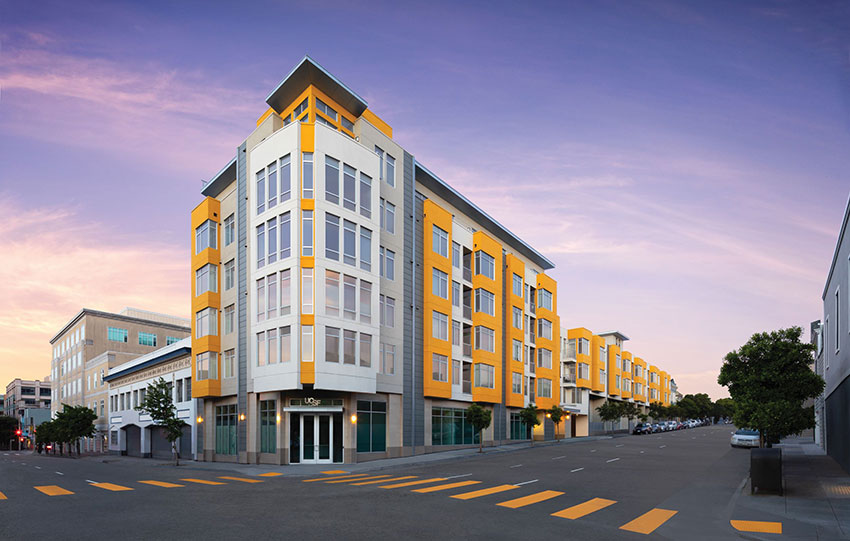 Photo courtesy of All Weather Architectural Aluminum
The District at 2655 Bush Street is a single-tenant, mixed-use luxury condominium project on San Francisco's Divisadero Corridor that was designed by KTGY Architecture and features high-performance aluminum windows and swing doors.
An Evolving Material
The first aluminum products can be traced back to 1852, during the reign of Napoleon III, who also served state dinners on aluminum plates to his special guests. Over the years, it has become a material with multiple complementary attributes and can be found in an array of products and structures—from national monuments to everyday residential and commercial buildings.
The Empire State Building, built in 1931, was the first building to use aluminum in both the basic structure and interior. In 1994, the 5,460 original badly deteriorated steel window frames were replaced with aluminum frames. During a major energy retrofit in 2011, all of those aluminum frames were still in excellent condition and were kept in place—just the glazing was upgraded.
Aluminum has continued to earn a reputation as a high-performance material with ever greater contributions to sustainable and healthy building projects. In the world of windows and doors, the beneficial attributes of aluminum have given manufacturers and designers a wide range of options for product innovation, process improvements, and the strength to withstand wind loads and imp
acts. This evolution can be seen in new projects—from affordable to high-end housing, demonstrating how important the material continues to be in a time when housing solutions are more important than ever.
Affordable Housing Solutions: Parcel Q
Parcel Q, designed by HKIT Architects and Y.A. Studio and built by Cahill Contractors, is the first phase of the redevelopment of Sunnyvale, San Francisco's largest public affordable housing site. The newly constructed 5-story, Type V-A over I-A family apartment building sits at the southeast corner of Sunnydale Avenue and Hahn St. Parcel Q features studios, 1-bedroom, 2-bedroom, and 3-bedroom units, all of which have been built with all-weather aluminum windows.
The 55 affordable apartment units surround a shared community room with a full kitchen and a 6,000-square-foot courtyard. The community room also has a "teen room," which is a quiet place to do homework or meet with friends. The outdoor courtyard has a barbeque and play structure/area for the younger kids.
Parcel Q was designed not only to provide shelter, but also to empower community. Sunnyvale residents are designing the lobby with an artwork installation by artists from the neighborhood. The project also includes a structured parking garage, laundry rooms, an employee office, and bicycle parking. Seventy-five percent of these newly constructed homes will be for existing residents. All 775 families who live in Sunnydale were entered into the lottery to determine which residents will be chosen for the new building.
The aluminum windows in this project provide the best of both worlds. They're visually appealing, but affordable. Aluminum has the ability to provide both durability and flexibility, which gives it a kind of super-power performance value. That flexibility has allowed the Parcel Q project to custom design the windows using an artisan-built aesthetic that keeps the units feeling homey and comfortable, while still retaining their safety features.
Luxury Residential Housing: The Greenwood Residence
On a serene cul-de-sac at the end of Monte Sereno, Calif.'s most desirable street, this modern masterpiece of steel and glass strikes a balance between sleek sophistication and organic, livable warmth.
Newly constructed in late 2019, this 4 bedroom, 3.5 baths, 4,000-square-foot home with over 2,500 square feet of terraces offers breathtaking mountain and city light views. The kitchen features striking walnut and Italian lacquered cabinetry, quartzite counters, Miele, and Subzero appliances.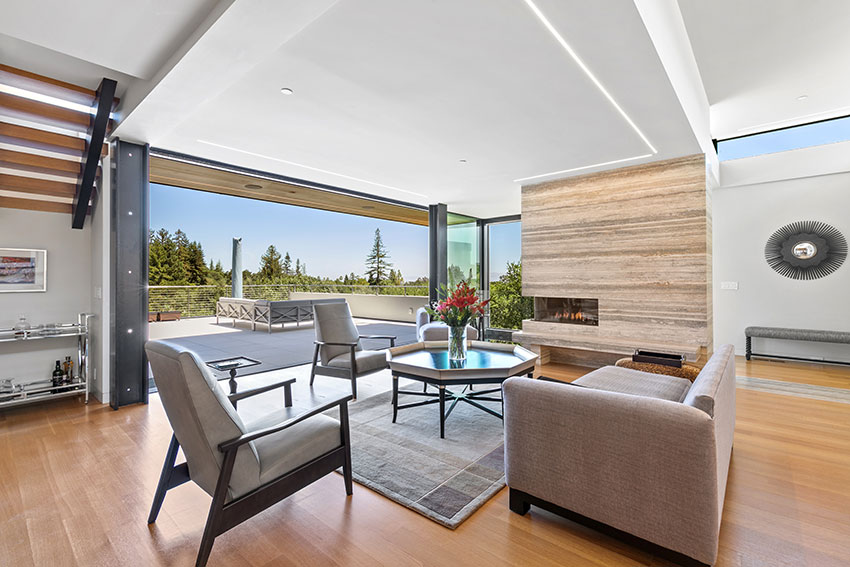 Photo courtesy of Tour Space
The Greenwood Residence, designed by Mark English Architects, features pocket sliding doors made of aluminum, which provide durability against weather, security, and elevate the design of the luxury space.
Throughout the home there are a variety of materials, styles, and textures, including French white oak floors, heated stone, and wool shag carpet. There is a floor-to-ceiling limestone master bath with two water closets and a second laundry room. There is a wine room, media room, infrared sauna, hot tub, Shou Sugi Ban fireplace, living roof, Tesla charger, Toto toilets, full house water filtration and LED lighting.
Among the many chosen features, the Greenwood Residence uses aluminum to provide durability and beauty. The amazing terrace views are framed by way of architectural aluminum doors and windows. The high-performance windows in this residence are exceptionally strong with an excellent energy-efficient rating.
The Greenwood Residence features two types of aluminum doors. One type is a swing door system that is highly durable and highly efficient, which supports comfort, safety, and well-being of the occupants. This type of aluminum door has also been created with a thermal strut system for increased thermal performance and has been optimized for acoustic insulation.
These high-performance aluminum doors have a contemporary aesthetic, but also design flexibility because of the finish color options. So, while this particular door fits the luxury feel in this project, it can also be utilized for any number of commercial or mixed-use/multifamily projects, each with their own unique style.
The Greenwood Residence also features a high-performance multi-slide door system that is highly energy efficient and can be configured in a variety of ways. For the Greenwood Residence, pocket sliding doors with automatic shades were chosen to meet its overall design.
What Is It About Aluminum?
The Parcel Q and the Greenwood Residence represent very different types of projects, which illustrates the versatility of aluminum and how it meets a wide variety of needs and desires for a range of designs. And despite their differences, all housing projects find common ground: They need to protect their occupants by supporting a comfortable, safe, and healthy environment. Aluminum is able to deliver on that front, too, providing an overall benefit to building owners and occupants when aluminum is selected for high-performance windows and doors.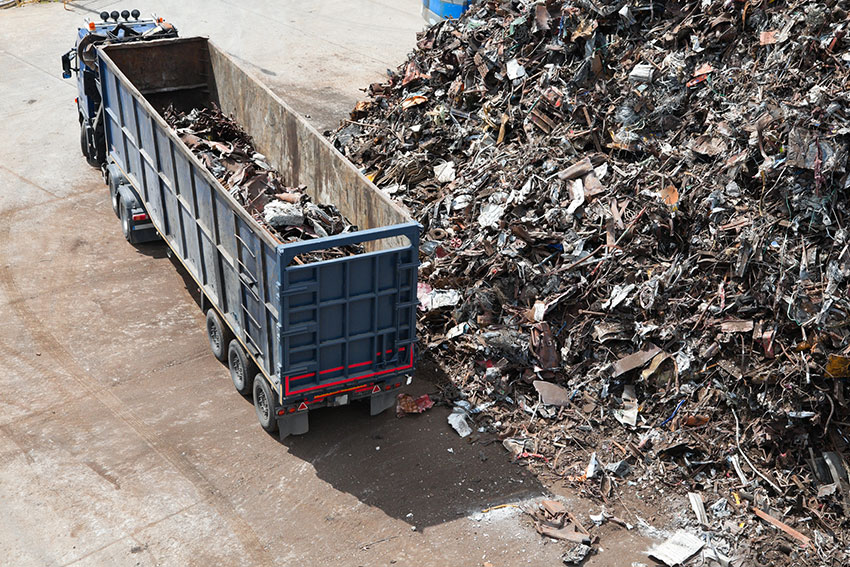 Photo courtesy of rihardzz; Getty Images
Aluminum is highly recyclable, making it an excellent material for sustainable projects.
Lightweight and Strong Aluminum's high strength-to-weight ratio makes it especially useful as a structural material. It weighs 65% less than steel, is 34 times stronger than vinyl, is 43 times stronger than wood, and when appropriately alloyed and treated, can be stronger than some steels, with ultimate tensile strengths as high as 80,000 to 90,000+ psi. Because aluminum structures are light, they also reduce substructure costs significantly. Modern skyscrapers could not be built without aluminum.
Corrosion Resistant and Long-Lasting Aluminum naturally generates a protective oxide coating that resists corrosion. If this film is scratched or damaged, it reforms instantly. Different types of surface treatment can further improve this property.
Flexible Aluminum can be made into any form, shape, size, and gauge without compromising material integrity and performance.
Reflective Aluminum is a good reflector of visible light and heat. That makes it an ideal material for reflecting sunlight and saving energy.
Impermeable Aluminum has an excellent barrier function that keeps out air, light, and microorganisms.
Durable Aluminum's unique combination of strength and corrosion resistance makes it a particularly durable material.
Nontoxic Aluminum is not adversely affected by steam sterilizing and cleaning and will not harbor bacteria or insects.
Safe Aluminum building products and their surface treatments do not present a hazard to occupants or the surrounding environment.
Non-magnetic and Non-sparking These properties make aluminum a suitable material for applications where explosive vapor mixtures are present.
Electrically Conductive Aluminum and copper are the two common metals with electrical conductivity high enough to permit their use as an electrical conductor. Although aluminum's conductivity is just 62% of that of copper, its light weight can prove to be a great benefit; an aluminum conductor of equal current-carrying capacity weighs just half that of a copper conductor.
Thermal Barrier and Conductor Aluminum is a good conductor of heat, but aluminum products with effective thermal breaks can also act as barriers to heat flow.
Stiff Aluminum has greater resistance to deformation than either wood or vinyl. It is 72 times more rigid than wood and 23.2 times more rigid than vinyl.
Recycling Aluminum
In North America, it is estimated that at least 85% of all aluminum shipped to the construction sector is still in productive use today. 12% has been recycled in the form of end-of-life scrap/resource, and only 3% has been lost in the natural environment.
Annual benefits of recycling include saving about 70 million barrels of crude oil, 2.4 million acres of land, 45 million tons of fresh and sea water usage, 7.5 million tons of solid waste, and 27 million tons of CO2.
Originally published in Architectural Record
Originally published in December 2022
Notice