State of the Art of Insulating Concrete Forms
An inside look at the cutting-edge design strategies and high-performance solutions that come with larger-scale Insulating Concrete Form (ICF) construction
Sponsored by Build with Strength, a coalition of the National Ready Mixed Concrete Association
Architectural Record
Learning Objectives:
Explain ways in which the latest advancements allow ICFs to deliver innovative design options as well as safe, comfortable, and disaster-resilient environments for higher education residence halls and other industrial, commercial, and high-density housing facilities.
Discuss the environmental benefits of current ICF construction, including maximizing R-values, minimizing thermal bridging, increased energy efficiency, and better acoustic insulation.
Describe common ICF wall systems, their components, and basic construction steps.
Identify project management and construction advantages of building with ICFs, including occupant safety and satisfaction and efficiencies in design and construction, providing faster completion, cost savings and occupancy rates.
This course is part of the Concrete Academy
This webinar is part of the Concrete Academy
Insulating concrete forms, or ICFs, are forms used to hold fresh concrete that remain in place permanently to provide insulation for the structure they enclose. Originally used predominantly in single-family residential projects, larger buildings are becoming a common application for ICFs. They have become popular for a variety of commercial applications and multifamily housing projects, including college dormitories, apartment complexes, office buildings, and schools, allowing those building types and more to take advantage of the design, performance, safety and energy-efficient benefits that ICF construction provides.
This live event will include presentations and case studies that highlight how ICFs fit into designs that increasingly pay attention to occupant safety and comfort. For example, the use of ICFs allows design and architectural professionals to take advantage of concrete's fire resistance and noise reduction qualities. Additionally, this course will address ways in which thermal properties of ICFs—which combine the high R-value of rigid insulation with the thermal mass of concrete—provide significant energy savings, ensuring long-term value.
Colin L. Drake, AIA, LEED AP of JRA Architects, will present the University of Louisville's Phase 1 New Residence Hall, the first residential project in the heart of the campus in over 40 years. The new, 5-story building and three, uniquely landscaped campus courtyards, replace a small, one-story office building and a large surface parking lot, directly next to the student activities center that serves as a hub of engagement on campus. The increased density of the site balances a desire to maximize the number of residents with the need to respect the existing contextual scale. The brick, glass, and metal panel-clad structure reinforces the university's commitment to pedestrian-oriented development, live-learn residential communities, and gender neutral accommodations.
The structure offers the university an extremely adaptable and durable combination of insulation-formed concrete exterior walls, interior steel frame, and precast concrete plank floors. Beyond its exceptional envelope energy performance, this robust structure addresses the significant acoustic isolation needed from surrounding urban infrastructure, and proved to be the most value-driven choice among other long-life structural options. A sister building is currently under construction nearby, which together will frame the main pedestrian arteries at this end of campus, and offer a compelling variety of outdoor experiential space for students.
Amy Upton, AIA, LEED Fellow from Grimm + Parker Architects will present two new replacement schools that have achieved LEED Platinum and are tracking Net Zero Energy with innovative strategies including ICF exterior walls. Located within three city blocks of each other and five miles east of Baltimore's Inner Harbor, Graceland Park-O'Donnell Heights Elementary/Middle School and Holabird Elementary/Middle School are based on a new, 94,000 sf prototype design to demonstrate Baltimore's focus on project-based learning, sustainability, community use facilities, and energy-conscious schools in an urban environment. Both schools serve under-resourced neighborhoods with high poverty rates and high numbers of English language learner students.
Kenny Stanfield, AIA, LEED AP of Sherman Carter Barnhart will discuss projects from the Warren County School District in Kentucky. In 2010, Warren County Schools opened Richardsville Elementary, the Nation's first net zero-energy public school. The building operates at an annual 18.9 EUI and consistently generates more energy that it consumes, providing a positive revenue stream for the district. Following the success of Richardsville, Warren County adopted a policy that all new schools would be designed to achieve net zero-energy (operate at 25 EUI or less) and be constructed using an ICF envelope. In 2018, Jennings Creek Elementary opened and became Warren County's second net zero-energy school, operating at 15.5 EUI (Kentucky's most energy efficient school). To date, the district has two net zero schools, three nearly net zero (Phase I solar installed) and two net zero achievable schools.
The presentations will be followed by a moderated discussion focused on how these innovative projects and strategies address several key issues in planning and design.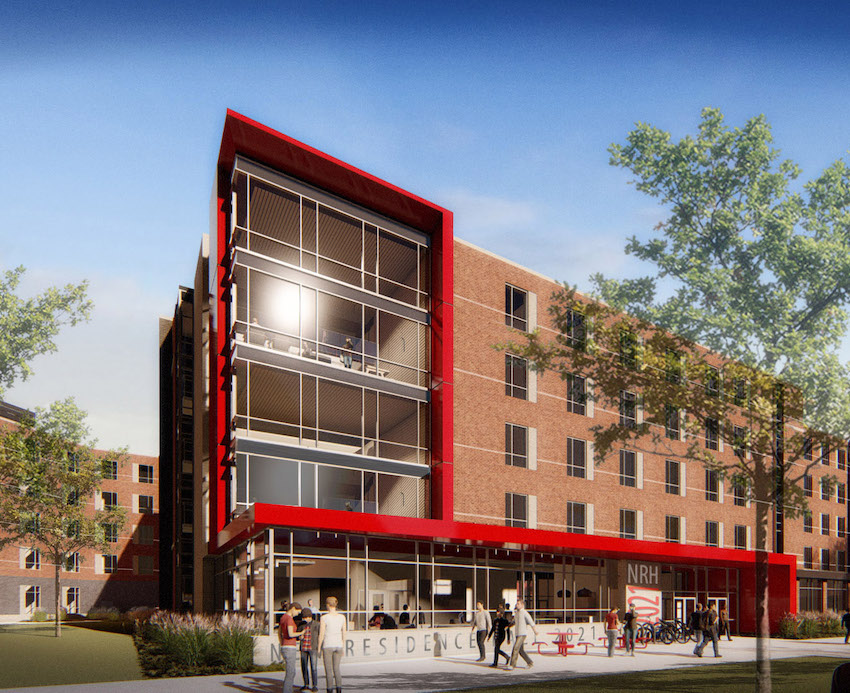 Photo courtesy of University of Louisville
| | |
| --- | --- |
| | Colin L. Drake, AIA, LEED AP, is a principal and civic studio design leader for JRA Architects. He is a passionate advocate for great design at any price point, leveraging conventional materials in unique and compelling ways. His 20-year career has focused on a broad range of public facing project types, from schools to courthouses to libraries, where investment in practical sustainability can touch the everyday lives of the public and inspire greater wellbeing. The Ball State graduate lives in his adopted home of Louisville, Kentucky with his wife, 3 kids, and innumerable foster kittens. |
| | Amy Upton, AIA, LEED Fellow, Principal, Director of Environmental Design, Grimm + Parker Architects has spent over 19 years at Grimm + Parker Architects balancing her roles as Project Architect on K-12 Schools, Recreation Centers and Libraries, as a firm Principal, and as the firm's Director of Environmental Design. She has designed and been a part of countless public projects that strike a balance of inspiring, healthy and high-performance environments with budget, maintenance and operation concerns. She was a co-Project Manager for two new Net Zero Energy (NZE) Pre-K-Grade 8 schools in Baltimore City that opened Fall 2020 and are each LEED Platinum certification. |
| | Kenny Stanfield, AIA, LEED AP, As a Principal of Sherman Carter Barnhart's Education Studio, Kenny leads the firm's innovation, development, and application of sustainable design strategies in schools. Nationally recognized as a leader of high performance, energy-efficient designs, Kenny has led the design of ground-breaking high performance schools, including the first Zero Energy public school in the United States, Kentucky's latest Zero Energy School, twenty-two Zero Energy Emerging/Ready public schools in Kentucky, Kentucky's first four Energy Star schools, and the first Insulated Concrete Form (ICF) school in Kentucky, as well as the largest ICF school in the Nation. While energy savings is a focus of his designs, Kenny's real success comes from providing high performance, energy-efficient buildings for the same cost of a conventional building, dispelling the notion that green is expensive. Kenny frequently speaks both regionally and nationally on high performance, sustainable schools. This includes Greenbuild, the National School Board Association, The Carbon Neutrality Symposium, Yale; and the Congressional Briefing on Net Zero Schools, Washington DC. Publications he has written articles for include; The BuildingGreen Report, Learning By Design, ICF Builder, School Planning & Management, and High Performing Buildings. |
| | |
| --- | --- |
| | Build with Strength, a coalition of the National Ready Mixed Concrete Association, educates the building and design communities and policymakers on the benefits of ready mixed concrete, and encourages its use as the building material of choice. No other material can replicate concrete's advantages in terms of strength, durability, safety and ease of use. |
Originally published in June 2022
Notice