Contending with Corrosion in Metal Exteriors
High-performing, long-lasting, and resilient, PVF film is the technology of choice for corrosive environments
Sponsored by DuPont™ Tedlar®
You are not currently logged in to your CE Center account.
Log in
to view and complete the quiz questions that are embedded in this article.
In other lab tests, PVF proved itself to be impermeable to greases and oils. This makes the films easy to clean because the vast majority of staining agents remain on the surface of the films as opposed to seeping into the material.
Chemical resistance testing in the lab includes spot and submersion testing of various arch chemicals, including hydrogen chloride, sodium hydroxide, nitric acid, and more. Commercial PVDF, FEVE, and SMP paints all failed significantly faster than PVF film. Testing for PVF film ended at 2000 to 3000 hours without failure across all chemical tests. The tested PVDF paints failed long before the film testing ended, some in as little as under 100 hours and none more than 1,500 hours. Failing is defined as cracking, blistering, and an otherwise damaged coating film layer, displaying a ruined appearance and exposing the metal beneath to corrosive elements.
Over the course of 20+ years, pigmented PVF films in south Florida were tested and generally displayed well under five units of color change, essentially invisible to the naked eye.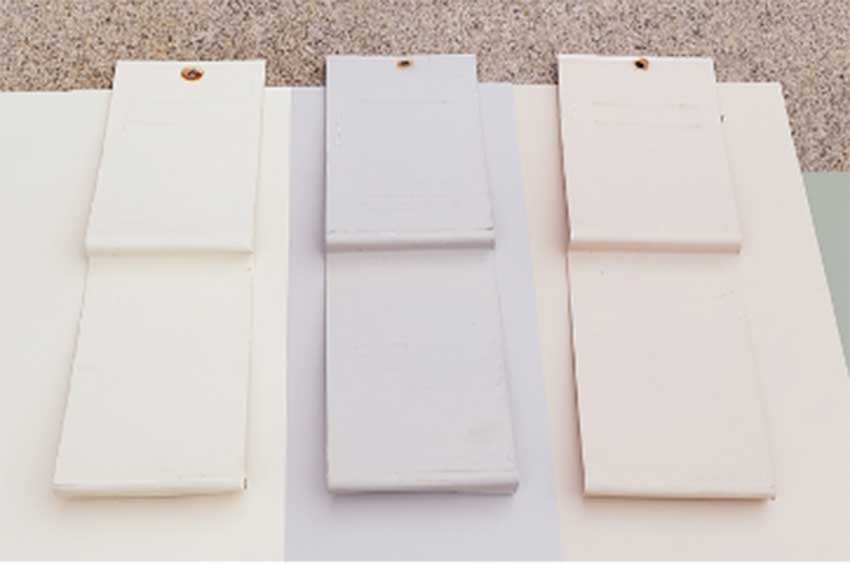 Photo courtesy of DuPont
This photo shows 20-year-old south Florida-tested metal with PVF-film-laminated samples installed over fresh film of the same color. No color change or cracking is visible, even under a microscope.
Regarding the film surface, there is no cracking or chalking visible from a minimum distance of 6.5 feet with un-aided eye. The black glove test on 20-year aged film shows no chalking on the glove wipe. Further proving the film's integrity, laminates with PVF film installed over 20 years ago in south Florida showed no surface cracking even under a microscope.
While the south Florida exposed PVF film test on metal surfaces exhibits low color change of ΔE < 4.5. In comparison, a polyester coating posts ΔE of more than 13, jumping up to a color change value of 12 in less than a year. A PVDF coating gradually changes, reaching more than four after 10 years, with a color change of at least seven units by 15 years.
Warranties range depending on application, but PVF offers upwards of 30 and 40 years for chalk and color for roofing and siding, and up to 50 years for the film's integrity.
When tested for corrosion resistance per ASTM B117, PVF demonstrates greater than 3,000 hours on aluminum whereas PVDF reaches 1,500 hours. For humidity resistance, per ASTM D2247, PVDF performs for 4,000 hours while PVF exceeds resistance of greater 4,000 hours.
Per ASTM G21 Standard Practice for Determining Resistance of Synthetic Polymeric Materials to Fungi, PVF is mold and mildew resistant. This means it does not support organic growth, which metal is very vulnerable to in moist and humid environments where mildew is common.
EXCELLENT STAIN RESISTANCE
Demonstrating PVF's extremely high level of stain resistance, extensive testing was performed on all sorts of potentially stain-causing agents. Testing was done on a Type II vinyl wallcovering laminated with PVF film and stains were allowed to set for 24 hours. All of the following agents were successful removed with a dry cloth cleaning: acid solutions, acetone, butanone, ethylalcohol, gasoline, glycol, and tolene. The following agents were successful removed with a wet cloth cleaning: coffee, grape juice, mustard sauce, red wine, tea stains, Worcestershire sauce, chocolate syrup, brake fluid, iodine, and sodium hydroxide.
In addition, these substances were removed with detergent: ketchup, black crayons, brown shoe polish, lipstick, white board marker, oily pen, asphalt, and mercurochrome. With solvent, ballpoint pen and spray paint were successfully removed.
Of note, the test used a standardized cleaning methodology. PVF's high level of performance proves its extremely high level of cleanability and stain resistance. In fact, one of PVF's first applications was for outdoor graphic signage/billboards to protect the colors from fading and protect against yellowing, dirt, and graffiti.
When subjected to mold resistance performance testing, PVF film registered as highly resistant to mold growth. For the ISO 846 Part C: Resistance to Bacteria for a Type II Wallcovering, the film exhibited no growth or nutritive components on or around all samples. In addition to added value in the aforementioned humid environments, this is also highly valuable for highly sterile interior environments, like hospitals or food service.
PVF also scores high marks in the category of indoor air quality. When used in a wallcovering application, the specification of the film can contribute towards GREENGUARD Gold and LEED certifications through reducing Volatile Organic Compounds (VOCs).
And similar to its use on exteriors, PVF film offers a very high level of durability and protection for interiors, significantly reducing replacement and material waste. This significantly reduces the material's footprint over the life of a building.
One other important performance category is fire and smoke resistance. Based on the Warrington Fire rating, which is a global standard, PVF-protected wallcoverings have a low flame spread and smoke development ratings, meeting EN 13501-1:2018 as part of EN 15102:201.
In fact, due to its very low smoke production and flame spread, PVF film has been specified into the inside of aircrafts since the 1960s. In addition, it's commonly used for interiors on trains, in healthcare facilities, hotels, and more.
PVF COATING
Another application of PVF technology is in the form of a coating. Manufactured based on the same base polymer as PVF, the polymer imparts the coating with very similar attributes as the film, including a high level of flexibility, resistance to cracking at bends, and chemical resistance. PVF coating lab testing proves the coating's ability to resist corroding and blistering when exposed to harsh acids significantly longer than alternative coatings.
PVF coating is a relatively new application in building and construction, but early field testing, shows very low color change and excellent resistance to fading and chalking, and accelerated testing aligns with PVF film performance.
PVF coatings have a long history in the automotive industry, providing protection to brake tubing under the vehicle body, which is exposed to corrosive road salts, impact, and bending during installation. It is now being used in metal building applications, and for building exteriors and interiors in demanding environments. PVF coating is an excellent choice for end users who require a similar high level of performance to PVF film, but are more suited to a coating application.
In a more recent, high-profile application, PVF coating was used to update China's third largest stadium - Shanghai Stadium. Playing host to many significant events including the football and soccer games of the 2008 Summer Olympics, the stadium was originally built in 1997. In 2021, prior to hosting the FIFA World Cup, PVF coating was chosen to replace the existing material on the aluminum siding and cladding on account of its durability and cleanability. The coating applied to the aluminum honeycomb panels is resistant to fading from UV rays and will preserve the stadium's aesthetics for many years.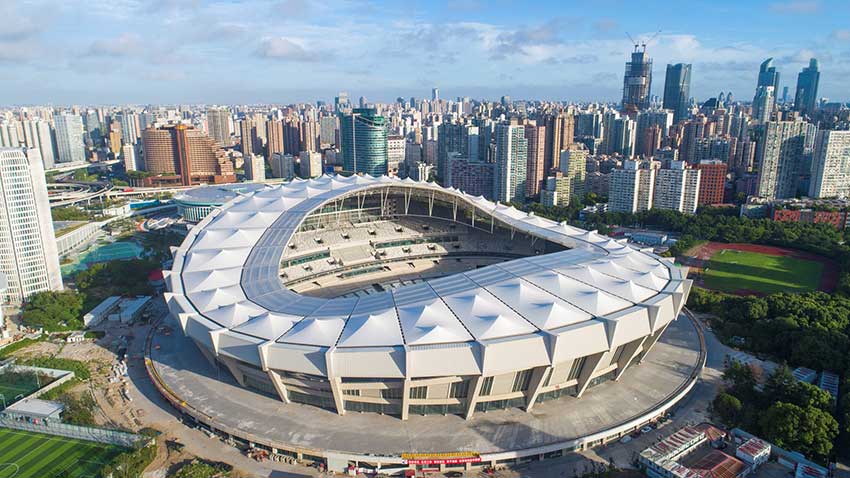 Photo courtesy of DuPont
The aluminum siding and cladding for China's Shanghai Stadium was replaced with a PVF coating last year.
For another Shanghai project, World Laureates Forum in Lin'gang, a PVF coating was used on the aluminum in the cornice and entrance of the building. Every year scientists from around the world, who have won Nobel Peace or Wolf Prizes, are invited to a conference located in this building. PVF was an important choice for this application due to the site's proximity to the sea. The technology protects surfaces from corrosion due to sea salt spray by creating an extremely chemically resistant and durable barrier over the metal. The dirt-shedding and UV-resistant properties lent by the PVF coating mean that the building will not fade over decades in the sun, and will look clean and new over its lifetime, despite the demanding environment.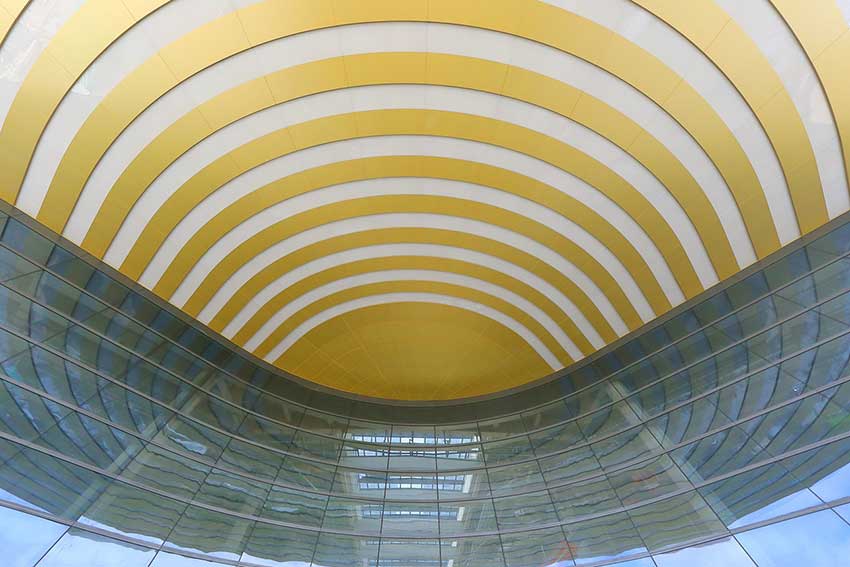 Photo courtesy of DuPont
Even though the Beijing Tennis Club constructed three different white air-inflated dome structures with PVF film in different years starting in 2006, each fabric has retained its original appearance. In comparison, there is a fourth tension architectural fabric structure with a PVDF top finish on the site that discolored significantly from its 2003 installation.
Originally published in Architectural Record
Originally published in November 2022
Notice