Contending with Corrosion in Metal Exteriors
High-performing, long-lasting, and resilient, PVF film is the technology of choice for corrosive environments
Sponsored by DuPont™ Tedlar®
You are not currently logged in to your CE Center account.
Log in
to view and complete the quiz questions that are embedded in this article.
SEA CREST
Situated right on the Atlantic Ocean, Sea Crest Condo's six-story roof in Hilton Head, S.C., had severally corroded over a period of 20 years.A post-tensioned slab condominium project, the apartments had been overbuilt with a stud frame, steel mansard structure that was open-framed, and the existing metal covering was a 24-gauge Galvalume standing seam metal roof with a PVDF paint finish.

Photo courtesy of DuPont
Lending a high level of protection in this corrosive, salt water setting, 6,700 sq. ft. of roof area was replaced with a PV film-protected metal roof for the Sea Crest Condos in Hilton Head, S.C.
Having incurred significant damage from the saltwater environment, the roof had to be completely replaced. For the new aluminum roof, one option was applying three coats of PVDF finish, but that approach would have required a considerable amount of maintenance on a yearly basis.
Having experience with PVF film, the roofing contractor RPI Roofing presented the option as a longer-term, lower-maintenance alternative.
"We presented this to the [roofing] consultant. It seemed like a good fit for the owner's long term, due to the PVF performance in color retention as well as corrosion resistance and dirt-shedding capability. And so they chose to go with the PVF film product," explains Ted Deaton, vice president and estimator, RPI Roofing.
Negotiating around a pool that separated the building from the sand dunes, Deaton's team scaffolded the area around the building and tore off the badly corroded steel roof."We had to replace a lot of the hat channel, and did a lot of priming and rust inhibitive painting of the steel structure," he relates. "Then, using aluminum clips, we installed a PVF-laminated aluminum, double-lock, mechanically-seamed, standing seam roof panel and the associated trim to match the aluminum and the PVF color."
In installing the 6,700 square feet of roof area, the film's high level of flexibility allowed it to bend to tight edges on the roofing panels without compromising the film's integrity or adhesion.
RPI Roofing also liked the scratch resistance offered by the filmed roof panels. "Many times when you're double locking a standing seam panel, and you're on a steeper slope, you get some scratching of the PVDF painted panels from the installation and seaming process," says Deaton. In fact, this is so commonplace that RPI often has to replace panels as the scratching goes all the way down to the bare metal and there's no way to hide it. As a more durable and impact-resistant product, the PVF film was noted by installers to be much hardier during installation.
"This project is six stories up and it's not real visible up close like a one-story building would be, but, at the end of the day, there's somebody that's going to look at it and see it," he says. Deaton also observes that with the humidity in the Southeast, PVDF paint finish can be susceptible to mold and mildew, whereas this is not the case with PVF film, which is unsupportive to the growth of organic matter.
Reflecting back on this successful project, the roofing installation posed very little intrusion for the condominium owner, as the contractors were able to stage the work without affecting their daily routines. In the end, the owners were very pleased with the finished mist gray roof.
SPRING CREEK RANCH
For the recent construction of 15 new buildings at the Spring Creek Ranch Hotel & Spa in Jackson Hole, Wyoming, the owner was seeking a highly durable roofing finish to withstand the rigors of this varying climate, which includes many days of intense sunlight, as well as snow, hail, and extreme temperatures.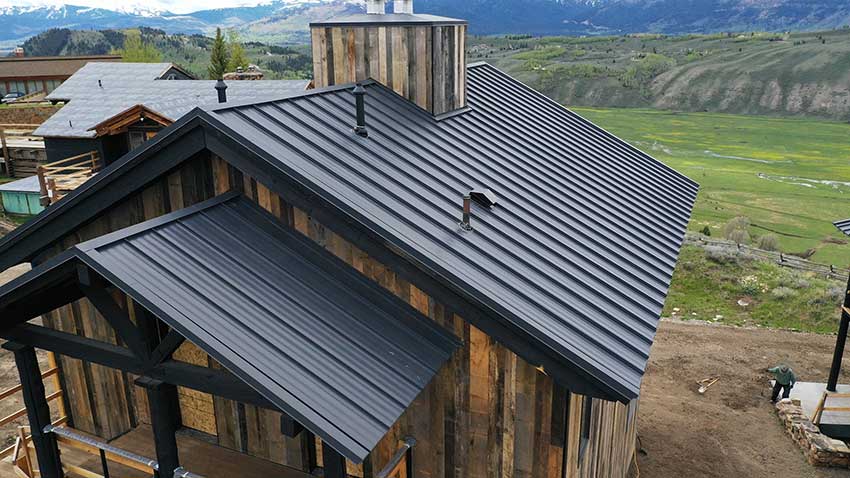 Photo courtesy of DuPont
Delivering aesthetics and a high level of protection, a matte black PVF film covers 15 new metal roofs at the Spring Creek Ranch Hotel & Spa in Jackson Hole, Wyo.
The sought-after ranch features amazing views of the Teton Mountain Range, including the world famous Grand Teton.
Delivering aesthetics and a high level of protection, a matte black PVF film was selected for the resort's rooftops. With resistance to fading, chalking, cracking, blistering, and damage from UV exposure, harsh weather conditions, and varying temperatures; the PVF finish was selected for its high performance and durability. It's dirt-shedding properties ensure dust and dirt slide off, so the roof will look clean for decades.
PULLMAN HOTEL MONTPARNASSE
Drawing from some older PVF success story files, the Pullman Hotel Montparnasse (formely a Sheraton) in central Paris, built in 1974, has an 18,000-square-meter facade featuring steel cladding, laminated with white PVF film. Almost 50 years later, the metal exterior—with its vertical, angular lines—appears like new without any chalking, or corrosion whatsoever. The hotel remains a Parisian landmark with its iconic, extremely long-lasting exterior appearance.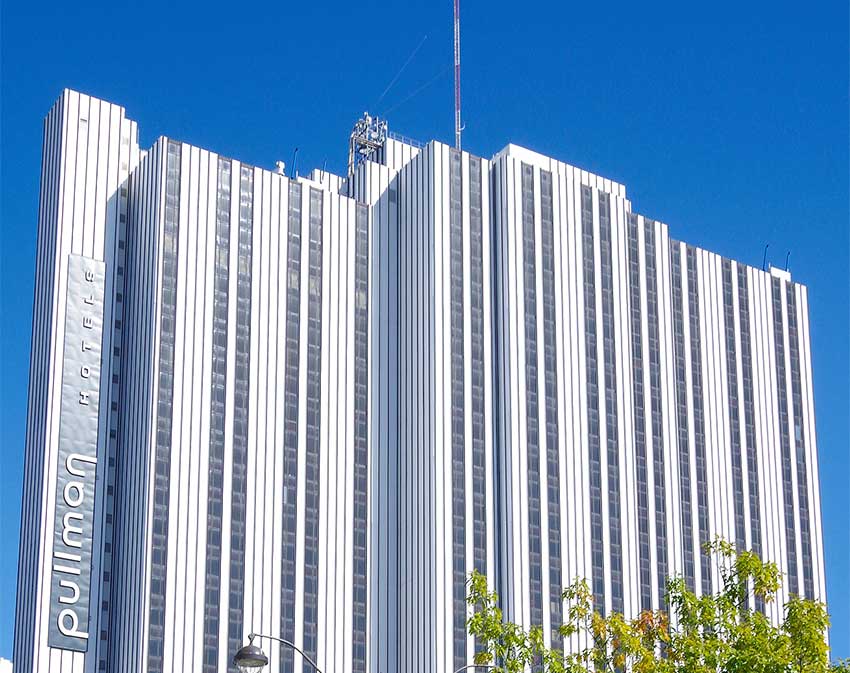 Photo courtesy of DuPont
The Pullman Hotel Montparnasse (formerly a Sheraton hotel) in central Paris was built in 1974. Almost 50 years later, the steel-cladded facade laminated with white PVF film looks like new, with no yellowing, chalking, or corrosion.
YOKOHAMA, JAPAN
Finished with a PVF film in 1983, is a commercial building in the coastal city of Yokohama, Japan. After 39 years of exposure to Tokyo Bay, the building appears untouched by the elements, dirt, and corrosion.When compared to a standard PVF film color chart showcasing fresh film samples, the exterior cladding of the tower displays no discernable difference in color after close to four decades of outside exposure.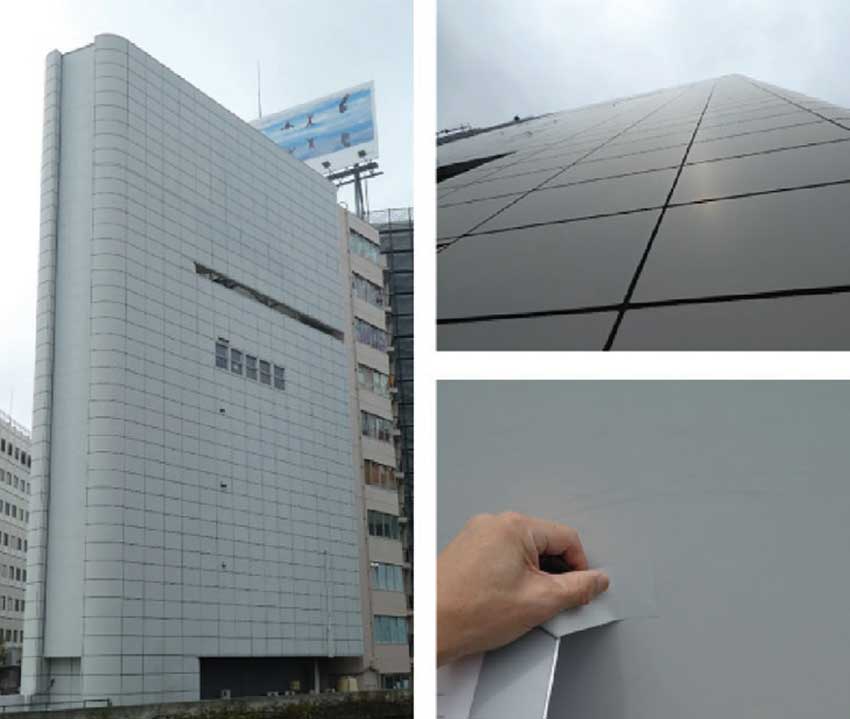 Photo courtesy of DuPont
After close to four decades of exposure to Tokyo Bay, this commercial building in the coastal city of Yokohama, Japan, appears untouched by the elements, dirt, and corrosion.
WEMBLEY STADIUM
In an application applied to windows versus metal, PVF film is lending the same level of protection and aesthetics more more than 15 years to 50,000 square feet of roof lights with a UV-blocking PVF film at London's Wembley Stadium. Hosting England national football team home games and events such as the FA Cup Final, the film shields the roof from elements and provides chemical and pollution protection. The PVF-protected roof also brings in 70% daylight in a soft, diffused natural light. The roof lights cover and brighten a significant area of the stadium directly beneath its iconic arch. As demonstrated in this case study, PVF film can be made in a vast range of colors as well as varying levels of UV-blocking transparency, to achieve any desired look without sacrificing performance.
Originally published in Architectural Record
Originally published in November 2022
Notice