Designing with Purpose: The Sustainable Advantage of High Pressure Laminate Surfaces
Sponsored by Wilsonart
HPL Performance Properties
The laminated makeup of HPL and the type of resins used all contribute to the overall strength and rigidity of the panels. The density and integrity of the material is high even though there are different panel thicknesses available to suit different panel strength needs. For example, HPL panels suitable for a horizontal use such as a counter may be thicker than those used for a vertical surface such as a wall. The final thickness is determined in the factory by the manufacturing process with a focus on the core layers. Different types of HPL will have different thicknesses of cores based on their final usage (general purpose, post-forming, vertical grade, etc.).
The wear layer in HPL combined with the impact-resistant core layers create a very durable and long-lasting finished surface. This provides for an exceptional long-term service life, which makes replacement less likely and long-term sustainability more the norm. In particular, it performs very well in terms of the following:
Impact resistance: The built-in durability from the high-pressure lamination of the core and other layers during manufacturing helps prevent damage to the material that may be caused by impact.
Scratch resistance: The wear layer is the first line of defense against scratching or surface damage. The durability of this topmost layer is the key to resisting this otherwise potential issue.
Water and moisture resistance: The nonporous surface of all HPL resists moisture and allows bulk water to roll off or be cleaned up readily. Further, it does this without requiring sealing.
Wear resistance: HPL has commonly performed better over time when compared to some traditional veneers, vinyl, or wood. This means less maintenance and reduced likelihood of replacement compared to those products. At least one manufacturer has an enhanced HPL surface that achieves a wear resistance of up to three times greater than competing HPLs.
From an indoor environmental quality perspective, the ability of HPL to be cleaned and disinfected easily is clearly important. HPL is a nonporous surface that can withstand frequent and harsh cleaning and disinfection protocols (particularly in the era of COVID and other public health concerns), making its inherently durable surface easy to clean with no need for sealing. For projects that have special requirements, different HPL products are available that can provide added protection for high wear surfaces, chemical resistance, or fire resistance.
Overall, HPL is a strong and durable product that performs well in many different situations, meaning it is inherently sustainable over the long term.
Green Product Standards For HPL
The information about the makeup and characteristics of HPL products generally comes from the manufacturer. So how do design professionals get objective information to verify the sustainable nature of these products? The answer is to use an independent third-party organization that tests and evaluates a wide range of products specifically for green building and sustainability traits. Recognizing that this is the widely accepted practice, HPL manufacturers who are serious about demonstrating their sustainability engage with such third-party organizations to have their products tested and rated. The results of these tests are then published and available upon request from either the organization or manufacturer. The common tests and certifications related to sustainable material makeup or healthy indoor environments for HPL products include the following.
International Organization for Standardization (ISO)
International Organization for Standardization (ISO) standards specify requirements for environmental, occupational health and safety, and quality management systems. Organizations use these standards to enhance their environmental performance, provide safe and healthy workplaces, enhance customer satisfaction, and other quality measures. Specifying products from a manufacturer that is ISO Certified indicates that the company has committed to monitoring and reporting a high level of operations. Common ISO certificates include ISO 9001 for Quality Management System, ISO 14001 for Environmental Management System, and ISO 45001 for Occupational Health and Safety Management System.
Environmental Product Declaration (EPD)
An Environmental Product Declaration (EPD) is an independently verified and registered document that communicates transparent and comparable information about a product's life-cycle environmental impact. It is a voluntary declaration of the life-cycle environmental impact. An industry-wide EPD has been available for HPL products for some time which shows favorable results for sustainability in all categories. In addition, at least one manufacturer has recently completed the process of developing their own, product specific EPD which provides much more precise, verified information on their particular HPD products. In all cases, there are scenarios for end-of-life re-purposing or for disposal in a land fill for comparative purposes as well as the rest of the life cycle of the products.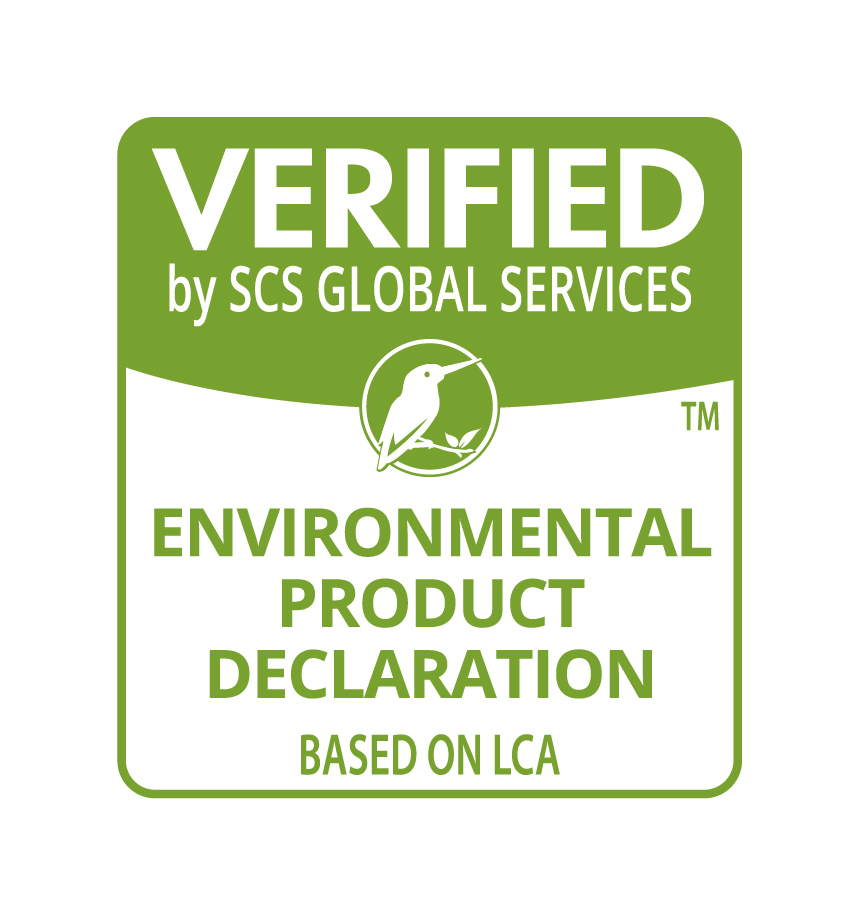 Image courtesy of Wilsonart
Both an industry-wide and manufacturer specific Environmental Product Declarations (EPD) are available for designers to discern the specific environmental data about the products being specified.
Forest Stewardship Council (FSC)
The Forest Stewardship Council (FSC) is an independent, non-government, not-for-profit organization established to promote responsible forest management practices. FSC Chain-of-Custody (CoC) certification traces the path of products from forests through the supply chain, verifying that FSC-certified material is identified or kept separated from noncertified material. Since HPL is made up primarily of forestry-based paper products (typically up to 70 percent in the core, decorative, and overlay papers), manufacturers can choose to use FSC-certified raw materials by working with their suppliers on proper sourcing. Those that do, and can provide the CoC documentation to back it up, are generally seen to be leaders in providing responsible, sustainable products.
SCS Global Services: Recycled Content Certification
The SCS Recycled Content Certification evaluates products made from pre-consumer or post-consumer material diverted from the waste stream. Certification measures the percentage of recycled content for the purpose of making an accurate claim in the marketplace. HPL manufacturers can control the amount of recycled content by working with their raw material suppliers on the recycled content percentage in the core and decorative paper layers. Those with high levels of postconsumer recycled content (16–67 percent depending on the specific laminate product) are seen as industry leaders in sustainability.
Health Product Declaration (HPD)
The Health Product Declaration (HPD) Open Standard is a standard specification for the accurate, reliable, and consistent reporting of product contents and associated health information for products used in the built environment. The HPD Open Standard specification is harmonized with numerous rating certification standards in the building industry. HPD version 2.3 is the current version that has been used to demonstrate minimal if any health impacts from using standard laminate products in building interiors.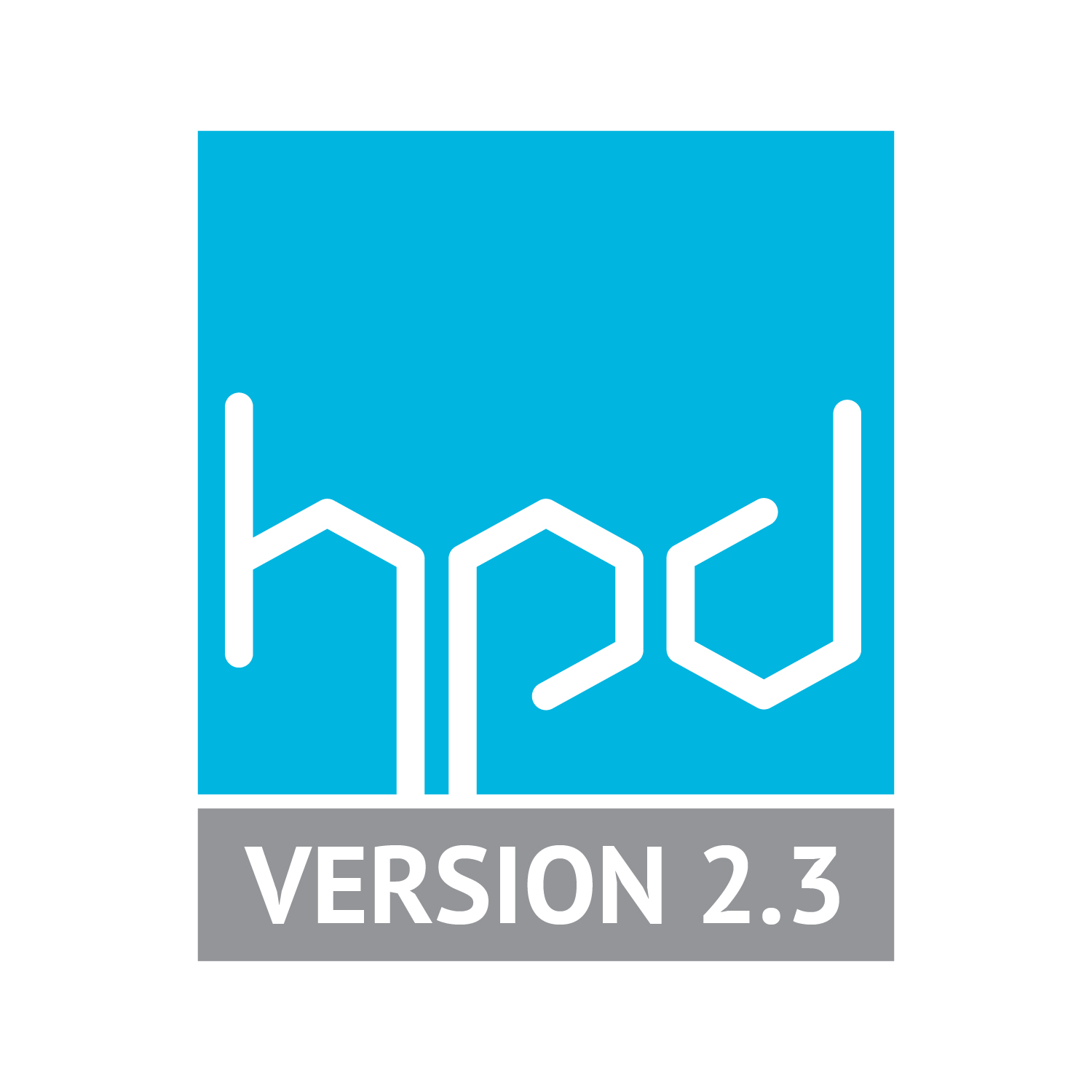 Image courtesy of the HPD Collaborative
An independently prepared Health Product Declaration (HPD) is available to identify health and wellness aspects of high pressure laminate.
UL GREENGUARD
Products that achieve UL GREENGUARD Certification are scientifically proven to meet some of the world's most rigorous third-party chemical emissions standards, helping to reduce indoor air pollution and the risk of chemical exposure, while aiding in the creation of healthier indoor environments. The GREENGUARD Gold Certification standard includes health-based criteria for additional chemicals and also requires lower total volatile organic compound (VOC) emissions levels to help ensure that products are acceptable for use in environments like schools and health-care facilities. Manufactured HPL products have been tested using these rigorous standards, and some are available with GREENGUARD Gold certification.
SCS Indoor Advantage Gold Certification
SCS Indoor Advantage Gold certification indicates low VOC emissions with the most transparent indoor air quality (IAQ) standard for furniture and building materials. It is recognized by the EPA and GSA and qualifies for many green building rating systems, including LEED v4, BREEAM, WELL Building, and Living Building Challenge. Some HPL products have been tested and certified based on this program.
Declare Label Program
The International Living Future Institute (ILFI) has developed the Declare program to allow manufacturers to voluntarily disclose product information on easy-to-read Declare labels. These labels report all product ingredients and use a simple color code system to flag chemicals of concern. Further information is provided on the product's final assembly locations, life expectancy, end-of-life options, and overall compliance with relevant requirements of the Living Building Challenge (LBC). All active Declare labels are accessible on a free and searchable database. The database is used to specify sustainable products that can meet the requirements of leading green building standards, including the LBC, LEED, and WELL Certifications.
Declare screens a product's ingredients directly against the LBC Red List which contains the "worst in class" materials, chemicals and elements known to pose serious risks to human health and the greater ecosystem that are prevalent in the building products industry. A product's compliance with the LBC Red List is represented on the Declare label by the product's Declaration Status. There are three Declaration Statuses: LBC Red List Free, LBC Red List Approved, and Declared.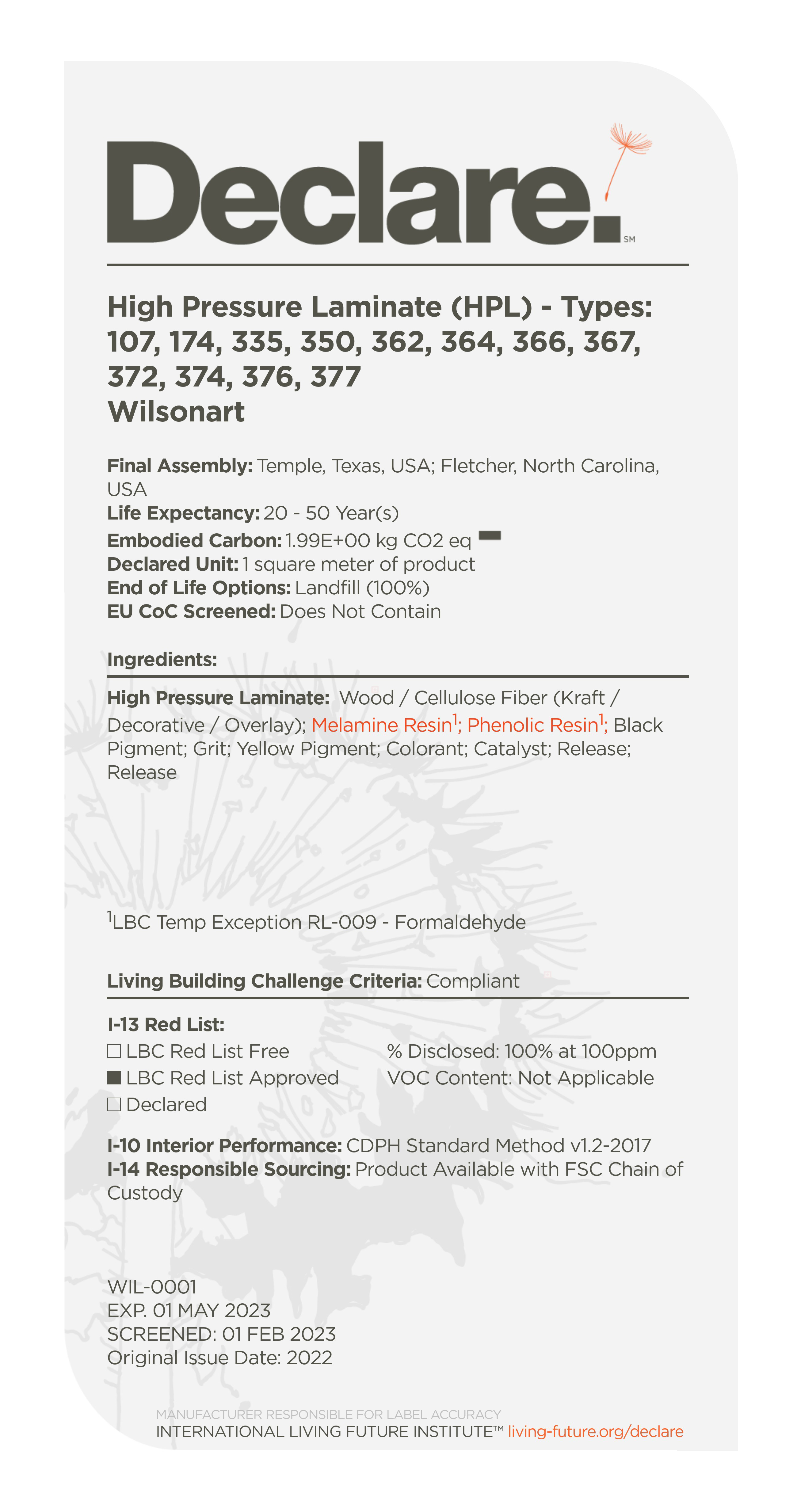 Image courtesy of the International Living Future Institute
The International Living Future Institute provides the Declare program as a way to determine the degree that manufactured products do or do not contain harmful materials. A sample Declare Label is shown here.
All of these standards and independent testing protocols provide designers and building owners with information and assurance that the products being used or specified meet the criteria for sustainability. This information is then used as the basis for creating green building designs.
Originally published in October 2021
Notice