Designing with Purpose: The Sustainable Advantage of High Pressure Laminate Surfaces
Sponsored by Wilsonart
Learning Objectives:
Identify and recognize the characteristics of high-pressure laminate (HPL) that contribute to favorable design and performance attributes in building interiors.
Investigate the independent, third-party standards that HPL products must meet to demonstrate sustainability in terms of environmental and health impacts.
Assess the ways that HPL can contribute to green and sustainable building designs that seek certification from LEED v4, v4.1, BD+C, ID+C, and WELL v2 standards.
Specify sustainable HPL in a variety of building types, and formulate appropriate selections related to specific applications.
Credits:
This course can be self-reported to the AIBC, as per their CE Guidelines.
As an IACET Accredited Provider, BNP Media offers IACET CEUs for its learning events that comply with the ANSI/IACET Continuing Education and Training Standard.
This course is approved as a Structured Course
This course can be self-reported to the AANB, as per their CE Guidelines
Approved for structured learning
Approved for Core Learning
This course can be self-reported to the NLAA
Course may qualify for Learning Hours with NWTAA
Course eligible for OAA Learning Hours
This course is approved as a core course
This course can be self-reported for Learning Units to the Architectural Institute of British Columbia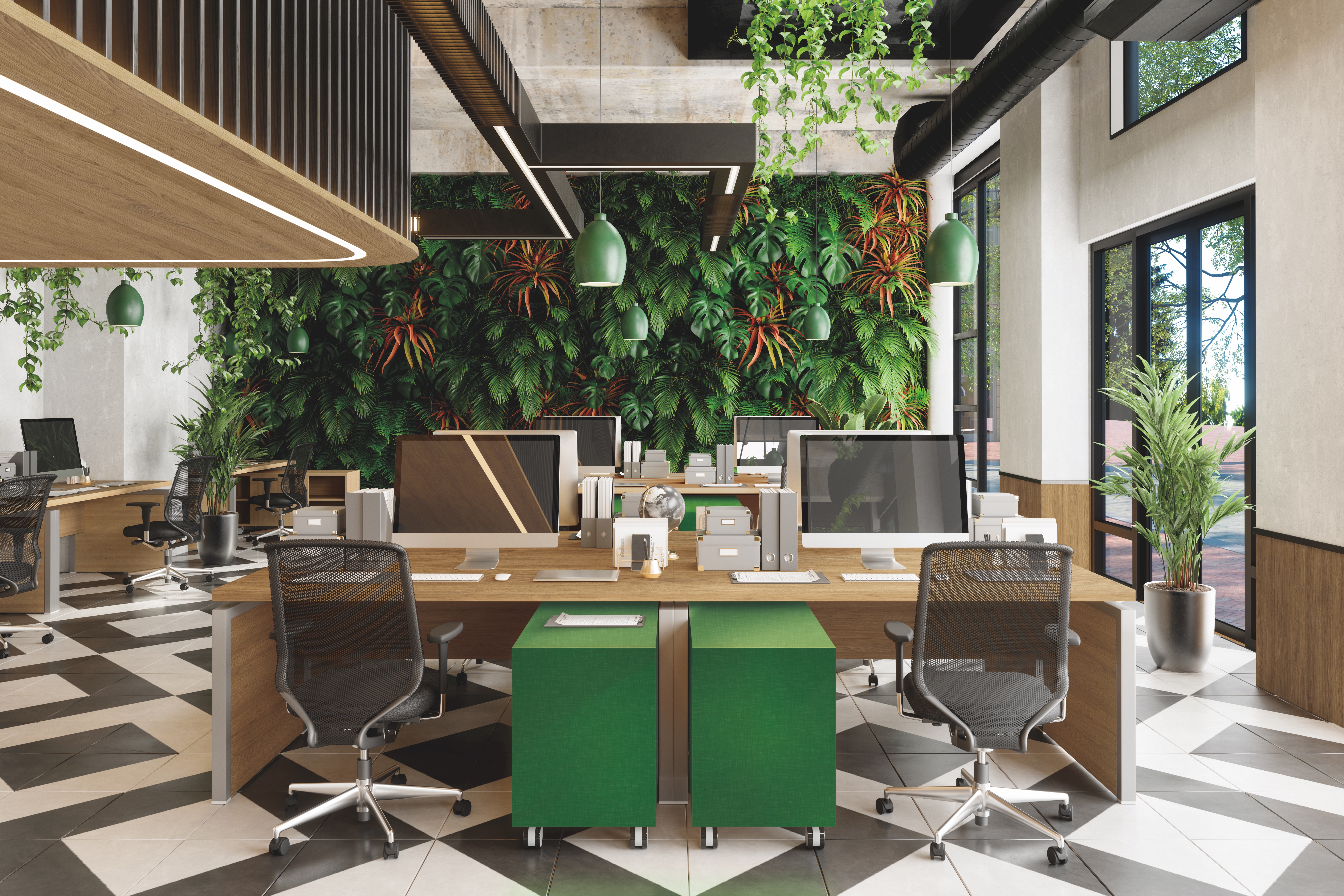 Image courtesy of Wilsonart
High pressure laminate (HPL) surfaces are widely used for interiors based on the breadth of design options and its inherent sustainability.
The green building movement has been fueled by a variety of factors. From the standpoint of the effect on the environment, the focus has been to use materials and products that minimize impacts or use harvesting and processing methods that are responsible and sustainable. According to the Food and Agriculture Organization of the United Nations, deforestation and forest degradation continue at alarming rates with multiple environmental impacts. Therefore, specifying wood-based materials that are sustainably grown and harvested as well as contain high percentages of post-consumer recycled content can directly address these forest problems. From a human health standpoint, the demand for healthy and sustainable indoor environments continues to be on the rise. According to THINKLAB, employee health and wellness has become a critical factor for business leadership to consider, particularly since the COVID-19 pandemic exposed many shortcomings in these areas. While many different building products can address this two-fold concern of environmental impacts and human health, this course looks closely at one widely used interior building product.
High pressure laminate (HPL) covers horizontal and vertical surfaces in many different types of commercial, institutional, and residential buildings. As part of a variety of other products, such as cabinetry, countertops, wall coverings, and furnishings, it can contribute directly to sustainable building design solutions. HPL products can be specified that meet accepted standards for minimizing or reducing environmental and health impacts. All of these can be documented to assist in green building certification programs, such as LEED, WELL, and others.
HPL Characteristics
HPL has a number of distinct design and performance characteristics that make it appealing not only for design, construction, and long-term use but also sustainability.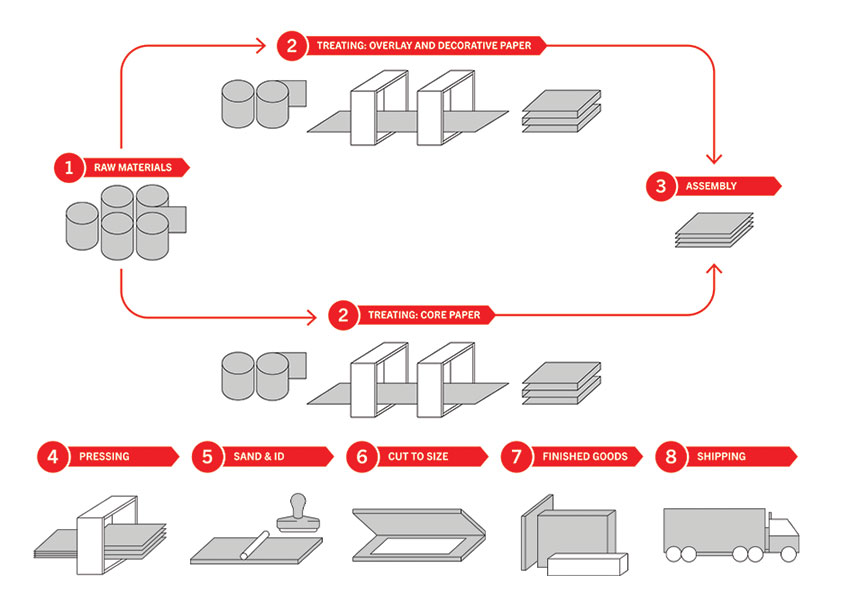 Image courtesy of Wilsonart
Sustainable HPL begins with raw materials being processed into decorative, overlay, and core papers that are assembled ready to create specific products. The fabrication process involves pressing, sanding, cutting, finishing, and shipping to final users.
HPL Manufacturing Process
The basic makeup and essence of HPL is found in its manufacturing process. This process is the basis for a life-cycle assessment (LCA) of the product and is summarized in the following cradle-to-gate steps:
Raw materials: The laminate production process begins in the receiving area of the manufacturing plant. Decorative paper, kraft paper, overlay, and other raw materials are sourced from outside vendors according to the manufacturer's specifications and requirements. Of particular note, this is where the manufacturer can control the amount of recycled content that is part of the papers that make up the HPL.
Decorative overlay and core papers: Decorative paper provides the pattern, woodgrain, or solid color for a sheet of laminate. Overlay paper gives laminate its surface strength and scratch resistance. Overlay paper is saturated with melamine resin, cured, and cut to size. Both decorative paper and treated overlay paper may be stored in rolls or cut to sheet size and stored until needed. Sheets of decorative paper and overlay are pulled and assembled in sets based on production run needs. At the same time, just as decorative papers are readied for press, the kraft paper, which makes up the core of laminate, undergoes a similar process. Kraft paper arrives in bulk and is placed in a paper storage area. From this staging area, the kraft paper is taken to the phenolic treater, where it is saturated with phenolic resin, cured, and rolled or cut to size. Treated kraft paper is taken to a core stock area where it is assembled based on the sheet laminate makeup type. Each type of laminate (general purpose, postforming, vertical grade, etc.) requires a slightly different layup.
Assembly: The appropriate material from the stock area is taken to the pressing department to be collated with the decorative papers from the assembly area.
Pressing: The two processes come together as the decorative paper and core paper are assembled at the press and cooked for about an hour under high heat and pressure (hence the name high pressure laminate). The decorative and kraft papers are then sandwiched between two stainless steel textured plates, which impart the tactile finish (gloss, matte, textured, etc.) on the completed laminate sheet.
Sanding: Once the press cycle is complete, the laminate is taken to a sander. The edges of each sheet are trimmed, and the back is sanded to provide better adhesion in fabrication. At this stage, the pattern identification number is printed on the back of each sheet.
Cut to size: A range of standard-size HPL panels are available. While 4 feet x 8 feet is the most common, some products are also available in widths of 3 feet and 5 feet, while lengths may also be available in 10 feet and 12 feet (check with manufacturers for specific sizes of specific product types). In addition, some special-order sheets are cut to size for the customer. This takes place in a cut-to-size area after the laminate leaves the sander.
Finished goods: Once the laminate clears the sander and cut-to-size areas, it is sent to the finished goods staging area, where it is stored temporarily prior to being shipped to market.
Shipping: Laminate sheets are pulled from finished goods inventory, packed on skids, and loaded aboard trucks for shipment to regional market destinations.
In all, the process is efficient but allows for a wide variety of options in terms of design and performance needs for a building project.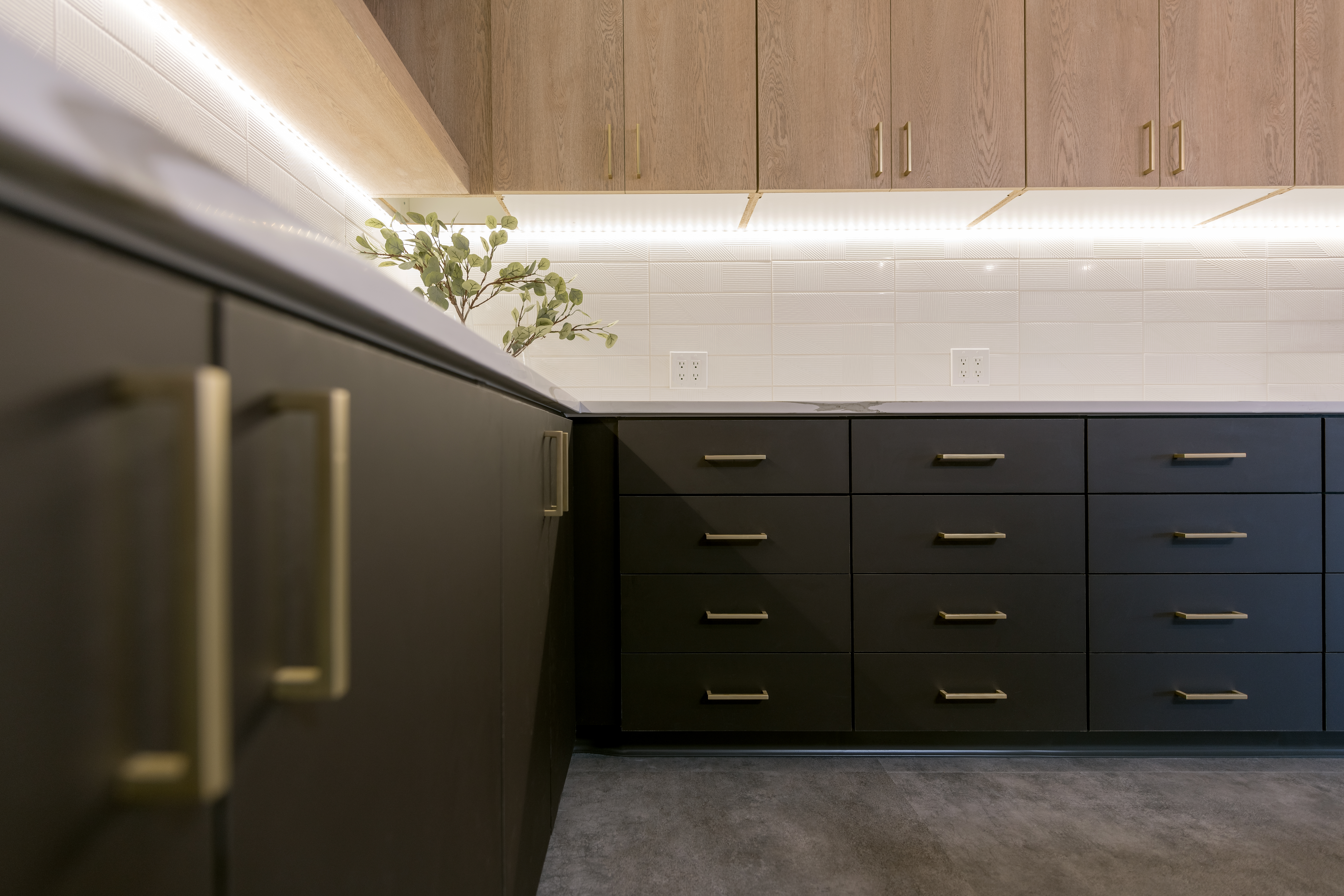 Image courtesy of Wilsonart
HPL offers a wide range of design options that can be incorporated into all building types.
HPL Design Properties
Any designer who has worked with HPL in the past can attest to the wide range of design options available. This allows for great design freedom to create horizontal and vertical surfaces that suit a wide range of styles, settings, or appearances.
Manufacturers take pride in offering an artistic range of HPL panels with colors, patterns, styles, and replicated appearances (stone, wood, etc.) that is in keeping with the latest interior design trends and preferences. HPL panel color is determined primarily by the selection of the decorative layer on the panels. Hence, manufacturers can readily offer a full range of choices in a broad color spectrum by using a different decorative layer. There are also a variety of textures that can be created during the manufacturing process as noted, including gloss, matte, and even raised 3-D textures. This allows panels to be used on walls, ceilings, doors, counters, cabinetry, and other applications with the best color, appearance, and texture to suit each individual use.
The multiple panel sizes available for certain types of HPL allows for the efficient integration of the HPL panels into architectural and interior designs with greater control over seams, geometric patterns, and final appearance. Further, since the material can be easily cut in a fabrication shop or on-site with common carpentry tools, custom sizes and shapes are easy to achieve. In these cases, the most efficient and economical size can be selected to cut multiple custom shapes to minimize waste.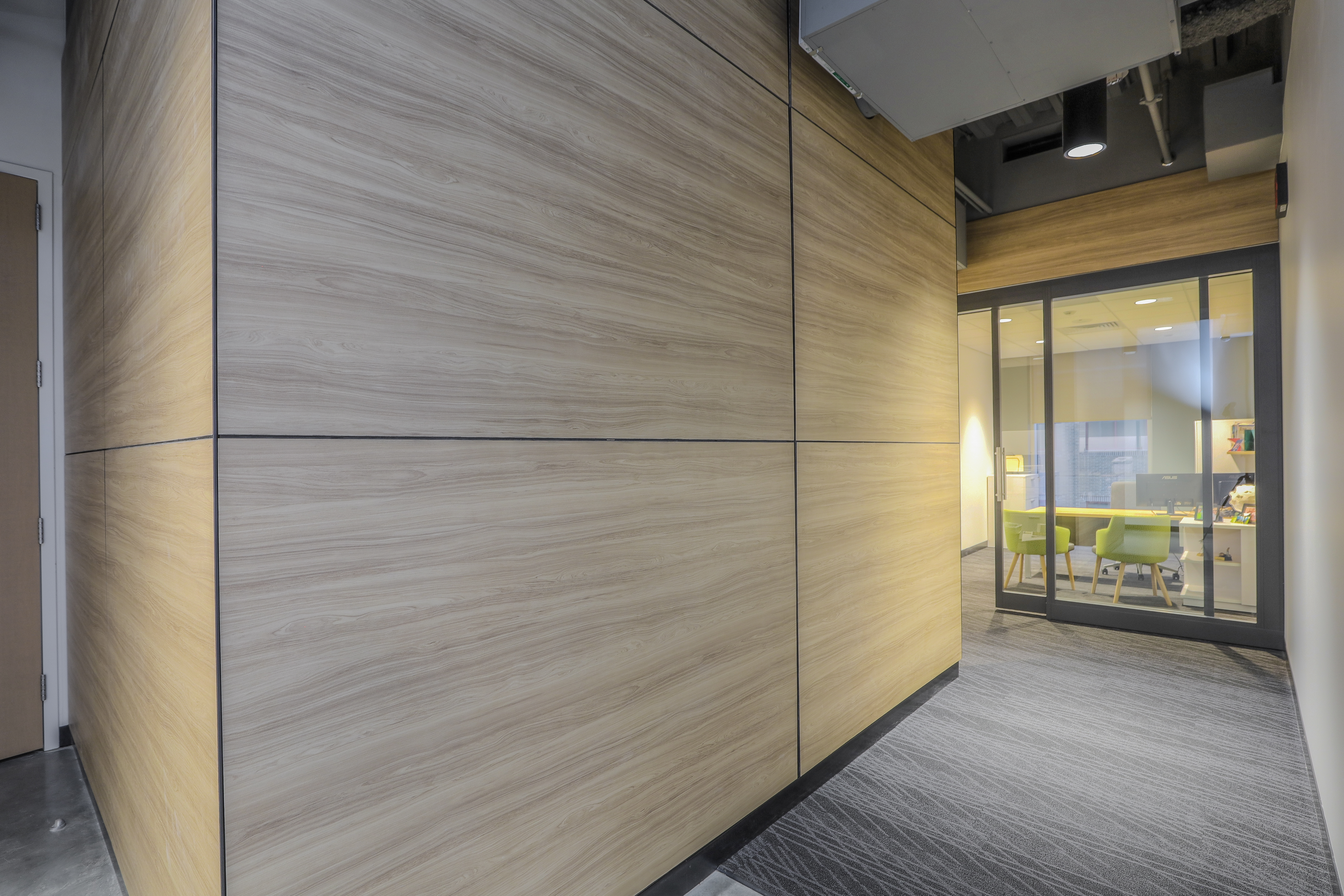 Image courtesy of Wilsonart
The make-up of HPL directly supports its resistance to impacts, scratches, water, moisture, and wear.
Originally published in October 2021
Notice