Reinventing Multifamily Housing for a New Age
Atypical, innovative design solutions meet the moment
Sponsored by TAMLYN

1 AIA LU/Elective; 0.1 IACET CEU*; 1 AIBD P-CE; AAA 1 Structured Learning Hour; This course can be self-reported to the AANB, as per their CE Guidelines; AAPEI 1 Structured Learning Hour; This course can be self-reported to the AIBC, as per their CE Guidelines.; MAA 1 Structured Learning Hour; This course can be self-reported to the NLAA.; This course can be self-reported to the NSAA; NWTAA 1 Structured Learning Hour; OAA 1 Learning Hour; SAA 1 Hour of Core Learning
Learning Objectives:
Describe the range of building materials and design strategies utilized in the five highlighted multifamily housing projects.
Explain the underlying issues that are at the heart of the current housing crisis, and ways in which architects and designers can help support a positive trajectory in terms of affordability, safety, livability, and design innovations.
Discuss the role of legislative solutions and local support in the featured low-income projects.
Describe the use of outdoor space in elevating the design of urban multifamily dwellings.
This course is part of the Multifamily Housing Academy
This course is part of the The Multi-Family Academy
Below are a set of links to building type studies from Architectural Record, which are in-depth analyses of particular kinds of buildings, with photos, drawings, specifications, detailed descriptions, and design solutions. Click on each link below, read the article then complete the quiz to earn your credit and certificate of completion.
The featured innovative multifamily housing projects spotlight atypical solutions on typical sites and radical interventions in unusual locations that aim to address issues of increasing density, the ongoing housing crisis, and affordability. While these societal problems are far beyond the scope of architecture alone to solve, designers can bring innovative thinking to improve the quality of housing as well as the quantity, while actively controlling costs. The five inventive projects highlighted here, located in major U.S. cities and in Europe, serve to illustrate the unique challenges and opportunities in multifamily housing applications. Among these projects are a 15-unit family complex in the center of a large urban block, low-cost housing opportunities for the homeless, and a high-end Passive House condo project with ample outdoor space. These varied multifamily design ideas across a range of sites and price points, shine some rays of light on one of contemporary society's most intractable problems.
Brooks + Scarpa Brings Dignified Design to Low-Income Apartments in L.A.
A low-income project in Los Angeles by Brooks + Scarpa counters neighborhood opposition with a crisp design and terrace gardens.
Sarah Amelar
SO — IL's 450 Warren in Brooklyn Offers a Radical Approach to Housing
In a Brooklyn condominium, RECORD Innovation 2022 speakers Jing Liu and Florian Idenburg eschew conventions to reinvent the design of housing.
Josephine Minutillo
OHLAB's Paseo Mallorca 15 Raises the Bar for City Living
Built to Passive House standards, this urban complex speaks to its context with an operable facade of slatted Spanish pine.
Chris Foges
HHF Completes a Simple Apartment Building in Basel with a Complex History
HHF spearheads an innovative densification project in the center of an urban block in Basel.
Andrew Ayers
David Baker's Tahanan Supportive Housing Takes its Design Cues from the Surrounding Filipino Community
A project in San Francisco's South of Market neighborhood tackles homelessness with clever financing and inventive construction.
Clare Jacobson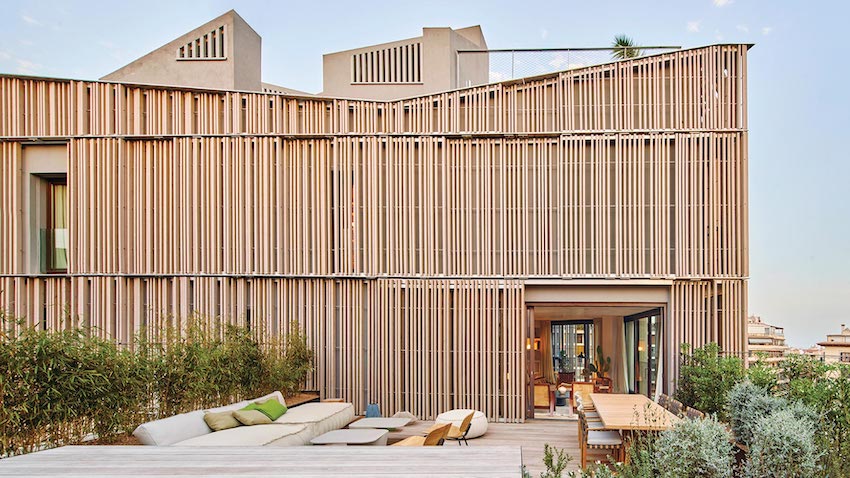 Photo © José Hevia<
Paseo Mallorca 15 /p>
| | |
| --- | --- |
| | TAMLYN is a family-owned company with 50 years in the building products industry and has placed a great deal of recent focus on building science, especially moisture management. This direction led to the development of their TamlynWrap® line, Drainable with its 1.5mm bonded filament creating an enhanced WRB, and RainScreen 6.3 (1/4") and 10.1 (3/8"). TamlynWrap® RainScreen is a multi-layer water management system, intended for use over existing WRB or coated sheathing, of cavity spaces that are non-compressible and act as a furring matrix to promote enhanced drainage and drying, paired with improved installation efficiency. |
Originally published in Architectural Record
Originally published in February 2023
Notice