Stone Wool
How natural materials provide durability
Sponsored by ROCKWOOL®

1 AIA LU/Elective; 0.1 IACET CEU*; 1 AIBD P-CE; AAA 1 Structured Learning Hour; This course can be self-reported to the AANB, as per their CE Guidelines; AAPEI 1 Structured Learning Hour; This course can be self-reported to the AIBC, as per their CE Guidelines.; MAA 1 Structured Learning Hour; This course can be self-reported to the NLAA.; This course can be self-reported to the NSAA; NWTAA 1 Structured Learning Hour; OAA 1 Learning Hour; SAA 1 Hour of Core Learning
Learning Objectives:
Describe the natural process in which stone wool material is formed.
Discuss what makes stone wool appealing to eco-conscious architects.
Explain how stone wool is turned into insulation.
List three advantages stone wool has over fiberglass due to its natural properties.
This course is part of the Durability Academy
This course is part of the The Durability Academy
Below are a set of links to building type studies from Architectural Record, which are in-depth analyses of particular kinds of buildings, with photos, drawings, specifications, detailed descriptions, and design solutions. Click on each link below, read the article then complete the quiz to earn your credit and certificate of completion.
Stone wool is a "natural" product made into insulation that doesn't require additional chemicals to enhance its properties, such as fire resistance. It occurs naturally around volcanoes when molten lava is slung around at high speeds. This course looks at the natural materials and processes of stone wool insulation that makes it durable and environmentally friendly for construction.
What is Mineral Wool Insulation?
Mineral wool is fiber-based, loose-fill insulation. It has a similar appearance to fiberglass insulation, though it is a bit stiffer and denser. This article is an in-depth look at the properties of stone or rock wool, including its "natural" elements and how it is made.
Tobias Roberts
This Eco-friendly Insulation Repels Fire and Water
What makes stone wool more sustainable than fiberglass? Well, for one, it contains more recycled material. According to the U.S. Department of Energy, fiberglass insulation typically contains 40-60 percent recycled content, while stone wool averages 75 percent. This brief article provides a quick overview of stone wool insulation.
Kristin Hunt
What is Stone Wool – Rock Wool - Definition
Stone wool, also known as rock wool, is based on natural minerals present in large quantities throughout the earth, e.g. volcanic rock, typically basalt or dolomite. Next to raw materials, also recycled rock wool can be added to the process as well as slag residues from the metal industry. This article looks at some of the properties of stone wool, including thermal conductivity.
Nick Connor
Stone Wool Insulation: Where There's a Wool There's a Way
It sounds improbable, but the raw ingredient for stone wool insulation is a 200-million-year-old rock. It was around 1900 that scientists started to look more closely at the material as a potential insulant for a range of applications. This article looks at the natural history of stone wool and its properties.
Paul Barrett
Choosing the Right Insulation: The Pros, Cons and Applications for Walls, Slabs and Basements
Not all insulation materials are the same, and they are not always interchangeable. This article provides a basic understanding of what you can reasonably expect insulation and building materials to do for you, including a focus on stone wool and its qualities.
Mike Reynolds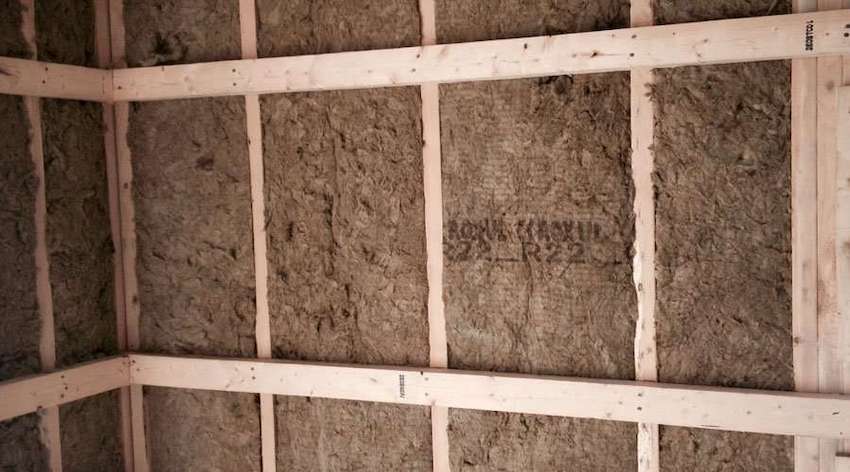 Photo © Ecohome
Batt insulation in LEED certfied homes - mineral wool from Roxul
This test is no longer available for credit
| | |
| --- | --- |
| | ROCKWOOL® is the world's leading manufacturer of stone wool insulation offering a full range of high-performing and sustainable insulation products for the construction industry with solutions that help create more resilient, energy-efficient, safe, and sustainable buildings. www.rockwool.com |
Originally published in December 2021
Notice