Designing Durable Building Enclosures
Emerging design strategies for high-performance buildings
Sponsored by ROCKWOOL®
Learning Objectives:
Describe emerging design strategies and trends for building enclosures.
Explain material selection for long-term performance through the lifecycle of the building.
Discuss informed decisions about rain and vapor control strategies for wall assemblies.
Examine the emerging importance of the acoustical performance of building enclosures.
Explain fire and safety design considerations for building enclosures.
This course is part of the Durability Academy
This webinar is part of the Durability Academy
The building enclosure is arguably the most important factor in a durable building. It encompasses the most critical function of a building: to separate the inside of the building from the outside. Therefore, it requires careful consideration from architects. This course provides needed context to explain how sophisticated building enclosures have evolved over time and delves deep into the best material selection for the functioning of the building. Considerations include rain and vapor strategies, acoustical performance, and fire and safety design.
Ryan Lobello, AIA, CPHD, NCARB, Senior Associate, Handel Architects, New York City, presenting The House at Cornell Tech, graduate student housing.The House at Cornell Tech is one of the most energy efficient buildings in the world. The House is part of Cornell Tech's new 2.1 million-square -oot technology campus on Roosevelt Island in New York City. The building is designed to reinforce the unique model of academic integration, multi-disciplinary research, and collaboration at the core of the Cornell Tech mission. It serves as a lively and comfortable living place for informal social interactions between students and faculty while they reside on campus. The House, the residential component of the campus, was designed to Passive House standards, which drastically reduces energy consumption while creating a healthier and more comfortable living environment for a fraction of residents' usual energy costs. The House is the largest and tallest residential building in the world built to Passive House standards.
Architect Sara Bayer AIA, CPHC, NCARB, LEED AP, Associate Principal and Director of Sustainability at Magnusson Architecture and Planning in New York City, will present two affordable housing projects built to Passive House standards. The 94-unit Rheingold Senior Residences in Brooklyn, and the 85-unit Dekalb Commons in the Bedford Stuyvesant neighborhood of Brooklyn.
Todd Kimmell, CPH a Certified Passive House Designer and Regional Architectural Manager for Rockwool, will present three projects representing three distinct strategies to provide durable deep energy retrofits of buildings using fire-safe stone wool insulation. Those include using stone wool EIFS on Ken Soble Tower in Hamilton, Ontario (which is Passive House Certified); a rainscreen overcladding with stone wool on the 201 East 79th Street building in New York City, and a historic masonry retrofit with stone wool on the 1701 Abermarle Road building in Brooklyn.
The presentations will be followed by a moderated discussion focused on how these innovative projects address several key issues.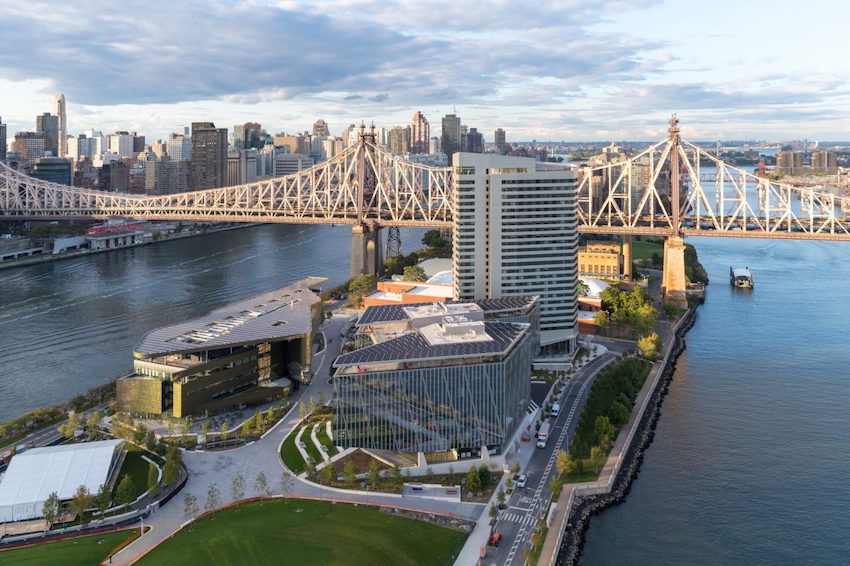 Photo courtesy of Handel Architects
| | |
| --- | --- |
| | Ryan Lobello AIA CPHD, is a Senior Associate at Handel Architects, which he joined in 2012. His work has focused on sustainably designed high-rise residential projects, including serving as Project Architect for Cornell Tech's residential tower, The House, on the new Roosevelt Island campus in New York City. Completed in 2017, The House is the largest Passive House residential building in the world. Mr. Lobello is currently serving as Project Architect for Sendero Verde, Handel Architects' new 698-unit residential mixed-use project in New York City. Sendero Verde is also being built to Passive House standards, and will be the world's largest fully affordable Passive House building. |
| | Sara Bayer AIA, CPHC, NCARB, LEED AP is an Associate Principal and Director of Sustainability at Magnusson Architecture and Planning (MAP), where she manages many of the firm's most energy efficient new construction and retrofit affordable housing projects. Having practiced architecture in NYC for 15 years, Sara has been a part of the industry's significant progress in adopting sustainable technologies and providing inspiring housing and community design. She leads MAP's efforts to incorporate passive house building science, implement carbon reduction methods, and strives to make sustainable, healthy, and uplifting design achievable for all. Sara was certified CPHC in 2016 and in 2020 served as co-chair of the NESEA Building Energy NYC conference, and is providing guidance for the firms NYSERDA Buildings of Excellence Projects. Sara is also a frequent contributor in many forums including AIANY, NY Passive House Network, NESEA, BEEX, Passive House Building Magazine, and others. |
| | Todd Kimmel, CPHD (Certified Passive House Designer), CDT is the NYC Architectural Manager for ROCKWOOL Insulation and Chairperson of the Rainscreen Association in North America (RAiNA). He has over 20 years of experience working on façade systems and the building enclosure, holding technical leadership positions for multiple leading product manufacturers. He is a certified passive house designer and currently sits on the board of directors for New York Passive House (NYPH). |
This test is no longer available for credit
| | |
| --- | --- |
| | ROCKWOOL® is the world's leading manufacturer of stone wool insulation offering a full range of high-performing and sustainable insulation products for the construction industry with solutions that help create more resilient, energy-efficient, safe, and sustainable buildings. www.rockwool.com |
Originally published in January 2022
Notice