Climate Control and Efficiency
The true value of R-value in stone wool insulation
Sponsored by ROCKWOOL®

1 AIA LU/HSW; 0.1 IACET CEU*; 1 AIBD P-CE; AAA 1 Structured Learning Hour; This course can be self-reported to the AANB, as per their CE Guidelines; AAPEI 1 Structured Learning Hour; This course can be self-reported to the AIBC, as per their CE Guidelines.; MAA 1 Structured Learning Hour; This course can be self-reported to the NLAA.; This course can be self-reported to the NSAA; NWTAA 1 Structured Learning Hour; OAA 1 Learning Hour; SAA 1 Hour of Core Learning
Learning Objectives:
Discuss how mineral wool's R-value contributes to occupant comfort in comparison to other types of insulation.
Describe how the R-value of stone wool interacts with wall thickness to produce energy efficiency benefits for the well-being of the occupant.
Explain what makes stone wool's R-value consistent even after installation in comparison to fiberglass.
Discuss how stone wool's R-value creates better climate control and keeps occupants comfortable.
This course is part of the Durability Academy
This course is part of the The Durability Academy
Below are a set of links to building type studies from Architectural Record, which are in-depth analyses of particular kinds of buildings, with photos, drawings, specifications, detailed descriptions, and design solutions. Click on each link below, read the article then complete the quiz to earn your credit and certificate of completion.
An R-value tells you how well a type of insulation can keep heat from leaving or entering your home. Insulation R-values vary based on the type, thickness and density of the insulation material. Stone wool insulation have higher R-values than other insulation and the value does not change over time. This course looks at the advantages or stone wool's R rating in terms of climate control and better efficiency.
Mineral Stone Wool is Making a Comeback. Here's Why.
Mineral wool has been around for decades, is widely used in Canada and Europe and is making a comeback in the United States. And it has some real advantages over the alternatives. This article looks at the basic elements of stone wool, including its R-value.

Mineral Wool Insulation Isn't Like Fiberglass
In this guest blog for Green Builder, the author talks about how green builders often include stone wool when they condemn fiberglass batts. This is a thorough take on all the reasons green builders should pay attention to the benefits of stone wool, including its R-value.
Gregory LaVardera
Thermal Conductivity, R Values and U Values Simplified!
As you start looking at insulating materials like loft insulation you may quickly become bogged down by complicated technical terms. This article breaks down the difference between thermal conductivity, R values and U values and how they work.

About Mineral Wool: Outstanding Thermal Performance
The key to modern, very low energy building is improved thermal performance. Well-insulated buildings consume considerably less energy - be it for keeping cool in summer or staying warm in winter, mineral wool considerably decreases energy bills. By reducing overall energy dependence, glass and stone wool insulation also makes a valuable contribution to combating climate change. This article looks at thermal performance of mineral wool, includr R-values.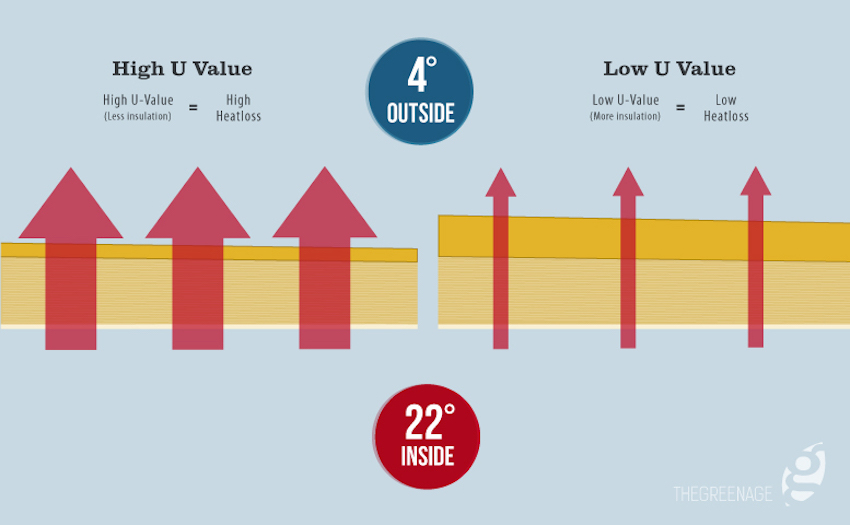 Photo courtesy of The Green Age
| | |
| --- | --- |
| | ROCKWOOL® is the world's leading manufacturer of stone wool insulation offering a full range of high-performing and sustainable insulation products for the construction industry with solutions that help create more resilient, energy-efficient, safe, and sustainable buildings. www.rockwool.com |
Originally published in December 2021
Notice