Stone Wool Ceiling Tiles in Healthcare
High-performance ceilings' role in helping deliver resilient buildings and healthy spaces
Sponsored by ROCKFON

1 AIA LU/HSW; 1 IDCEC CEU/HSW; 1 GBCI CE Hour; 0.1 IACET CEU*; 1 AIBD P-CE; AAA 1 Structured Learning Hour; This course can be self-reported to the AANB, as per their CE Guidelines; AAPEI 1 Structured Learning Hour; This course can be self-reported to the AIBC, as per their CE Guidelines.; MAA 1 Structured Learning Hour; This course can be self-reported to the NLAA.; This course can be self-reported to the NSAA; NWTAA 1 Structured Learning Hour; OAA 1 Learning Hour
Learning Objectives:
Describe how high-performance ceiling tiles with a high Noise Reduction Coefficient (NRC) can positively impact acoustics in the healthcare environment.
Explain how stone wool ceiling tiles can help deliver on indoor air quality (IAQ), mold and mildew, and fire resistance.
List product performance standards and material ingredient reports that provide transparency for acoustic ceiling tiles.
Discuss how high-performance ceiling systems meet building design standards and evidence-based design recommended practices.
This course is part of the Healthcare Academy
Indoor environmental quality (IEQ) has become a top priority in a time when awareness of health, safety and well-being is higher than ever. Ceiling systems comprise an important element in a broad range of solutions that consider IEQ and sustainability goals. In commercial buildings dedicated to healthcare, the need for flexibility and customized technology has created some challenges and led to opportunities for innovation that are holistic in approach and cutting edge in design.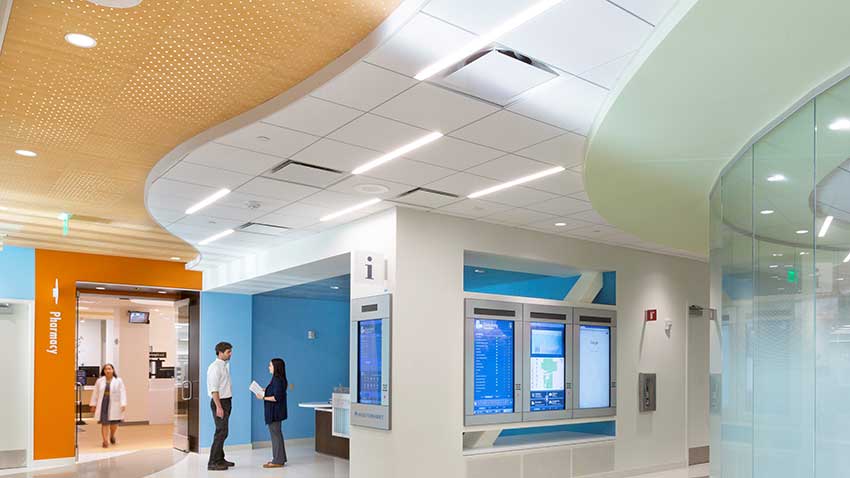 Photo courtesy of Rockfon
Inside Kaiser Permanente's new Mission Bay Medical Offices in San Francisco, stone wool ceiling systems provide quality integrated lighting and reflectance—an indoor environmental quality component essential to mood, sleep cycles, and general well-being.
IEQ refers to the quality of a building's interior environment in relation to the health and wellbeing of those who occupy it. Components of IEQ include IAQ, lighting and daylighting, aesthetics, and acoustics, all of which are vital elements for architects to consider. When IEQ is poor, occupants can suffer long-term and short-term physical and mental effects. According to the U.S. Environmental Protection Agency (EPA), Americans spend, on average, about 90% of their time indoors. For this reason, IEQ design becomes even more crucial.
Furthermore, the people most susceptible to adverse effects of poor IEQ—the very young, older adults, and people with medical conditions—tend to spend even more time indoors. Within these indoor environments, issues such as too much noise, bad air, and poor lighting can interfere with daily activities. Lack of communication, concentration, and sleep lead to stress responses such as high blood pressure and anxiety. Noise can impact mood and well-being for all those occupying the space.
Over the years, architects have taken a more holistic view of the built environment. The pandemic—in its various phases—has magnified the need for IEQ design. The emphasis on IEQ is now a gold standard for those designing buildings in healthcare. IEQ components not only matter in practical ways for health and safety, but they have also become guiding forces for exciting innovations in architectural design.
Good IEQ can enhance the lives of building occupants, increase the resale value of the building, and reduce liability for building owners. Often, a material or product may impact or support several elements of IEQ at once—and ceiling systems are a good example of that.
Few specifications could be as important as those for hospitals and other healthcare facilities. The ceiling system plays an important part in the overall healthiness of the building, as well as the health of the patients and staff. Attention should be given to ceiling systems with excellent acoustic performance to cut down on noise that can make staff irritable and inhibit patient healing. The right ceiling system can save energy on lighting and cooling. It can help prevent mold and mildew growth and can be cleaned and wiped down. It can be made of recycled and recyclable materials. And a full palette of colors can help create a warm and inviting setting appealing to patients, staff, and visitors alike.
One ceiling material that is now being specified and used in healthcare settings is stone wool.
Manufactured stone wool is composed of basalt rock, recycled material from other industries, and held together with a binder. Stone wool ceiling tiles are composed of this stone wool, plus a layer of mineral fleece, and finished with a water-based paint and sometimes a lacquer. The stone wool fibers of the tiles are intertwined in a texture that is similar to cotton candy. The non-directional fiber orientation of stone wool and the open surface make stone wool ceiling tiles and panels highly sound absorptive.
Stone wool acoustic ceiling panels are UL/ULC certified for NRC and AC. They also have other key performances that help deliver on indoor air quality: Certified as UL Greenguard GOLD for low VOC emissions, these panels have also demonstrated resistance to mold and mildew growth when tested to ASTM D3272, are easily cleanable and humidity resistant. In addition, they are rated Class A fire performance and have high light reflectance. Most of these properties contribute to IEQ goals and support the health, safety, and well-being of occupants.
Stone wool ceiling systems can integrate well with quality lighting. Their light reflectance helps enhance natural light. Natural light is vital to human functioning and plays an important role in both psychological and physiological well-being, affecting mood, sleep cycles, and productivity. A 2016 Market Report published by Dodge Data & Analytics identified access to daylight as a key feature for healthier buildings.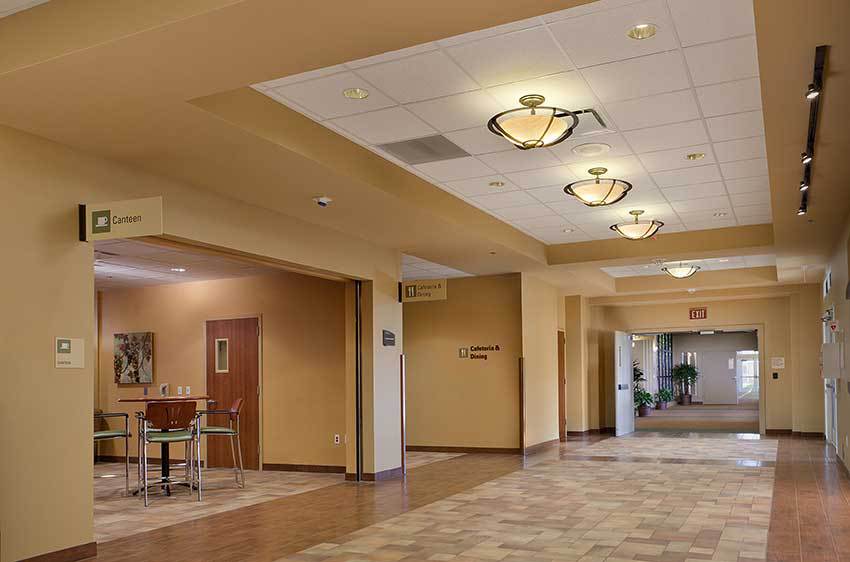 Photo courtesy of Rockfon
Ceiling systems play an important role in healthcare settings. High-performance materials such as stone wool support indoor air quality and save energy on lighting and cooling.
Aesthetics is another IEQ component that stone wool ceiling systems can achieve. Interior finishes can be used to design inspiring and beautiful interior spaces that promote health and well-being. Stone wool panels come in a variety of styles, colors, and shapes; however, the overall aesthetic is decidedly modern. Attributes can be selected to contribute to the design of a space. Biophilic design is an aesthetic type that fits well within the health care industry, has shown to aid in healing, and can be created with ceiling finishes and shapes. The concept is used within the building industry to increase occupant connectivity to the natural environment through direct nature, indirect nature, and space and place conditions.
When it comes to healthcare settings, acoustics are one of the most important design elements that affect IEQ. Optimizing acoustics in the environment requires a combination of highly absorptive ceiling panels (Noise Reduction Coefficient or NRC), robust walls with the right STC rating, as well as other elements such as floor slabs.
According to the World Health Organization, noise can seriously impact human health. Excessive or unwanted noise can cause both short- and long-term health problems. Most obviously, noise can interfere with a person's daily activities, whether at school, work, home, or a healthcare environment. Noise can disrupt sleep and interfere with concentration; it can also induce a stress response, which comes with several potentially harmful physiological responses such as increased blood pressure. And, as most of us have experienced, unwanted noise can be irritating, thereby affecting our mood and overall well-being.
Healthcare facilities are often noisy places. For instance, many sounds are present in hospital environments, including those from beepers, alarms, machines, rolling carts, HVAC systems, and conversations, among other sources. These can be severely irritating and at times harmful to patients, depending on their current conditions (i.e., age, hearing ability, medication intake, cultural background, and pre-existing fears and anxieties). Acoustics in healthcare environments are complex and require a careful, strategic design. Specific acoustical considerations in healthcare settings include supporting patient well-being and privacy, supporting communication among staff, and meeting standards and regulations (e.g., HIPAA).
In recent years, these issues have received much attention. As evidence, acoustics are a key component of several new healthcare design guidelines; many studies identifying design strategies to improve acoustical conditions in healthcare environments have been conducted; and hospitals throughout the United States have taken initiatives to improve their acoustic environments.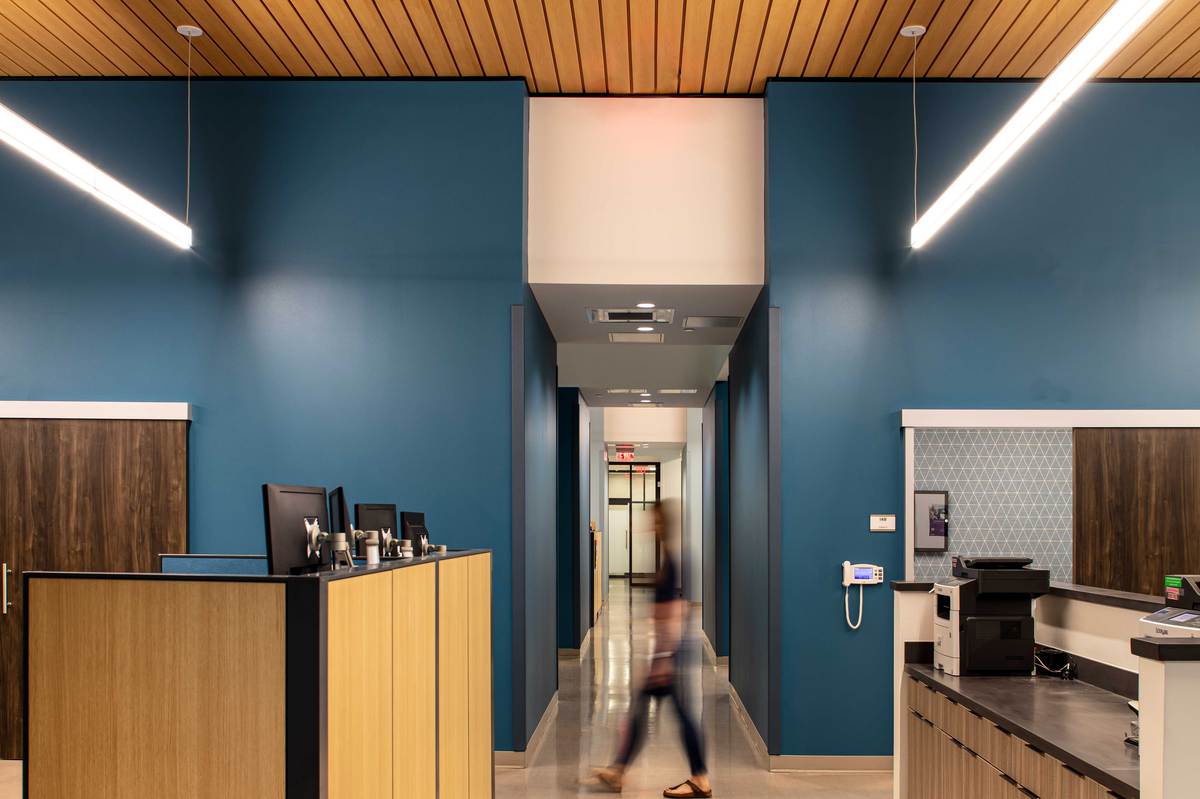 Photo courtesy of Rockfon
Architects have taken a more holistic view of health care buildings, considering the ways in which acoustics can impact the stress levels and communication abilities of both patients and staff.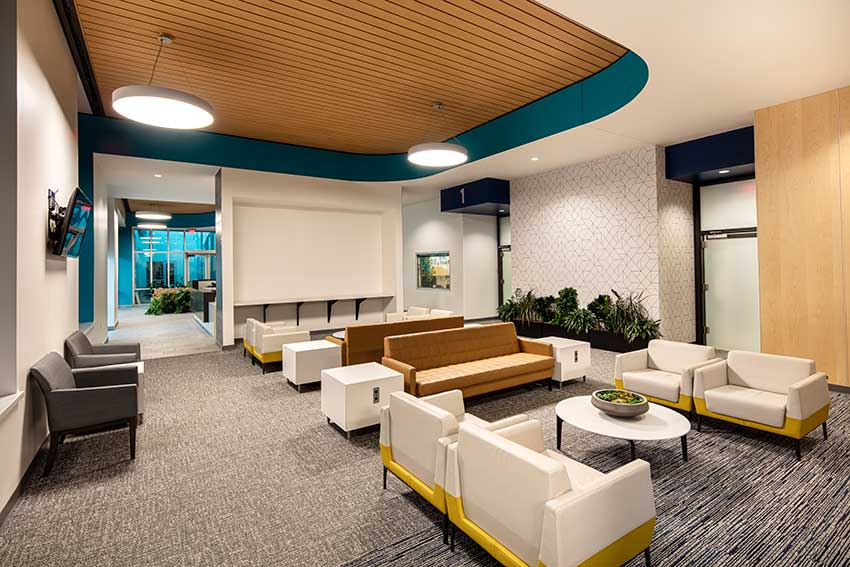 Photo courtesy of Rockfon
Stone wool ceiling tiles are hydrophobic, which means they do not absorb moisture and will not support mold and mildew growth.
Originally published in August 2022
Notice