The Ins and Outs of Architectural Glass Design
From performance and sustainability benefits to sheer beauty, designing with architectural glass solves for a bevy of challenges, both big and small
Sponsored by National Glass Association
Learning Objectives:
Discuss how the use of architectural glass for building facades and interior spaces provided solutions for the sustainability challenges and overarching environmental goals of the highlighted projects.
Explain the difference between embodied carbon and operational carbon, particularly in the context of designing with a range of architectural glass products.
Describe how a variety of architectural glass products as well as collaboration of the design team throughout the life of the project can support performance, sustainability, and aesthetic goals.
Identify ways in which designing with architectural glass plays a pivotal role in modern architecture's emphasis on improved human comfort and occupant well-being--both physical and emotional.
This course is part of the Glass and Glazing Design Academy
This webinar is part of the Glass and Glazing Academy
Architectural glass is a viable and successful solution for meeting tomorrow's performance and sustainability goals. This webinar will address sustainability challenges facing the building community, the difference between embodied carbon and operational carbon, glass product solutions and more. Learn how collaboration among the design team can address goals for designing with glass, offering human comfort and wellness, payback of operational carbon, and more.
Presentation highlights include two innovative higher education projects: Siebel Center for Design, University of Illinois Urbana-Campaign and Design Innovation Hub, Kent State University, both of which will be presented by Michael Maiese, Associate Principal with Bohlin Cywinski Jackson.
Siebel Center for Design, University of Illinois Urbana-Campaign is one of the first ground-up design schools of its kind in the country, the new building supports the mission of the Center to encourage a collaborative approach to problem solving – one that combines design thinking, experimentation, prototyping, and making. The 60,000-square-foot project features floor-to-ceiling exterior glazing that provides ample visibility, connectivity, and wellness to the interior spaces, including the airy classrooms, 9,000 square-feet of collaboration space, and nearly 5,000 square-feet dedicated to fabrication space.
Design Innovation Hub, Kent State University is an adaptive re-use of the John Andrews-designed, 1970s-era former art building at the center of campus, and it serves as a focal point for the University-wide innovation ecosystem. As the central resource for this ecosystem, the 78,000-square-foot DI Hub houses a range of labs, makerspaces, tools and technologies to serve every step of the creative process. Architectural glass is used extensively yet strategically to provide natural daylight, promote wellness, as well as to honor and articulate the historic building structure.
Additionally, industry expert Chris Fronsoe from Vitro Architectural Glass will provide an overview of understanding embodied carbon in glass. His presentation will include the following topic sections:
What is Embodied Carbon & Where Can I Find the Information
Embodied Carbon Reduction Strategies
Potential Challenges and Solutions to Meeting Embodied Carbon Goals
The presentations will be followed by a moderated discussion, addressing several key issues related to architectural glass design practices.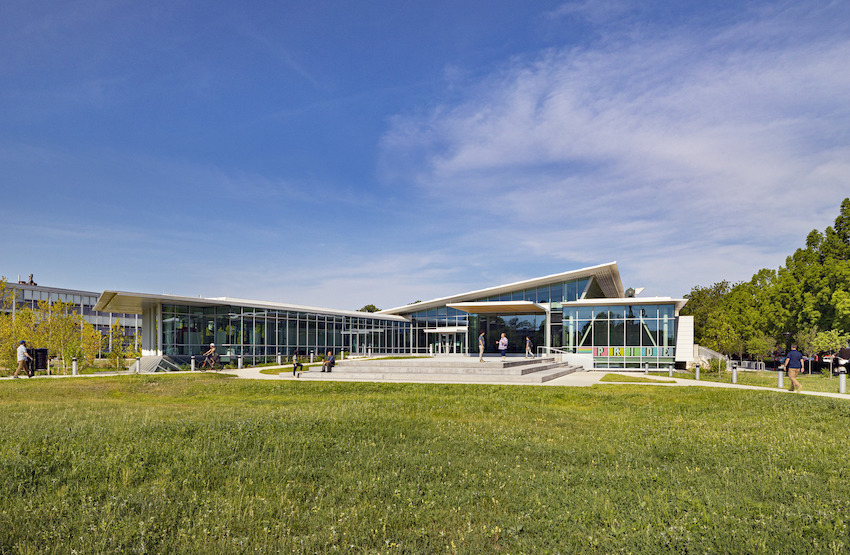 Photo © Sam Fentress
| | |
| --- | --- |
| | Michael Maiese, Associate Principal with Bohlin Cywinski Jackson (BCJ), is an engaging and passionate designer who values exploration and open dialog. Mike was drawn to architecture through his appreciation for the craft of building. He enjoys collaborating with others to realize the vision of a project, translating design intent into physical form, making spaces that speak to the nature of purpose and empowerment of the human spirit. |