Multifamily buildings meeting the varied needs of their residents
Sponsored by Inpro, PABCO® Gypsum and Tamlyn
Learning Objectives:
Investigate the beneficial attributes to people of acoustic control and fire resistance using properly specified gypsum board in multifamily buildings.
Assess options for interior design that enhance wellness, innovation, and safety as applied to both private and public spaces in buildings.
Explain the significance of properly used expansion joints for building integrity and the safety of people and the protection of property.
Determine options to improve the exterior and interior cladding of multifamily buildings for safety, durability, and aesthetics using extruded aluminum trim.
Credits:
This course can be self-reported to the AIBC, as per their CE Guidelines.
As an IACET Accredited Provider, BNP Media offers IACET CEUs for its learning events that comply with the ANSI/IACET Continuing Education and Training Standard.
This course is approved as a Structured Course
This course can be self-reported to the AANB, as per their CE Guidelines
Approved for structured learning
Approved for Core Learning
This course can be self-reported to the NLAA
Course may qualify for Learning Hours with NWTAA
Course eligible for OAA Learning Hours
This course is approved as a core course
This course can be self-reported for Learning Units to the Architectural Institute of British Columbia
You are not currently logged in to your CE Center account.
Log in
to view and complete the quiz questions that are embedded in this article.
Density in living situations is generally regarded as a good thing in terms of sustainable design, availability of services, provision of mass transit, and other quality-of-life conditions. However, buildings that house multiple households require attention to both design and detail to achieve attractive, desirable, and livable situations. That includes providing the proper balance between public spaces and privacy within dwelling units, especially related to acoustic privacy. There is also the need to provide spaces and materials that are attractive and durable to keep the buildings looking good and performing well over time. The current trends of healthy indoor living environments, green building design, connections to the outdoors, and other design features are all equally important aspects of contemporary multifamily building or renovation design. This course reviews these issues with some specific approaches toward achieving better, coordinated, and budget-friendly outcomes.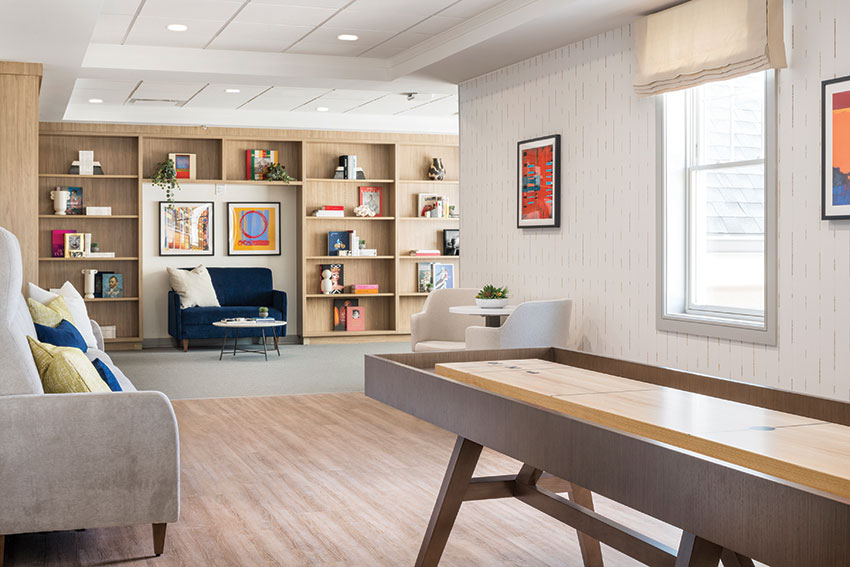 Photo courtesy of Inpro
Multifamily buildings are places that create a density and community which are desirable traits, as long as the potential downsides are properly addressed in design.
BETTER BUILDING EXTERIORS
Multifamily buildings are usually part of a larger community setting and in a very real sense, the exterior design helps to shape the nature and character of that community. Architects control that design and can help create exteriors that add vibrancy, provide welcoming environments, and maintain appropriate levels of scale for individual living units.
At the same time, building exteriors need to meet the rigors of energy conservation, sustainability, durability, and cost-effectiveness. For many multifamily buildings, that has meant the use of lightweight cladding used in a rainscreen system for better overall performance. That cladding is often held in place with aluminum trim that is used not only for fastening purposes but to create a visual statement as well. When used successfully, aluminum trim is a design tool that economically creates facades that can be dramatic or subtle, bold or understated, colorful or muted. This gives the trim multiple purposes that can be used to tie into the larger purpose of the community.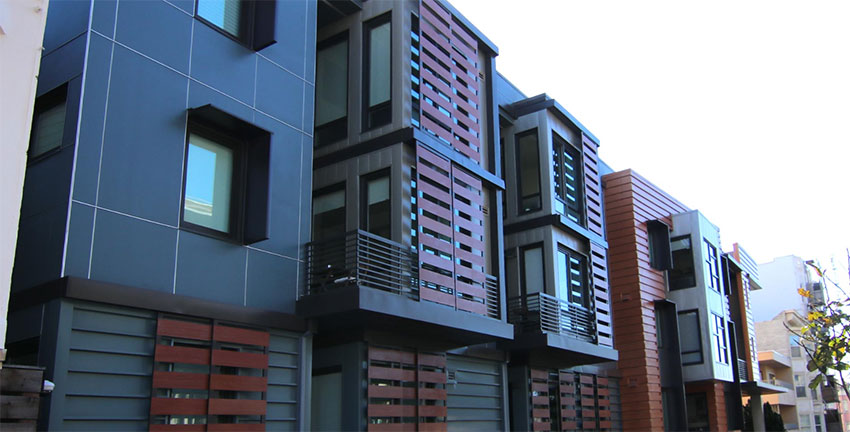 Photo courtesy of Tamlyn
Extruded aluminum trim can be used to help secure and frame many different types of exterior cladding edges, such as 36 Dolores, located in Emeryville, California. Architect: Levy Design Partners
Designing with Exterior Aluminum Trim
Not all cladding is the same, so it follows that not all methods of supporting cladding panels are the same. Similarly, different claddings have different capabilities for the edges of panels to be left uncovered or unprotected. This is particularly true if the cladding is porous, such as with wood, cement fiber boards, or some composite products. In these and other cases, aluminum trim is typically used around the perimeter of the cladding.
The design possibilities of using aluminum trim are extensive. There are literally thousands of standard profiles available that can either create a recessed reveal between cladding panels, be flush over the top surface, or can intentionally project outward to accentuate the lines of the design. The aluminum is available in a wide range of standard anodized or painted colors. Extruded aluminum trim can be provided in sizes and styles that work with multiple panels enabling architects to vary the material choices within their façade designs while keeping details that will have a similar language. Used in any of these ways, it has typically been shown to be less expensive with a more elegant look of clean lines than with other options.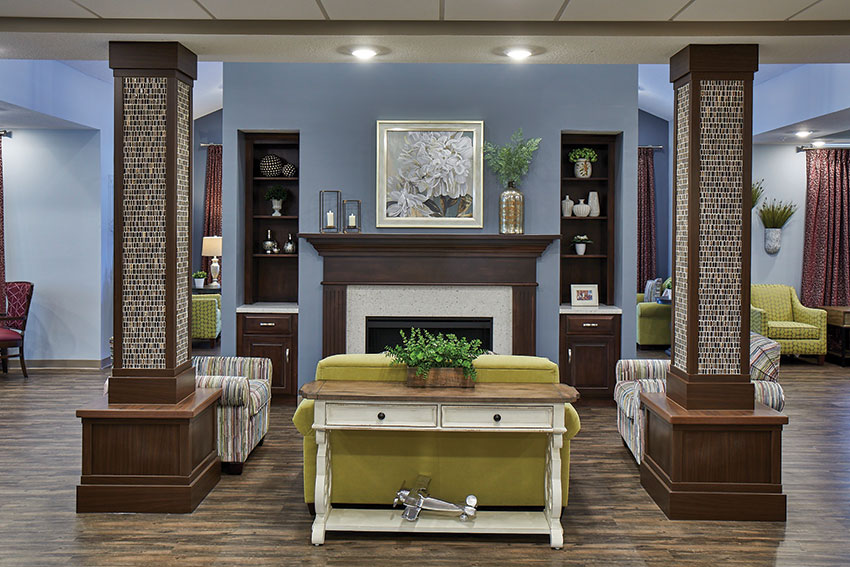 Photo courtesy of Inpro
Common or amenity spaces in multifamily buildings can look better longer and help guard against potential hazards when durable, architectural wall and door protection is incorporated into the design.
There is a current design trend to increase the use of non-90-degree corners in urban settings. This may be a response to tighter spaces and building lots or simply a desire for more creative shapes and geometries on building exteriors. Lightweight cladding and aluminum trim have become proven as a means to achieve such angular designs. Manufacturers now provide multi-angle corners that adjust to the angle of the wall for inside and outside corners. This allows for clean, efficient details on non-90-degree corners. Without this option, an installer would need to line up two or more pieces of trim that may or may not end up straight and plumb going up the wall. There are also transition trims available to provide a clean transition from one type of cladding to another. Some two-piece products are also available that allow for easy transition details to keep the architectural design intent intact.
For situations that require it, there is the option of working with a manufacturer to create custom trim profiles to suit the needs of a project. The option also exists for custom coloring for any standard or custom trim profile.
Perhaps the biggest design trend is for architects and designers to use multiple different claddings and trims on a single project or façade. That has obvious implications for the number of different trims that will be needed to work with those different claddings. Clayton Webster, a Product Manager with Tamlyn, notes, "Architects are designing with four or more different claddings on multifamily and single-family construction. The struggle for contractors is to merge those claddings efficiently while keeping the design consistent. Utilizing aluminum trim with transition profiles allows architects the ability to design freely and gives contractors the solution they need to address the transition between the different claddings."
SUSTAINABLE INTERIORS
A big part of creating a sustainable multifamily building is the durability of the interior areas, especially those that get heavier use. Incorporating protective architectural products on walls and other surfaces helps to increase the longevity of multifamily buildings while also protecting occupants from potential hazards. This is particularly true for amenity areas such as common rooms, exercise areas, and café areas as well as circulation spaces such as corridors, stairways, doors, and elevators. Protection in all of these areas is not limited just to foot traffic and people but also needs to address protection from equipment for moving tenants in and out, cleaning equipment, deliveries, and things needed for special events.
Multifamily buildings therefore can be most sustainable when owners invest in products that protect the interior wall and door surfaces allowing the building to last longer and saving resources like time and money in the long run. The alternative is to regularly go through costly and time-consuming updates, especially to justify any increases in rent prices. Instead of needing to replace surfaces and interior features every three years, it is now reasonable to expect 10–15-year service lives by using architectural protective products.
Incorporating effective architectural protection doesn't mean that performance and aesthetics have to compete with each other. There are plenty of different protective products for multifamily buildings that can be aesthetically pleasing and even innovative in the way they are manufactured and used. The best approach is referred to as targeted wall protection where a specific set of products is used that are designed to absorb impact and protect the underlying portion of the wall. By targeting the most vulnerable areas, protection can be added by using corner guard or wall guard products specifically where they are needed. These can include horizontal rails across targeted sections of the walls as well as vertically installed corner guards. Since many of these products can be specified with materials that are not only durable but also easy to clean, they help protect the building as well as the people in them.
Taking the concept of wall protection further, sheets of rigid wall covering have been used where large surfaces need to be made more durable and easier to clean. Usually produced in sheets or rolls, rigid vinyl extruded wall cladding comes in several standard thicknesses. For medium-duty installations, .028 is used when flexibility is needed such as wrapping a column for example. A slightly heavier .040 can be used to eliminate re-painting where repeated scuffing wears through the top layer of drywall. For heavier-duty locations, .060 is used to protect against gouging of the wall while .080 is used for maximum protection, often installed on top of cement board or fire-rated plywood. Most of these products offered in the U.S. are Class A fire rated with many choices of product types, finishes, and colors to enhance, rather than detract from, an interior design scheme.
For wall areas that need some protection but desire a softer look, resilient, textured wall covering is available which brings several advantages. A thicker wall covering with special top coatings makes for a very durable product. That includes resistance to chemicals and cleaning agents. Such wall coverings can also be selected which are quite cleanable and resilient against stains, markings, and graffiti. From a design standpoint, there are textured wall coverings available in a variety of colors and patterns that can be combined with other wall protection products from a manufacturer for a totally coordinated look.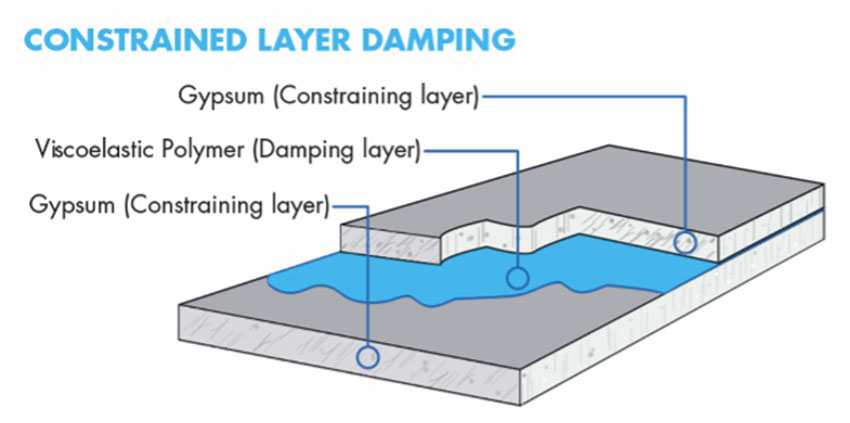 Photo courtesy of PABCO Gypsum
CLD gypsum board uses viscoelastic polymers (damping layer) between two layers of gypsum (constraining layers) to reduce sound and vibration in building partitions. When under vibration, the damping layer shears as the panel flexes resulting in less overall sound energy transmitted through the panel.
Originally published in Architectural Record
Originally published in September 2023
Notice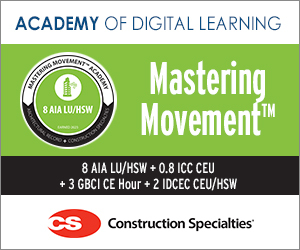 Living with Neighbors
Buyer's Guide
Elevators that Last + Leave Lasting Impressions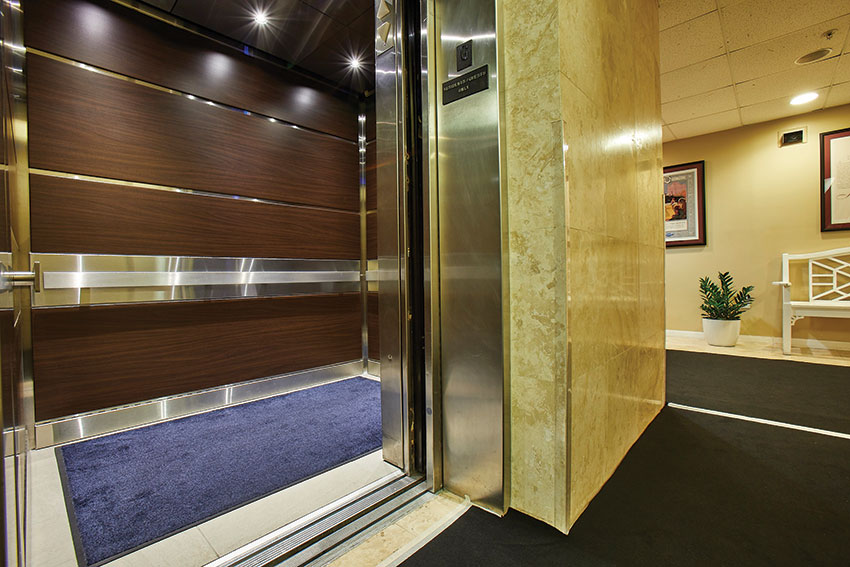 Elevator Interiors that won Elevator World's Product of the Year in 2022. Inpro's industry exclusive cab panels are clad in Palladium® Rigid Vinyl Sheet, making them more durable than competing plastic laminate (PLAM) products. The fully wrapped and bonded panels are engineered to be extremely durable and impact resistant against chipping. Our patented interlocking clip system is factory installed for perfect spacing and ease of installation, engineered with installers in mind.
Easy and Cost-Effective Sound Control for Multifamily Housing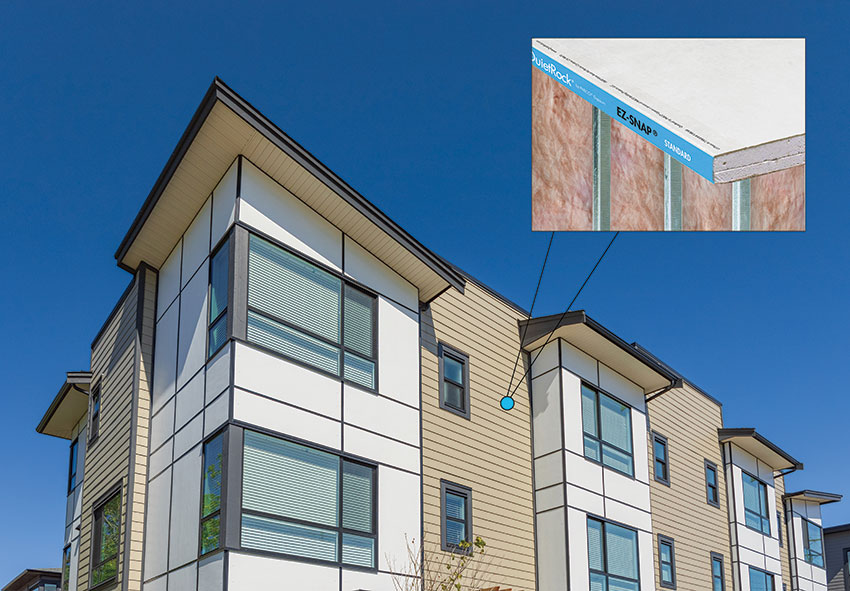 With the increasing trend toward high-density multifamily housing, sound control is more important than ever. With the help of QuietRock sound-reducing drywall, residents can enjoy a quieter home environment. Designed specifically to reduce airborne noise transmission between spaces, QuietRock will provide high sound attenuation while using less material and labor compared to other acoustic alternatives.
Achieve Clean, Modern Lines with Extruded Aluminum Trim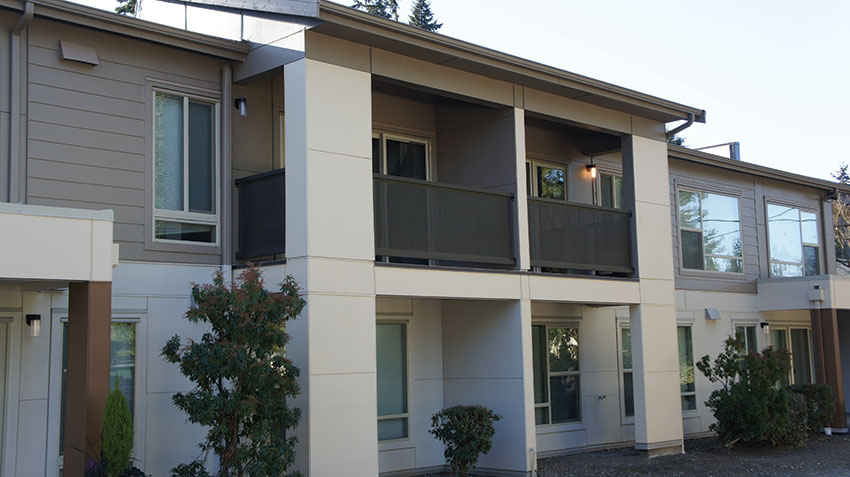 Clean, modern lines can be achieved by using extruded aluminum trim in projects. Extruded aluminum trim will give the building long-lasting trim details that will not oil can or buckle under sun exposure. Tamlyn works with architects to manufacture extruded aluminum trim for easy cladding transitions.