To Code...and Beyond
Using insulated metal panels to future-proof buildings
Sponsored by Metal Construction Association

1 AIA LU/HSW; 1 IDCEC CEU/HSW; 0.1 ICC CEU; 1 IIBEC CEH; 0.1 IACET CEU*; 1 AIBD P-CE; AAA 1 Structured Learning Hour; This course can be self-reported to the AANB, as per their CE Guidelines; AAPEI 1 Structured Learning Hour; This course can be self-reported to the AIBC, as per their CE Guidelines.; MAA 1 Structured Learning Hour; This course can be self-reported to the NLAA.; This course can be self-reported to the NSAA; NWTAA 1 Structured Learning Hour; OAA 1 Learning Hour; SAA 1 Hour of Core Learning
Learning Objectives:
Discuss the attributes of insulated metal panels (IMPs) and how these characteristics create the flexibility to meet a wide array of aesthetic, locational, performance, and code demands.
Describe how the components of an IMP allow it to meet code requirements for thermal, water, vapor, and air control.
Explain the performance criteria that fire codes evaluate and the rigorous fire-code testing to which IMPs are subjected.
Compare and contrast the features, resilience, and performance standards of IMPs against other commercial building materials.
This course is part of the Metal Architecture Academy
This course is part of the Metal Architecture Academy
The buildings of today must satisfy a supreme standard: they are called upon to achieve high performance: to be resilient, healthy, and energy efficient. Building science has focused modern design emphasis on the "envelope" in response to the movement of air, water vapor, and thermal conditions. These demands elicit dramatic changes to building envelope designs and the components used within.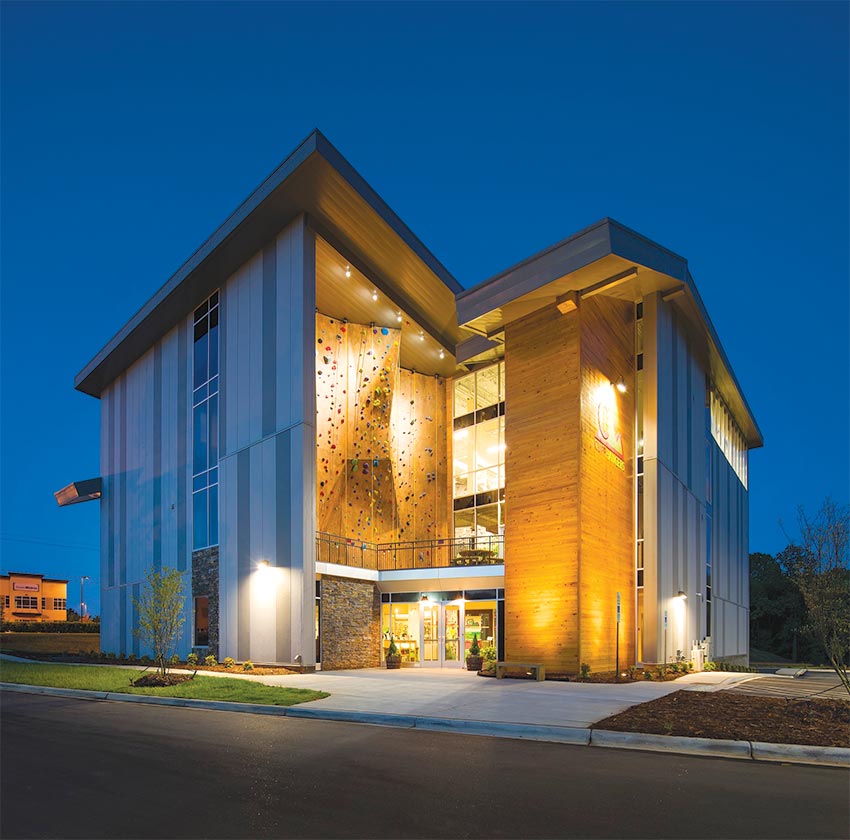 Photo courtesy of Metl-Span
To be sustainable and resilient, the buildings of today need to be built with materials that have the future in mind. Pictured is Cliff Hangers facility in Mooresville, North Carolina.
Understanding how to deliver high-performance, code-compliant buildings can be complex and confusing. Not only are architects charged with satisfying performance and structural requirements, but, in order to meet these conditions, the contemporary envelope also may now incorporate increased amounts of combustible materials in cladding, insulation, and water-resistive barriers (WRBs). Since fire-performance requirements have become integral with updates to the International Building Code (IBC), this adds yet another layer of complexity.
With demands on a structure at their highest, what products or systems can fulfill all of the required air and water control functions of a high-performance building enclosure, while meeting the building codes and still offering aesthetic flexibility?
Defining IMPs
What They Are
Future-oriented buildings require future-oriented products. Insulated metal panels (IMPs) are lightweight systems of exterior wall and roof panels with metal skins and insulating foam cores. First developed by the National Aeronautics and Space Administration (NASA), these panels have superior insulating properties, and their outstanding spanning capabilities and one-pass installation makes them quick to install, providing unit cost savings when compared to other wall assemblies.
To deliver their high-performance insulation, foam is injected, or poured in place, between two metal sheets, where it then undergoes a chemical reaction, causing it to expand and bond to the metal skins, thereby completely filling the interior cavity between the metal skins. The result is a solid panel system that provides superior thermal value and resists moisture, insect, and rodent infiltration.
IMPs are available in a wide variety of colors, widths, profiles, and finishes, enabling the realization of virtually any desired aesthetic for walls and roofs. IMPs can also be curved and formed, and they come in a variety of high-performance coatings.
Expanding upon the various profiled options, designers can choose walls that are ribbed, fluted, or planked. For flat walls, finishes can be flat, textured, or striated.
Additional design features include joint reveal widths, formed corner panels, end folds and treatments, heavier-gauge flat facings, and integrated windows and louver systems. Another available finish feature is embossing, which creates surface texture on metal coils. This process flattens wavy coils and eliminates the "mirror" effect of smooth finishes. It is also a useful way to mask minor blemishes such as paint scratches and surface variations. Nondirectional embossing can be applied to create a uniform pattern, whereas directional embossing produces linear lines along the length of the coil.
The most commonly used metal substrates for IMP faces are G90 galvanized steel or AZ50 aluminum-zinc coated steel, while some custom panels are made from stainless steel or aluminum.
For the interior, a typical finish is a standard polyester 0.8 millimeter—including the primer—in a light-reflective and easy-to-maintain color. United States Department of Agriculture (USDA)-compliant finishes and stainless steel also are available for required applications, such as food processing and storage.
Performance wise, architects are able to specify various panel insulation values, span lengths, and load/span capabilities.
In the field, IMPs are not only considered the primary exterior finish but now also are being designed as the primary building envelope and can be clad with various secondary rainscreen materials, such as brick veneer.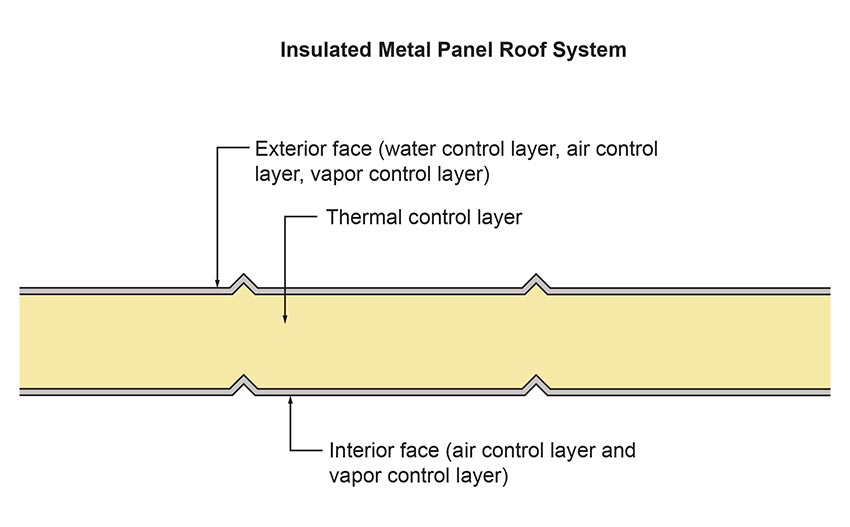 Where They're Found
Commercial and industrial: IMPs are ideal for all types of commercial and industrial buildings, including institutional, recreational, government buildings, and manufacturing facilities. Projects from schools to retail centers to power plants benefit from the unique energy-efficient insulation, lightweight construction, durability, and cost-effective, timely installation of single-component IMPs. IMPs also provide solutions for a variety of climate considerations, including temperature, humidity, airborne particles, and air movement, among others.
Architectural: Architectural IMPs have the normal attributes of those used in commercial and industrial builds, such as high insulation values, speed of build, and vertical and horizontal applications, but they also incorporate options such as custom shapes and widths, specialized colors and finishes, and custom fabrication, including, but not limited to, factory-bended corners, curved panels, and trimless ends. Architectural IMPs offer options that can incorporate panels that coalesce with windows, louvers, sunshades, or other integrated products to offer total building envelope solutions. Their flexibility provides architects freedom to create unique building designs.
Cold storage: IMPs are considered the ultimate solution for climate-controlled facilities. Whether the need is for manufacturing, processing, storage, or distribution of perishable food or other materials, an IMP wall can meet the demands. Available in panel thicknesses from 2–6 inches, a wall can be designed to meet specific thermal performance requirements. Additional features include long spanning capability, flat and ribbed shaped panels, high-performance coatings, and special joint designs and details to meet safe hygiene and contamination requirements.
Insulated roof: IMPs are the roofing solution that provides the greatest insulation, simplest maintenance, and longest life coupled with quickest installation for low- and high-rise commercial and industrial applications. The essentially two-step installation process limits exposure to accidents and reduces the number of installation steps and materials required, increasing the speed of installation and reducing down time while providing a roof with superior insulation properties that can last more than four decades.
IMPs and the Building Enclosure
IMPs offer more than aesthetic flexibility. As a turnkey option that delivers a full vapor and water barrier—along with continuous insulation—IMPs also are an easy way to meet the growing and vital body of code requirements. Codes today focus not only on safety (things like fire requirements) and sustainability but also on performance and building health.
In a 2010 Building Science Corporation article titled "BSI-001: The Perfect Wall," Joseph Lstiburek, Ph.D., ASHRAE Fellow, writes: "The perfect wall is an environmental separator. It has to keep the outside out and the inside in. In order to do this, the wall assembly has to control rain, air, vapor, and heat. Today, walls need four principal control layers. They are presented in order of importance: a rain control layer, an air control layer, a vapor control layer, and a thermal control layer. A point to this importance: If you can't keep the rain out, don't waste your time on the air. If you can't keep the air out, don't waste your time on the vapor."
For Lstiburek, the perfect wall has the rain control layer, the air control layer, the vapor control layer, and the thermal control layer on the exterior of the structure. The cladding's function principally is to act as an ultraviolet screen.
The best place for control layers is to locate them on the outside of the structure in order to protect it.
Originally published in Architectural Record
Originally published in July 2019
Notice