Enduring Metal
Unique qualities make metal a smart building solution for sustainable design
Sponsored by Metal Construction Association

1 AIA LU/HSW; 1 GBCI CE Hour; 0.1 ICC CEU; 1 IIBEC CEH; 0.1 IACET CEU*; 1 AIBD P-CE; AAA 1 Structured Learning Hour; This course can be self-reported to the AANB, as per their CE Guidelines; AAPEI 1 Structured Learning Hour; This course can be self-reported to the AIBC, as per their CE Guidelines.; MAA 1 Structured Learning Hour; This course can be self-reported to the NLAA.; This course can be self-reported to the NSAA; NWTAA 1 Structured Learning Hour; OAA 1 Learning Hour; SAA 1 Hour of Core Learning
Learning Objectives:
Discuss how the durability of metal panels leads to sustainable building projects.
List some key qualities of metal panels that support LEED certification, including acoustical health and well-being.
Explain the thermal capabilities and applications of metal construction that support health and comfort of the occupant.
Describe the ways in which metal's resistance to fire and rain help keep occupants safe, comfortable, and healthy.
This course is part of the Metal Architecture Academy
Cool Colors
Tests have shown that on a 90 degrees Fahrenheit day, a white roof will only have a temperature of 110 degrees Fahrenheit at its surface while a black roof will have a reading of 190 degrees Fahrenheit. However, it would be a very dull country if architects and builders could not enhance the appearance of their products and were restricted to white, despite the energy savings. Consequently, roof coating manufacturers have been developing cool roof coatings that increase heat reflectivity and reduce emissivity without sacrificing color choices.
New infrared-reflective pigments incorporated into paints used on architectural metal roofing products allow them to achieve higher reflectivity values, even in darker colors such as black and brown. This improved reflectivity—the reflectivity for black, for example, changes from 0.07 with normal pigments to 0.32 with infrared-reflective pigments—can mean a much cooler surface temperature and greater energy savings for the building below. This allows facility executives to select a sustainable roof without having to sacrifice aesthetics.
Research shows that most of the cool roof coatings and colors available today have little or no trouble meeting the reflectivity standards for LEED. Some, however, would fall short in meeting emissivity requirements if the entire roof surface required it.
Energy Performance
Most industry experts agree that reflectivity has a greater impact than emissivity on the energy performance of the roof during hot weather. If most of the initial solar radiation is reflected, then a smaller portion is left for infrared emittance. Many cool roofs have reflectivities of 75%–80%, which means that only 20%–25% of the sun's energy is absorbed into the roof.
According to the Lawrence Berkeley National Laboratory, at an ambient temperature of 98 degrees Fahrenheit, a change in a roof's emissivity from 0.75 to 0.90 while keeping reflectivity constant results in a surface temperature reduction of 2 degrees. Conversely, raising a roof's reflectivity from 0.25 to 0.40 while keeping emissivity constant results in a surface temperature reduction of 13 degrees, a substantial difference.
Still, the combination of high reflectivity and high emissivity during hot summer months results in a surface temperature sometimes as much as 60–70 degrees cooler than a nonreflective roof. The reduction in heat energy means less need for air conditioning and lower energy costs.
In the case of LEED, a qualified laboratory can determine the solar reflectance required by the program. The laboratory does not need to be independent of the material manufacturer; therefore, both third party and manufacturer laboratories can be used to provide data to the Environmental Protection Agency (EPA).
However, the Cool Roof Rating Council (CRRC), an independent, non-profit industry association, requires that the laboratory conducting the measurement be accredited. Either the lab must be listed as an Accredited Independent Testing Laboratory (AITL) by the CRRC or it must be an Accredited Manufacturers Testing Laboratory (AMTL) to perform the tests to determine reflectivity and emissivity. Both the AITL and the AMTL must meet the requirements of the CRRC, which includes ISO certification of the lab, as well as additional required CRRC training.
Solar-Ready Roofing
Metal is the ideal choice for both crystalline and building integrated photovoltaic (BIPV) solar systems because of its long service life. When installing a crystalline system (typically warranted for 25 years of power generation), a building owner benefits from a roofing substrate that has a greater life expectancy than the solar panels. Standing seam metal panels also provide a natural platform for attaching crystalline systems without any roof penetrations. Additionally, highly reflective roofs with cooler rooftop temperatures result in better performance of solar panels.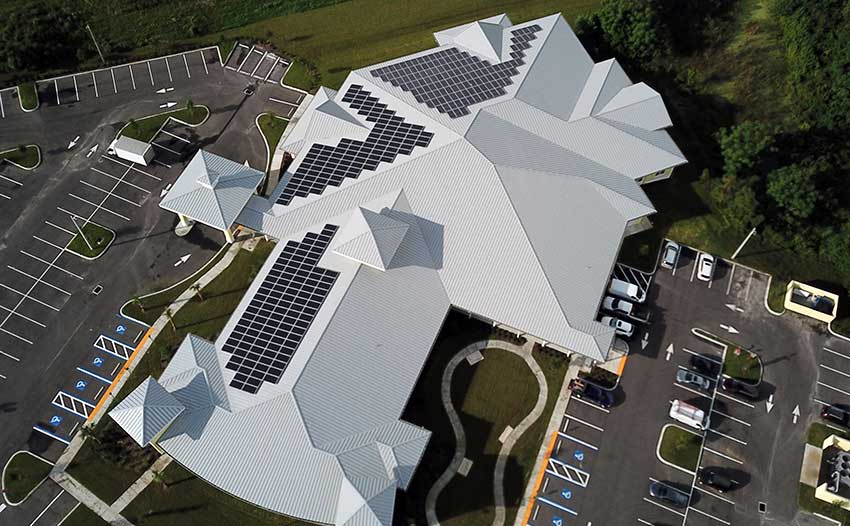 Photo courtesy of ATAS International
Because metal roofs have such a long life expectancy, they are ideal for solar panels.
Living Building Challenge
The Living Building Challenge (LBC) was launched in 2006 and is considered the world's most rigorous green building standard. There are close to 400 projects around the world pursuing the certification but only 20 or so that are fully certified.
To become a certified Living Building, projects must meet 20 imperatives within seven performance areas, known as Petals: Place, Energy, Water, Materials, Health and Happiness, Equity, and Beauty. The imperatives are performance-based and position the ideal outcome as an indicator of success.
One of the biggest challenges within the LBC is meeting the material requirement, which focuses on transparency and how a product impacts the environment and human health. For all metal products, including roofs and walls, the biggest challenge is figuring out how they fit within the Materials Petal, which is intended to create a materials economy that is nontoxic, ecologically restorative, transparent, and socially equitable. Other Materials Petal imperatives include embodied carbon footprint, responsible industry, living economy sourcing, and net positive waste.
For a lot of products, LBC is a challenge in big part due to the red list of 22 classes of banned and toxic substances found in many building materials. As manufacturers work through those logistics, architects should be able to specify for metal to meet these requirements.
The result of the LBC is a zero-energy building that combines energy efficiency and renewable energy generation to consume only as much energy as can be produced onsite through renewable resources over a specified time period. This ambitious challenge is not out of reach for metal roof and wall systems—a current LBC building utilizes lots of metal, as we will see in the case studies. Metal's inherent thermal properties and efficiencies help move buildings toward that goal, and the metal manufacturing world is always evolving toward the cradle-to-cradle aspiration.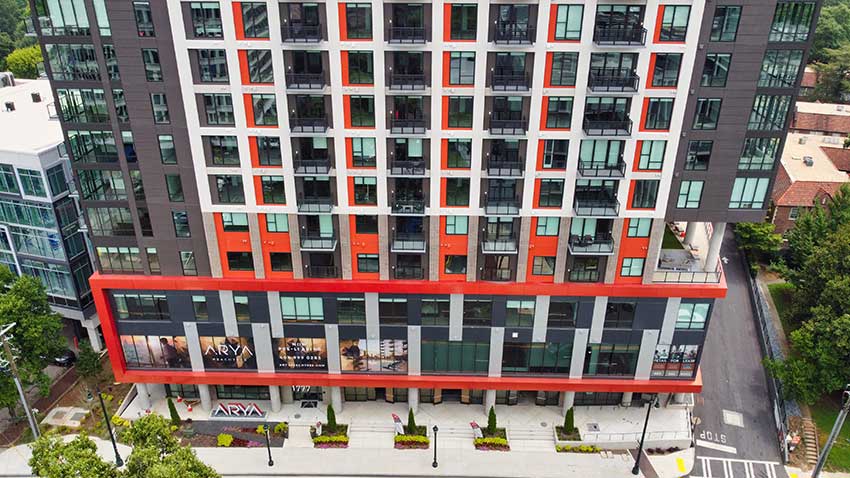 Photo courtesy of Isaiah Industries
Metal products like MCM are sustainable and offer health and well-being advantages due to their low toxicity and fire resistance, and, over the years, the design options have expanded to provide a modern look that is versatile enough for architectural visions across the spectrum.
HOW METAL CONSTRUCTION BENEFITS THE JOBSITE
Metal construction has another appealing aspect: it can help support the sustainability of jobsites. Pre-engineered metal roofing and wall systems offer a way to reduce the amount of material left on site. The building can even be constructed without the hazards, extra time and clean-up of coating, since the metal is painted at a coil coating facility. Factory painted metal also means that construction crews are not exposed to any paint chemicals.
CONCLUSION AND REVIEW
These days, designs that center on sustainability and IEQ are highly prioritized by architects, developers, and owners alike. As we have learned in this course, metal can meet many of these goals. As an endlessly recyclable, highly durable material, metal fulfills requirements for LEED projects and serves as part of the built environment's solution toward mitigating climate change. Just as important is the occupant, to whom metal provides low-toxic and fire-resistant qualities. Its properties can control temperature, moisture, and sound—all while offering aesthetically pleasing elements that create a sense of comfort and well-being.
Originally published in Architectural Record
Originally published in September 2022
Notice