Enduring Metal
Unique qualities make metal a smart building solution for sustainable design
Sponsored by Metal Construction Association

1 AIA LU/HSW; 1 GBCI CE Hour; 0.1 ICC CEU; 1 IIBEC CEH; 0.1 IACET CEU*; 1 AIBD P-CE; AAA 1 Structured Learning Hour; This course can be self-reported to the AANB, as per their CE Guidelines; AAPEI 1 Structured Learning Hour; This course can be self-reported to the AIBC, as per their CE Guidelines.; MAA 1 Structured Learning Hour; This course can be self-reported to the NLAA.; This course can be self-reported to the NSAA; NWTAA 1 Structured Learning Hour; OAA 1 Learning Hour; SAA 1 Hour of Core Learning
Learning Objectives:
Discuss how the durability of metal panels leads to sustainable building projects.
List some key qualities of metal panels that support LEED certification, including acoustical health and well-being.
Explain the thermal capabilities and applications of metal construction that support health and comfort of the occupant.
Describe the ways in which metal's resistance to fire and rain help keep occupants safe, comfortable, and healthy.
This course is part of the Metal Architecture Academy
Metal Walls
Like metal roofs, metal walls offer sustainable and aesthetic benefits in commercial and residential construction. Currently, they are seen most often in commercial, institutional, municipal, and industrial buildings, but as their popularity continues to rise, they are popping up in residential homes and condos in new and unique ways.
These days, metals walls come in a variety of colors, textures, and designs. They can be specified in matte or shiny finishes. They can be shaped into a variety of patterns. Metal walls can set a mood, evoke an occupant's personality, or match a neighborhood's architectural style by looking either ultra-modern or vintage.
Metal walls are durable. They can restrict the spread of fire and can meet the conditions of and acceptance of NFPA 285. They can also serve as a rainscreen when paired with a weather-resistant barrier, preventing water from entering the building. In climates with lots of rain, having a metal barrier can extend the life of the building by preventing mold and decay. And, by preventing mold and decay, the metal panels provide better indoor air quality for occupants.
Metal's density means that metal walls can lead to a reduction in energy consumption and that lowers expenses for building owners. Two other ways they save money include their easy and quick install and the fact that they often don't need as much support structure as other materials.
Because they don't require as much support structure, due to the inherent lightweight of metal, a building designed with metal walls can use fewer materials, which is also eco-friendly. In general, metal walls meet regulations for sustainable materials. They are made of recycled material and can be turned back into new materials. In a time when countries across the world are looking to hit climate change mitigation targets, buildings with metal walls can do their part to lower the carbon footprint.
Metal wall panels don't dent or ding easily, which means they can preserve their aesthetic value for many years. This can contribute to fewer renovations, less waste, and a longer life.
Let's look at types of metal walls and their characteristics.
Insulated Metal Panels
We previously discussed the qualities of insulated metal panels (IMP) made of lightweight metal skins with an insulating core. They come in a variety of colors and are easy to install, and they provide high-level thermal capabilities. IMPs work well in a variety of building types, such as offices, warehouses, educational institutions, government, transportation, and hotels—almost anywhere. They are especially suited for spaces with many occupants where temperature, humidity, airborne particles, and air movement must be dialed in.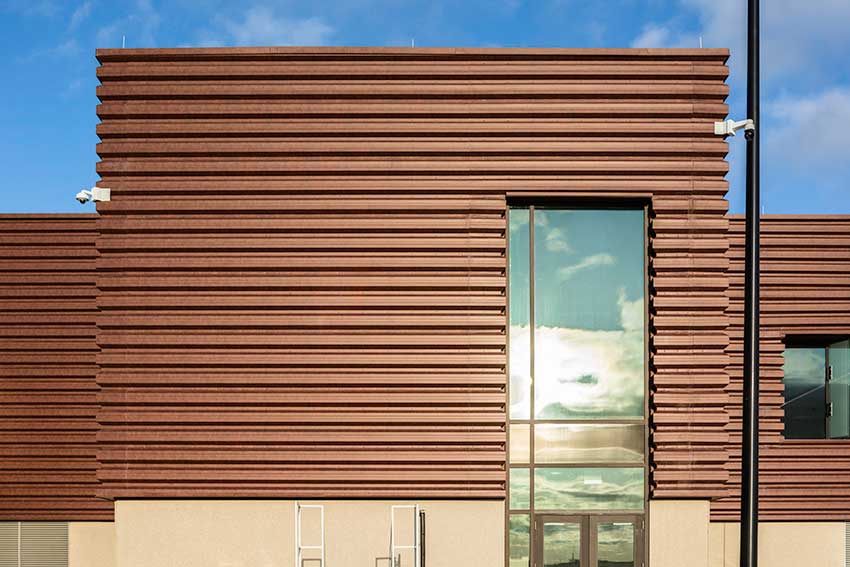 Photo courtesy of Brennan Photo + Video
IMP walls come in a variety of colors to match any aesthetic, such as the earthen, prairie color in this close up of the Williston Basin International Airport.
Their insulating properties serve climate-controlled facilities well. That includes manufacturing, processing, storage, or distribution of perishable foods or other products. They are available in thicknesses between 3" and 6" and can be designed to fit the thermal needs of the building. In addition, the panels can include high-performance coatings and special joint designs and details to meet hygiene and contamination requirements for these types of spaces.
In terms of aesthetics and architectural design, IMPs are extremely customizable. They can be specified for shape and width, colors and finishes, and fabrication for bent corners and curved panels. Options for panels that integrate with windows, louvers, sunshades, and other whole building solutions are available and provide architectural freedom in their flexibility.
Metal Composite Material
Metal composite material (MCM) evolved from an aluminum composite material (ACM) introduced 50 years ago. It now comes in natural metal skins such as zinc, copper, stainless steel, and titanium, though aluminum is still the dominant selection for construction.
MCM has a modern look and is versatile enough that it provides room for imagination. This material is produced as a flat sheet and can be installed to retain the flatness or curved into a variety of architectural shapes. Finishes, colors, and textures allow MCM to turn buildings into works of art, which means architects and building owners can get creative with their designs.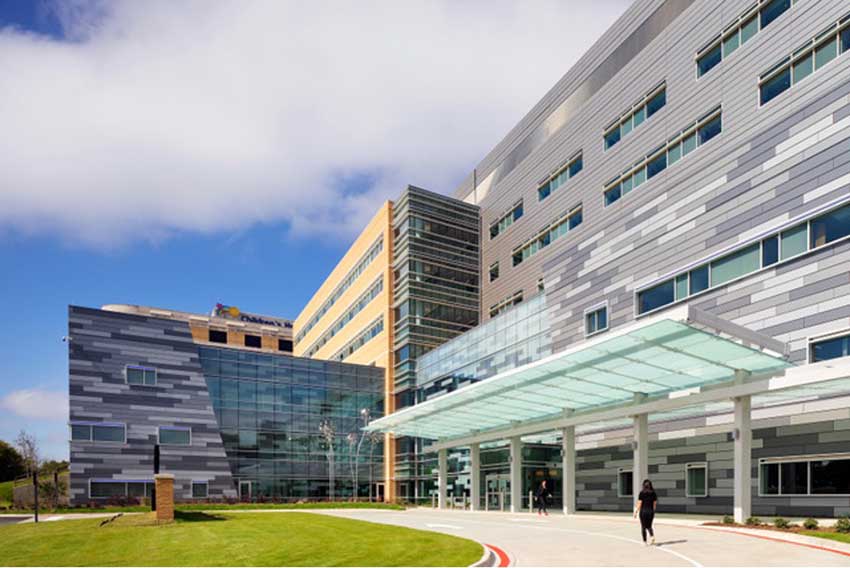 Photo courtesy of Dan Schwalm© 2020 HDR; 3A Composites USA, Inc.
Metal composite material (MCM) is a popular aesthetic choice for architects. It is cost-effective and, being made of 70% recycled material, meets sustainability goals.
MCM is especially popular because of its aesthetics but also because it is affordable. Once limited to high-end projects, MCM's advances in technology, improved fabrication, and efficient installation techniques have brought the price down to being more competitive. In some instances, it lowers construction costs and keeps building costs low over time due to its durability. Maintenance often entails paint finishes but not much more. It is now a favorite material for a wide range of building types: major commercial, educational, and health facilities, and it is used in corporate identity applications and architectural cornices and soffit designs.
In many ways, MCM meets some of the goals of a holistic view on durability: It retains its curb appeal and can remain updated. Added to the durability factor is the fact that about 70% of an MCM by weight is recycled content.
Single Skin Walls
Preformed, or roll-formed, single skin metal panel systems have been around for decades but are becoming more popular. They are manufactured from metals such as steel, aluminum, copper, and zinc. Recent improvements in the manufacturing process have resulted in a greater variety of profiles to choose from.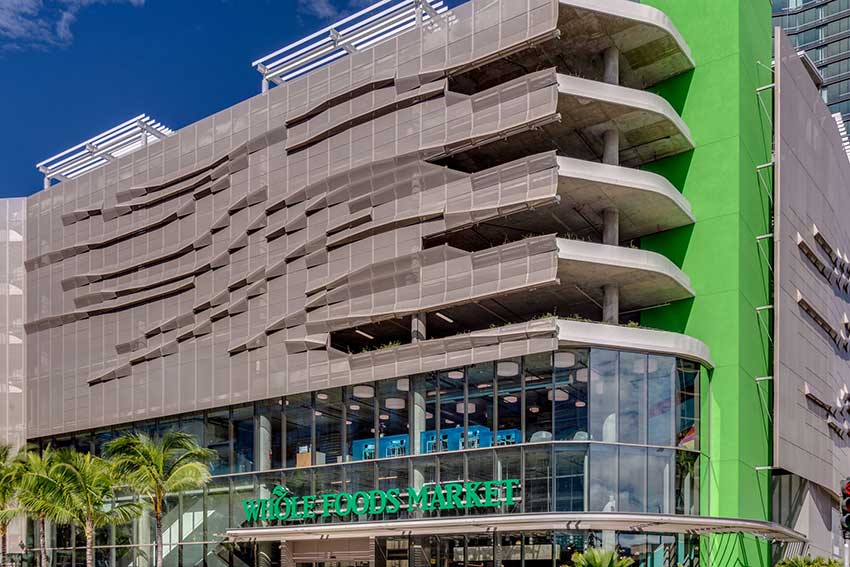 Photo courtesy of Northclad
Single skin metal panel systems are durable and come in a wide variety of profiles that can be selected for innovative designs.
New coating technologies applied during the manufacturing process offer extra durability, while new design options have expanded their reach into the commercial building market.
Single skin metal is also versatile in perforated applications. It provides yet another aesthetic design element for architects, while also providing other benefits. Used for the facades of buildings such as parking garages, the perforated skins provide a method to control solar heat gain by keeping the space cool but still letting in light.
SPECIFYING FOR CRADLE-TO-CRADLE METAL CONSTRUCTION
According to Architecture 2030, a non-profit, nonpartisan, and independent organization working to mitigate climate change through architecture, the built environment generates nearly 50% of annual global C02 emissions. Of those total emissions, building operations are responsible for 27% annually, and building materials and construction are responsible for an additional 20% annually. The global emissions from materials and construction are known as embodied carbon and their production—from extraction to manufacturing and transportation in between—has led to the release of greenhouse gases (GHGs) into the atmosphere.
Architecture 2030 reports that the issue of high emissions from buildings is compounded by the fact that global building is expected to double by 2060. To think about it in more concrete terms: That's like adding a New York City to the planet every month for 40 years. With such a daunting view before it, Architecture 2030 and other leaders in the industry are looking to change the course by changing the role of construction. The idea is to transform the built environment from major emitter to problem solver.
One of the most critical aspects to construction is the embodied carbon that comes from the manufacturing, transportation, installation, maintenance, and disposal of building materials. Unlike operational carbon emissions, which can be reduced over time with building energy upgrades and the use of renewable energy, embodied carbon emissions are locked in place as soon as a building is built.
Using materials like metal that provide energy efficiency, endless recyclability, and durability can provide long-lasting benefits that support net-zero goals in the built environment. The idea of durable products such as metal walls and roofs as solutions to a larger world problem fits well into the cradle-to-cradle philosophy.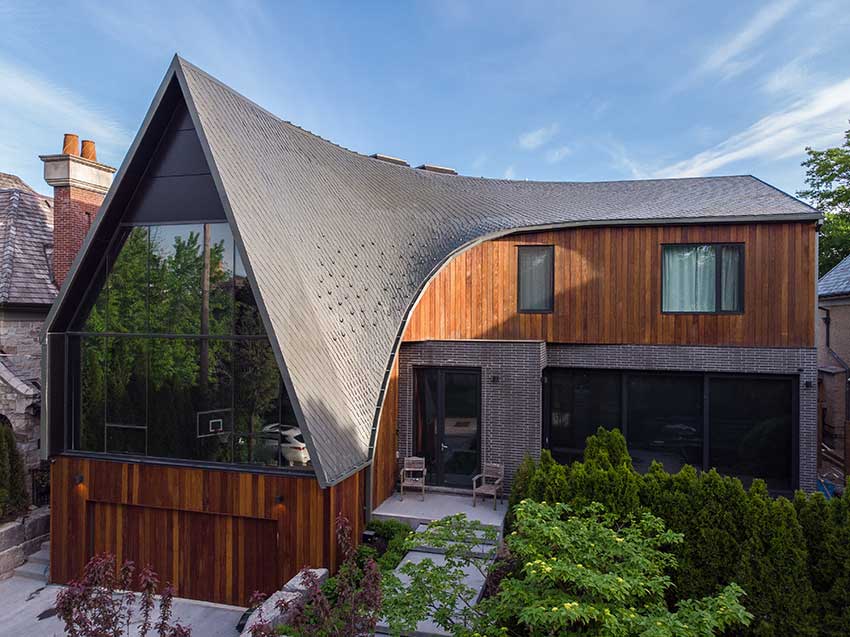 Photo courtesy of Greg van Riel Photography; RHEINZINK
Using metal for roofs and walls can cut back on embodied carbon emissions because metal is endlessly recyclable, energy efficient, and durable enough to contribute to a long life span for the building.
Originally published in Architectural Record
Originally published in September 2022
Notice