Architectural Excellence with Insulated Metal Panels
Insulated metal panels offer environmental benefits, ease of installation, and potential for high design
Sponsored by Metal Construction Association's Insulated Metal Panel Alliance
One of the reasons insulated metal panels were chosen for this hangar was speed of construction. Using IMPs eliminated the need to do temporary enclosure, which would have needed to be heated. Once the product is on site, panels are easy to install to quickly create a building enclosure.
The continuous insulation and high R-values that IMPs provide, along with the energy systems in the building, prevent a constant battle with the necessary hole in the side of the building. A 4-inch panel was used and there is no other additional insulation.
Sustainability was another goal for the project that IMPs helped with, as the building went through the LEED precertification process. Using a single product for cladding and insulation reduces a tremendous amount of waste.
Using IMPs on a building this large also helped keep costs down by reducing the number of trades needed during construction, as well as reducing layers of operation. Immediately after installation, it was a finished assembly both inside and out.
According to Jason Gamache, principal architect, and director of sustainability at MCG Architecture: "Important factors in choosing metal panels for this project were schedule, speed, durability, efficiency and the one-shot envelope."
The Ark at New York City's John F. Kennedy (JFK) International Airport sets the standard in world-class, luxury accommodations... for animals. The 178,000-square-foot cargo terminal will change the way passengers and corporations transport pets and livestock, particularly dogs, cats, horses, cattle, and birds. The $48-million facility houses nearly 50 horse stalls, a cattle pen, a veterinary clinic, and spa-like facilities to pamper household pets.
Designing interior spaces for animals presented a unique set of challenges to the architectural design team at Gensler of New York. The Ark pet center features grooming stations and spaces tailored to the recreation of each species, such as splash pools for dogs and climbing trees for cats. Livestock, however, need a cycle of fresh air constantly, placing an emphasis on adequate ventilation and environmental control.
"Gensler is accustomed to designing airports with an eye to fostering well-being for people," says Gensler senior associate Cliff Bollmann, director of aviation and transportation. "The Ark at JFK posed a unique design challenge for us: to create a place that could ease and simplify the sometimes-complex process of transporting animals by plane."
The Ark replaces a smaller kennel and quarantine facility called VetPort, which suffered from a poor location at JFK International Airport some distance away from the heavily traveled terminals. A veteran designer of airports, Bollmann and his team from Gensler targeted an abandoned cargo facility that offered both a convenient location and adequate space. The building was to be converted approximately 40 percent into an animal handling operation, with the balance returned to freight transfer.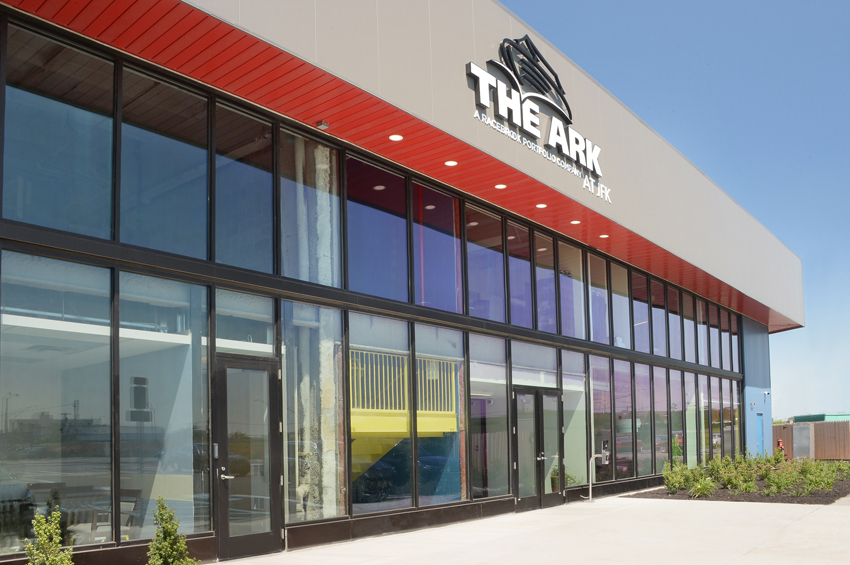 Photo courtesy of Metl-Span
The Ark Terminal at JFK, Queens, New York
While the architectural team initially hoped to repair the existing cladding to make it watertight and improve insulation, a suggestion arose to reskin the vacant hangar with an insulated metal panel wall system as a cost and time saver.
"Gensler specified leaving the existing interlocking panel system by adjusting, repairing and adding similar panels to suit the new layout—then adding an elaborate insulation, framing and interior finish to meet energy and fire codes," said Bruce Foster, secretary/treasurer of installer Stuart Berger Construction Corp.
The Ark at JFK includes nearly 14,000 square feet of insulated metal wall panels in three distinct profiles. The juxtaposition of flat and lightly corrugated exterior panels lends the project a modern, sleek aesthetic that perfectly suits the facility's end use: an amalgam of healthcare, hospitality, and transportation.
Designers incorporated both 2-inch and 4-inch panel thicknesses for thermal performance in the airside cargo terminal. The exterior of the high-performance building envelope blends blue, tan, and charcoal gray hues. One of the benefits of the panel's single-component construction is a finished interior liner. The interior panels, painted in white, are exposed throughout much of the facility, providing a clean, contemporary appearance.
"In this project, the interior liner, high insulation factor and speed of installation were all favorable attributes of the IMP solution," Forster says. "The fact that the new panels are a high-performance finish and look great is a bonus. The system also saved money."
Designed Roofs
IMPs are the roofing solution that provides greatest insulation, simplest maintenance, and longest life coupled with quickest installation for low- and high-rise commercial and industrial roofing applications. The essentially two-step installation process limits exposure to accidents, reduces the number of installation steps and materials required and provides a roof with superior insulation properties that can last more than four decades. Here are some notable examples.
Consider this truism: If you make it simple, they will build it. This was the case for Vail Elementary School in Temecula, California.
To simplify the entire process of constructing a K-12 school building, contracting firm TLS Choice (Total Learning Space) of Santa Ana, California, has developed plans for building systems of various sizes, already prechecked by the Division of the State Architect (DSA). The CUUBE by TLS Choice is a pre-engineered building, using pre-approved building plans that utilize pre-sourced and pre-verified materials and components, including insulated metal roofing and wall panels.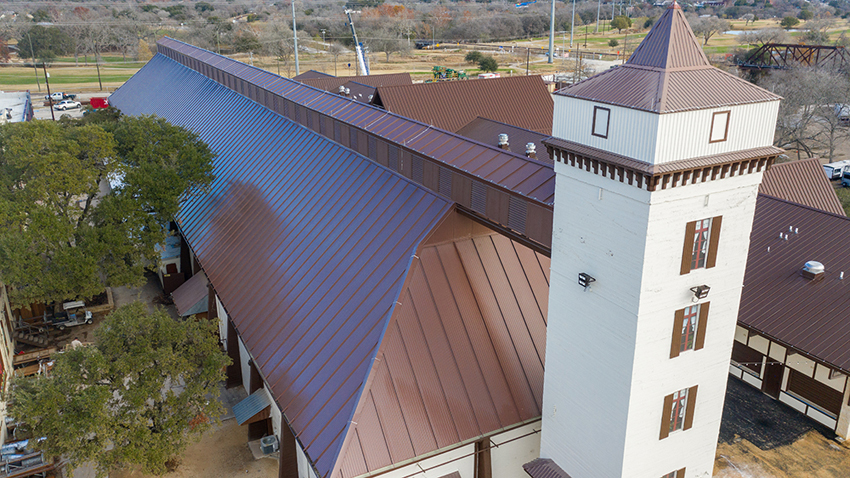 Photo courtesy of Metl-Span
Vail Elementary School, Temecula, California
The wall panels for Vail Elementary were in a durable exterior finish in stone color to provide the appearance of stucco. The 36-inch-wide panels with a 2-½-inch urethane core boast an 18 R-value. Pascal Steel Corporation of Encinitas, Calif., installed 5,766 square feet of wall panels and 6,844 square feet of insulated roofing panels in a terracotta finish. The 42-inch-wide roof panels are 3 inches thick.
"Because all CUUBE buildings have gone through the DSA approval process for the structural components, they do not have to be reevaluated when submitted for the site-specific plan review," says Corey McElhinney, project manager at TLS Choice. "Using one of our pre-engineered CUUBE DSA-approved PC plans can save the district up to six months."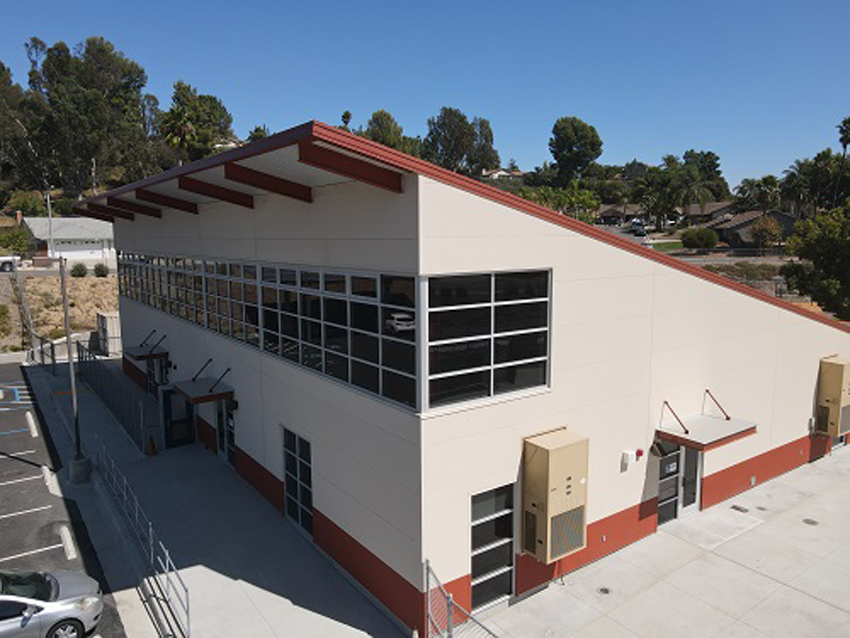 Photo courtesy of Metl-Span
Wurstfest, New Braunfels, Texas
Wurstfest is a popular annual celebration of German culture in New Braunfels, Texas, located between San Antonio and Austin in the Texas Hill Country. Just days after the successful November 2019 event wrapped up, a fire damaged the large facility that hosts the 10-day festival. With less than a year to reconstruct the 27,000-square-foot facility for the 60th annual event in November 2020, there was no time to waste.
Because there was a deadline to meet, insulated metal panels (IMPs) were specified for the new Wurstfest facility. IMPs can be installed faster than other materials for walls and roofing.
Kevin McClellan, AIA, RID, Senior Associate at MarmonMok Architecture of San Antonio, and Mitch Schuetz, director of commercial production at Earnest Roofing of New Braunfels, were part of the design-build team led by Byrne Construction Services.
"We went with insulated metal panels on this project because it was just easier and quicker than installing insulation and a single skin panel," McClellan said. "Ultimately, installing a structural panel also gave us better performance, a better system, one that met the short- and long-term goals for the project. In a truly collaborative way, we, as a team, thought through the best performative solution and landed on the IMP."
There was a lot of work to be done before panels could be installed. "We were dealing with a 100-year-old building," Schuetz said "Nothing is square, nothing is plumb, nothing is straight, nothing is true. We spent one full day popping lines on one side of the building to make sure we could get those panels installed straight and another full day popping lines on the other side. After that, once we got the first panel in place, it all went together the way it should have."
Conclusion
From their humble beginning as a cost-effective and easy-to-install building assembly, insulated metal panels have evolved into one of the most innovative and exciting building systems that architects can specify. When the same products are used for such a vast range of applications—from the grandest entertainment venues to landmark commercial hubs to the most modest structure—it's obvious a shift has entered the artful field of architectural design. It's likely that the use of insulated metal panels will continue this trajectory into the future.
Kathy Price-Robinson writes about building and design. Her remodeling series "Pardon Our Dust" ran 12 years in the Los Angeles Times. She specializes in buildings that are durable and resilient to climate disruptions, as well as products and designs that provide shade in hot climates. www.kathyprice.com