Beyond Function: Designing with Exterior Glass Doors to Improve Well-Being
Current products offer exciting choices in design, style, and performance
Sponsored by Marvin

1 AIA LU/HSW; 1 IDCEC CEU/HSW; 0.1 IACET CEU*; 1 AIBD P-CE; AAA 1 Structured Learning Hour; This course can be self-reported to the AANB, as per their CE Guidelines; AAPEI 1 Structured Learning Hour; This course can be self-reported to the AIBC, as per their CE Guidelines.; MAA 1 Structured Learning Hour; This course can be self-reported to the NLAA.; This course can be self-reported to the NSAA; NWTAA 1 Structured Learning Hour; OAA 1 Learning Hour; SAA 1 Hour of Core Learning
Learning Objectives:
Identify some of the current trends influencing the use of swinging and sliding glass doors in single family residential design.
Investigate the design options and innovative opportunities to create residences that allow for flexibility, openness, and wellness.
Recognize the aspects of manufactured swinging and sliding glass doors that influence their performance and how to select options to suit performance needs.
Assess the functional contributions of large swinging and sliding glass doors as they contribute to healthy living and wellness.
This course is part of the Custom Home Academy
Other Considerations of Exterior Glass Doors
Beyond the specific design and performance attributes of using glass doors in residences, there are some other common considerations that often come into play.
Well-Being
Exterior glass doors directly address some of the trends noted at the beginning of this course, particularly related to the general well-being of the occupants in the home. As people have found themselves spending more time in their homes, it is quite predictable that they would want to feel healthy, safe, and secure, especially with the influence of the recent pandemic. It is also reasonable that the trend of indoor/outdoor connectivity is reinforced by these feelings as people don't want to feel boxed in or isolated but would benefit instead by some connectivity to the surrounding area. Exterior glass doors, of all types, contribute to these well-being needs, first by providing more daylight to a home. Sleep scientists understand that natural light promotes daily rhythm, which can help regulate hormonal balance, appetite, sleep, productivity, and energy levels, thereby impacting not only physical health but also emotional and social well-being. Similarly, views of the outside world are known to help create a sense of place and calm, particularly if there are elements of the natural environment involved such as trees or water. Such connections are attributed to building a sense of optimism, boost moods, and provide energy for better living. Finally, operable exterior glass doors can provide an abundance of fresh air to a home. Not only is there the direct benefit of enjoying the outdoor air, circulating fresh air helps reduce levels of indoor pollutants like volatile organic compounds (VOCs), ozone, radon, and carbon monoxide that may be present in the home. In all, the use of glass doors, can be a key design element in providing a sense of healthy living and wellness in many different types of residential designs.
Overcoming Misperceptions
Sometimes there is a reluctance to consider exterior glass doors on the part of designers or homeowners because of misperceptions about their applicability or functionality. Here are a few points to set the record straight:
The design and functional benefits of glass doors are not just for large homes with big budgets and grand views. Rather, they are being readily incorporated into residential projects of all types - small spaces, remodeled spaces, urban settings, new construction, etc. They contribute to whatever setting and budget a particular project brings.
Doors that are very traditional in nature, such as round-top French doors, as well as contemporary styles, have been updated by manufacturers to create improved sightlines and a clean aesthetic. Therefore, instead of looking bulky or heavy, they can look lighter and more consistent with the rest of the fenestration in the house.
Proper operation of the doors is more dependent on the hardware and track than on the door panel itself. That means paying attention to the best pairing of these items with the size and shape of the door panels is important for good, long-lasting operation.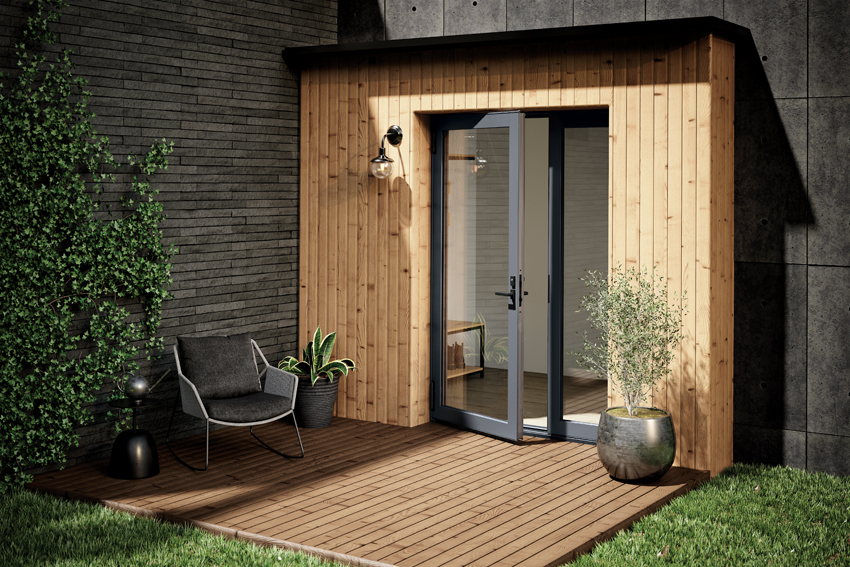 Exterior glass doors can be used in smaller, focused spaces as well as larger spaces.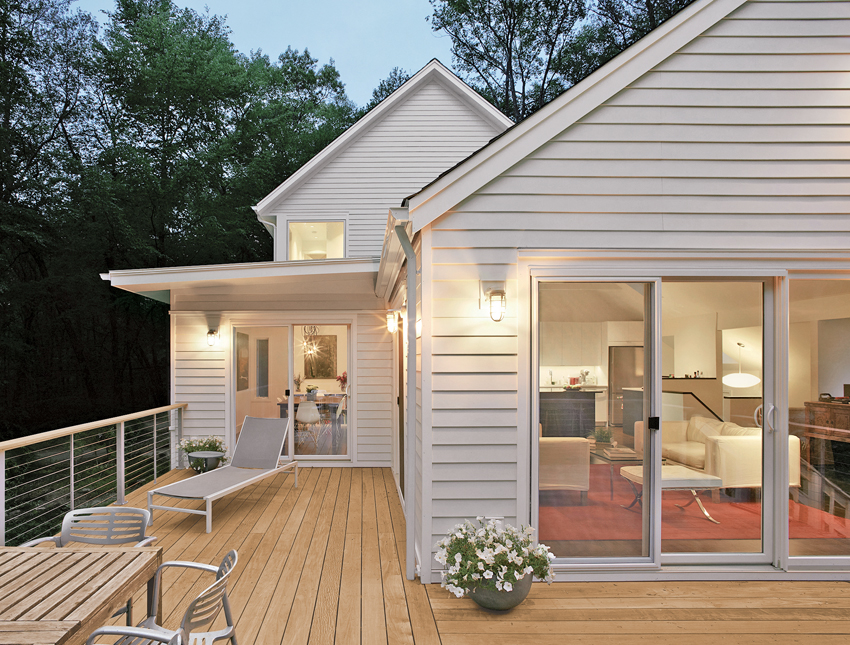 Conclusion
Residential exterior glass doors have been shown as a desirable option for fenestration in many different project types. They can contribute to more attractive, flexible spaces that are open and inviting, consistent with many current residential design trends. They are available in a range of types and sizes that can enhance and complement a particular design. Their performance is based on attention to the different components and elements such that they all work together for a total solution. By recognizing how they contribute to occupant wellness and by overcoming misperceptions about their use, architects can use glass doors to create very successful residential design projects. Michael Wandschneider, senior product portfolio strategist with Marvin Windows and Doors, sums it up this way: "The needs of homeowners and architects have steadily evolved in the last few years, and we've seen that reflected in the demand for large glass exterior doors in residential design. Such products are essentially movable walls of glass that can completely transform spaces so that there's a seamless flow between indoors and outdoors. What's more, they're easy to use with great performance. We're only going to see a more accelerated use of big doors like these in the home."
Originally published in Architectural Record
Originally published in January 2022
Notice