Beyond Function: Designing with Exterior Glass Doors to Improve Well-Being
Current products offer exciting choices in design, style, and performance
Sponsored by Marvin

1 AIA LU/HSW; 1 IDCEC CEU/HSW; 0.1 IACET CEU*; 1 AIBD P-CE; AAA 1 Structured Learning Hour; This course can be self-reported to the AANB, as per their CE Guidelines; AAPEI 1 Structured Learning Hour; This course can be self-reported to the AIBC, as per their CE Guidelines.; MAA 1 Structured Learning Hour; This course can be self-reported to the NLAA.; This course can be self-reported to the NSAA; NWTAA 1 Structured Learning Hour; OAA 1 Learning Hour; SAA 1 Hour of Core Learning
Learning Objectives:
Identify some of the current trends influencing the use of swinging and sliding glass doors in single family residential design.
Investigate the design options and innovative opportunities to create residences that allow for flexibility, openness, and wellness.
Recognize the aspects of manufactured swinging and sliding glass doors that influence their performance and how to select options to suit performance needs.
Assess the functional contributions of large swinging and sliding glass doors as they contribute to healthy living and wellness.
This course is part of the Custom Home Academy
Fenestration in single family residences can come in different forms. Instead of relying only on windows, a common alternative is the use of different types of exterior doors that are predominantly made from glass in frames (i.e., side stiles, top and bottom rails) instead of solid, opaque material. The appeal of such glass doors, as we will refer to them in this course, comes from their ability to provide daylight, views, and general connectivity between indoors and outdoors. Furthermore, with different options available for sizes and materials, they can be readily incorporated into a wide range of architectural design aesthetics. To be successful, however, they need to perform as intended for thermal characteristics and air sealing as well as for security and weatherability.
Based on the above, this course looks at the range of available glass door types, their design characteristics, performance considerations, and their potential to contribute to healthier, more appealing spaces. Overall, understanding the various attributes is meant to guide architects when incorporating exterior glass doors into single family residential designs.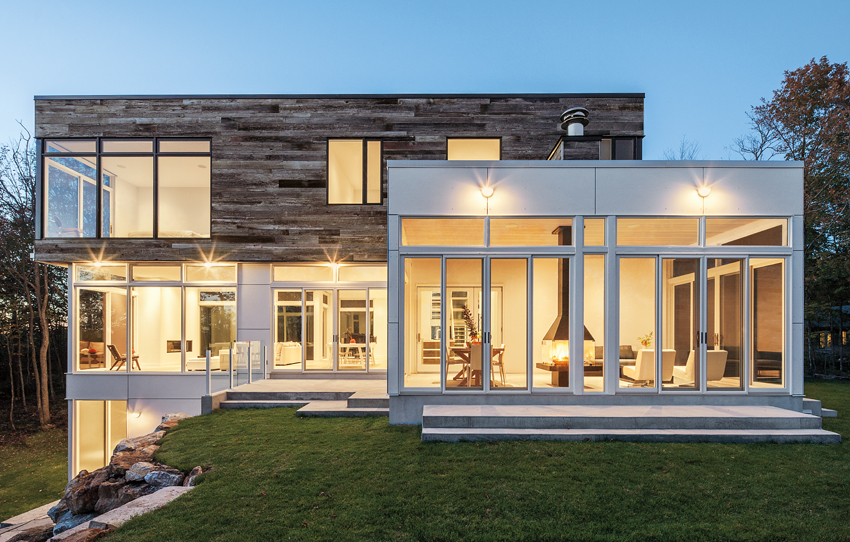 All photos courtesy of Marvin
Residential glass doors are used in many different designs to create vibrant, open, healthy housing options.
Trends in the Use of Residential Exterior Glass Doors
Incorporating windows and doors into residential facades is a fundamental, and often pivotal, part of the design of the building. As such, many different factors can affect the decisions on what windows and doors are ultimately selected and made part of the finished building. Some of those design decisions are based purely on architectural factors related to the design, others are based on requirements of codes and standards, while still others are based on prevailing trends in residential design. Such trends can be market driven or be a response to the preferences and desires of homeowners or homebuilders.
We begin by recognizing some of the factors and trends that are influencing architects and others to look beyond standard windows, and instead consider exterior glass doors as part of their design schemes.
Indoor/Outdoor Living
Outdoor living areas have always been popular in residential design whether that means a defined yard, a patio, a deck, or similar space. In recent years, the design of those spaces has often become more sophisticated and considered more of an extension of the primary residential living spaces. Some are simple landscaped areas, while others have roofed portions that are furnished and fully equipped as outdoor living spaces. Very often, the key to making these spaces work has become the windows and doors that people can use to make the connection between the indoor and outdoor spaces. Exterior glass doors, in particular, have been used successfully for this purpose. When the door is closed, it still provides a visual connection through the use of clear vision glass. When the door is open, it needs to be a large enough passage for people and any other items that are commonly moved through it. Combining the door with other framed glass panels, whether stationary or movable, allows the entire facade to be designed around forging the most appealing, and most user-functional, solution. Overall, the common design goal is to create a strong connection between indoor and outdoor living spaces.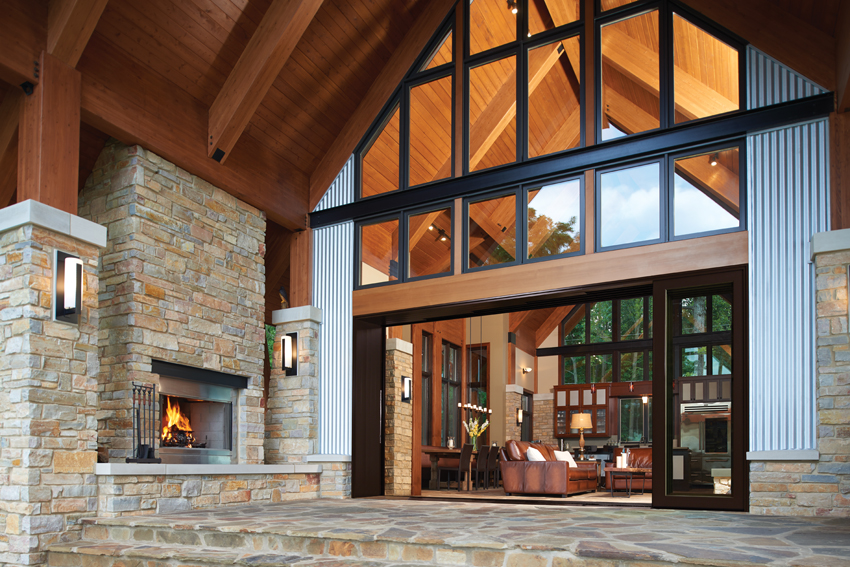 Designing residences with direct connections between the indoors and outdoors is a growing trend that supports homeowner desires and wellness.
General Well-being
A strong design trend in recent years has been to create buildings, including homes, that promote a sense of health and wellness. Many different studies, as well as other research, have confirmed repeatedly what some designers have intuitively suspected – buildings with access to daylight, fresh air, and views of the outdoors all work to promote human well-being. Daylight gives us a reference to time, which affects the natural circadian rhythms of people. It can also brighten our mood, not just the space we are experiencing it in. Fresh air feels and smells different than indoor, conditioned air. That difference is noticeable in many cases and can have a positive impact on people as a result. Having views to the outdoors allows our eyes to readjust to a longer view than we have within the confines of a building or home. Further, if that view includes natural elements such as plants, trees, water, etc., then a biophilic connection is generally deemed to be created. In all, people generally do better in buildings that provide light, air, and views than those that deprive or limit those natural attributes. The design and construction response to recognizing this condition is to add windows and doors with clear glass and configurations that allow for their proper opening and closing.
Pandemic Influences
The COVID-19 pandemic and associated work restrictions created a dramatic surge of interest in home designs – both new and renovation. For many people, the new-found reality of spending much more time at home instead of at work or out in public places motivated many to make changes in the places where they live. Some of those changes were based on the need to have adults working from home, school children learning from home, or a mix of people simply doing more things from home than was previously typical. The use of rooms and spaces became redefined in many cases as dining rooms became work rooms, spare bedrooms became home offices, or any space became a place to open up a laptop computer. In some cases, the changes were simple, while in others, the best solution was to move to a new home altogether, particularly if proximity to a central work location was no longer important.
irectly related to these space use changes, the quality of those spaces became more important. The size and configuration of the most-used spaces was more critically reviewed but so was the overall design character. Is there enough daylight, air, and view? Can I easily get to the outside for a break, or even work outside if the weather warrants it? The incorporation of exterior glass doors into residences helped to answer all these questions related to an altered lifestyle. While many people assumed that some of these lifestyle changes would be temporary, others have made longer-lasting changes such that the issues related to residential design are likely to remain for some time.
Clean Aesthetic
Housing design in the United States is certainly varied in styles, types, and character. Nonetheless, when it comes to windows and doors, the general trend is for manufacturers to provide products that bring a simple, visually clean aesthetic to a building. That allows the home designer to decide if the windows and doors are enhanced with additional detail, as might be common in traditional designs, or to be left simple and elegant, as is common in modern or contemporary design styles. Glass exterior doors fit directly into this trend with manufacturers offering products with refined door sash and frame in a variety of options. Some standard products have thicker stiles or frames around the glass to blend with traditional looking opaque doors. Others have engineered frames that are thin and narrow, allowing the glass area to be the dominant feature of the door. In that case, a minimalist look is achieved that allows the door unit to be visually subordinate to the surrounding building elements. In all cases, the clean-looking aesthetic of glass exterior doors can be used to blend with any housing style or type. Part of the appeal of glass exterior doors are the multiple design options - there are so many more choices than just a singular panel. Architects can choose from large sizes, different configurations, a variety of operation styles, etc. With this expanded range of design features and options, architects benefit from fewer restrictions to deliver a design best suited to their clients' needs and lifestyles.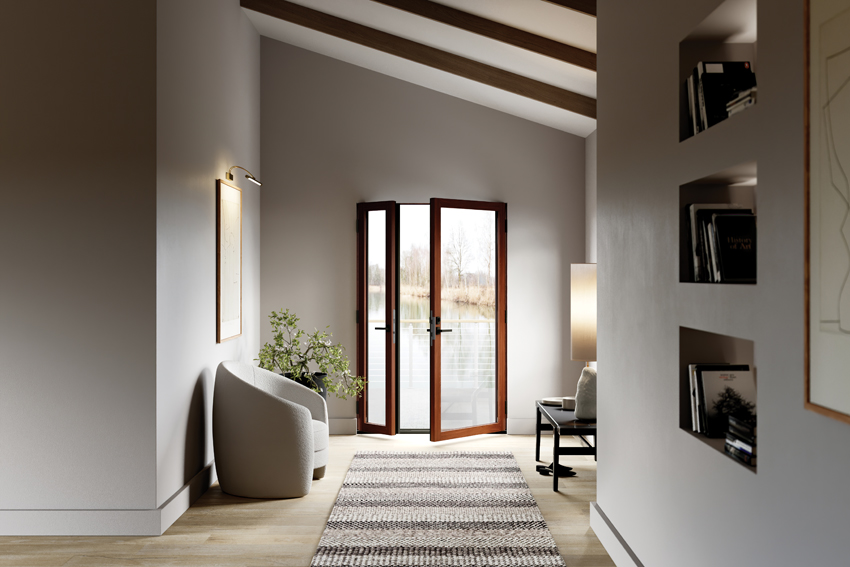 There is growing demand for products that bring a visually clean aesthetic to a building.
Entry Door Systems
Primary entrance doors to residences are often a focal point of a facade design. The selection of the style and material of those doors is often based on compatibility or enhancement of the building design. As such, residential designs that favor large glass openings and more contemporary appearances are prone to use large exterior glass doors for the entry. The type or style of operation may vary, but manufacturers offer some options, particularly in regard to size, that can enhance the overall design. For example, some manufacturers offer exterior glass doors within a standard size matrix of 10- or 12-feet heights. This can eliminate the need for transoms above the door and better align with window layouts.
Originally published in Architectural Record
Originally published in January 2022
Notice