Innovative organization strategies
Sponsored by Häcker Kitchens
Learning Objectives:
Discuss how an organized kitchen adds to occupants' health, safety, and well-being.
Describe the factors of a well-ordered kitchen.
Identify options for drawer and cabinet organization.
Define ways to find and organize hidden or underused storage space.
Discuss case studies to illustrate the use of sophisticated organization strategies.
Credits:
This course can be self-reported to the AIBC, as per their CE Guidelines.
As an IACET Accredited Provider, BNP Media offers IACET CEUs for its learning events that comply with the ANSI/IACET Continuing Education and Training Standard.
This course is approved as a Structured Course
This course can be self-reported to the AANB, as per their CE Guidelines
Approved for structured learning
Approved for Core Learning
This course can be self-reported to the NLAA
Course may qualify for Learning Hours with NWTAA
Course eligible for OAA Learning Hours
This course is approved as a core course
This course can be self-reported for Learning Units to the Architectural Institute of British Columbia
You are not currently logged in to your CE Center account.
Log in
to view and complete the quiz questions that are embedded in this article.
A serene and orderly home is critical for the health, safety, and well-being of today's homeowners. A well-ordered and functional kitchen is key to achieving that goal. No matter how elevated the aesthetic of the kitchen, it cannot be considered a success unless the client has organizational strategies to make the kitchen a functional space, customized to their needs. This course reflects on the dangers of a non-orderly home and kitchen, touches on the benefits of orderly spaces, and launches into a robust examination of the myriad ways drawers and cabinets can reach their highest potential with innovative, forward-thinking organizational products. Three case studies bring these principles to life.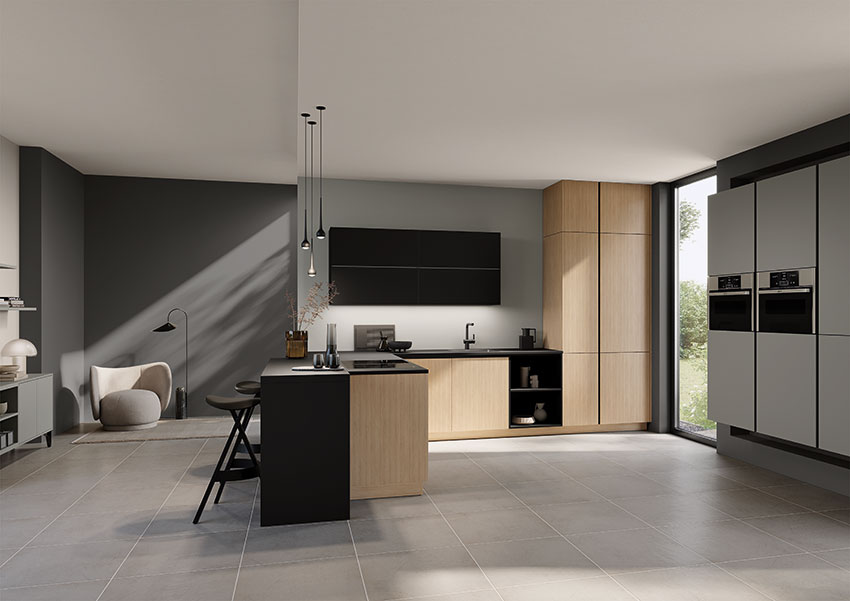 All photos courtesy of Häcker Kitchens
An organized, clutter-free kitchen adds to household harmony.
AN ORGANIZED HOME LEADS TO OCCUPANTS' HEALTH, SAFETY, AND WELL-BEING
For designers, the kitchen is by far the most complex room in the house. But the stakes are high to get it right. Where is orderly tranquility more vital than the heart of the home? A well-ordered kitchen requires intricate coordination between appliances, surfaces, storage, lighting, plumbing, fixtures, power, ventilation, and aesthetics. Depending on the designer's attention to the client's needs, a kitchen can be calming or confusing. It can make cooking enjoyable or exasperating. The organizational features in a kitchen can be highly sophisticated or they can be virtually nonexistent.
With the specification of innovative, forward-thinking kitchen organization strategies, designers can transform this key space into the most functional and least stress-inducing room in the house. We'll begin with the consequences of a disordered kitchen and home, the benefits of orderly spaces, and ways to achieve an orderly kitchen.
Consequences of a Disordered Kitchen
A disordered kitchen is caused by two factors: visible clutter and hidden clutter. Both can have negative impacts on mental health.
The health effects of clutter are listed in an article on the award-winning WebMD website.1 They include:
A wandering mind that makes it hard to focus on important tasks when several things compete for attention. Researchers have found that being around disorganization makes it harder for a brain to focus.
Stress is created in the body when clutter occurs. Studies show that women who saw their homes as cluttered produced higher levels of the stress hormone cortisol.
Isolation can occur when people with cluttered homes hesitate to invite people over, leading to feelings of loneliness.
Safety can be an issue in cluttered spaces.
Weight gain can happen around clutter and hoarding. According to the article, one study found that "as hoarding got worse, so did body mass index (BMI) and binge-eating symptoms (eating large amounts of food in a short time)."
While women suffer more from a cluttered home than do men, older people suffer more than younger people. However, according to a recent study, both genders and age groups suffer from cluttered environments.2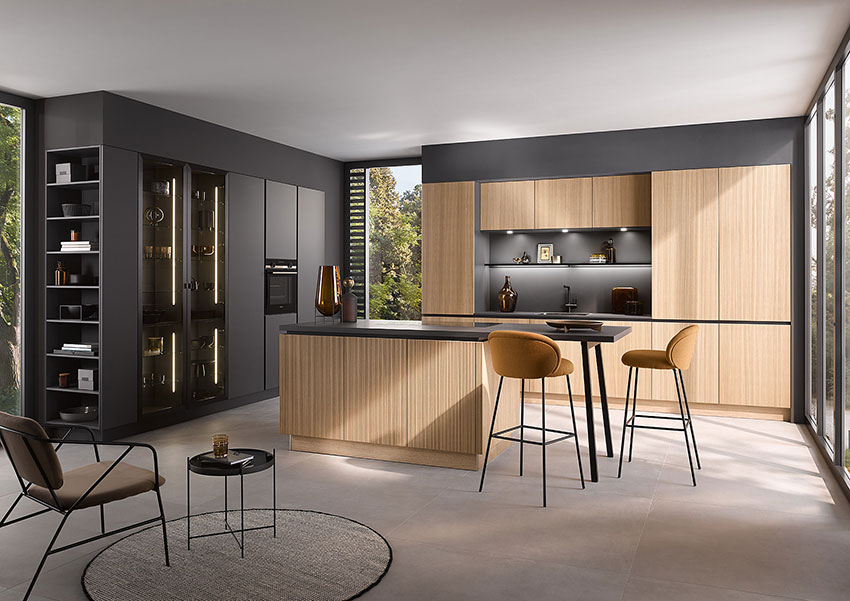 A well-ordered kitchen involves innovative storage strategies in the cabinets and drawers, as well as display shelves with sophisticated lighting.
Benefits of a Well-Ordered Home and Kitchen
The benefits of an organized home and kitchen are the opposites of the negative consequences of a cluttered space. Concentration improves, stress lessens, and safety increases. Well-ordered, non-cluttered spaces also provides these benefits:
Saves time—When every item has a place, less time is used looking for lost or misplaced items.
Maintains harmony—In a well-ordered kitchen and home, there is likely to be fewer arguments about lost items.
Increases ergonomics—A thoughtfully designed kitchen is easier for clients to use without undue strain. Think of a client using a sophisticated swinging shelf in a cabinet corner, rather than the client searching on hands and knees for an item tucked into a dark recess.
Contributes to aging in place—The more a kitchen functions smoothly, the more likely an aging occupant can continue using that kitchen.
Trends in Kitchen Design Point to Need for Organization
Homeowners increasingly prefer smaller houses. This is according to a recent trends report from the National Association of Home Builders:
"Home buyer preferences have continued to shift home building trends in the wake of COVID-19," the report states. "Following a brief uptick in new home sizes in 2021, the average size of a new home dropped slightly from 2,525 square feet to 2,480 square feet in 2022, and the percentage of new homes with 3+ full bathrooms and 3+ car garages dipped to 33% and 17%, respectively."
The report quotes Donald Ruthroff, AIA, founding principal at Design Story Spaces LLC.: "We're learning that if we use less space, we can spend more on details and finishes to make rooms such as bathrooms feel more luxurious….And people will pay a little more for solutions, such as cabinetry add-ons that eliminate dead space, that add utility." A trends report from the National Kitchen and Bath Association reflects the same findings.3 "Homeowners want expanded space for storage and functionality." One key takeaway from the NKBA report: "Homeowners prefer kitchens with an open look and feel that have features to hide clutter."
Highly regarded kitchen companies understand and respond to customer desires. "We've reached a tipping point within the living kitchen trend where classic kitchen furnishings are being carried into the living room and other spaces," said Andreas Gommeringer, president Häcker Kitchens North America. "The array of new launches is impressive, even for Häcker Kitchens. We have dramatically increased our options for on-trend personalization, all within a very accessible price point for designers and their customers."
THE FACTORS OF A WELL-ORDERED KITCHEN
Designing a functional, non-cluttered kitchen requires a number of factors that must blend seamlessly. They are:
Placement
For a kitchen to be a highly functioning, stress-free environment, the layout is key. It must be situated in the right place in the house for the client's needs, such as adjacent to the family room for entertaining, or near the garage for unloading groceries, or at the opposite end of the house from bedrooms for noise control. Within the kitchen space, the placement of the sink, stove, and refrigerator must contribute to ease in cooking.
Storage
The well-ordered kitchen needs ample storage space for items the client wants to store. Space must be allocated for dinnerware, cutlery, daily food, bulk food, cases of water, trash, recycling, etc. Innovative storage solutions for wine or a large pastry mixer or a collection of spices add up to a customized feeling.
Originally published in April 2023
Notice