Advancing Hospitality and Education through Masonry Design
Sponsored by EchelonTM Masonry
Learning Objectives:
Identify the architectural design challenges and solutions in the featured projects, especially as they relate to exterior cladding and the interior details of each structure.
Discuss the masonry design choices used in a number of hospitality and educational facility projects in the U.S. and abroad.
Describe masonry design strategies used to update two Chicago hotels, discussing ways in which each structure fits into the historical context of the neighborhood.
Detail the aesthetic and performance benefits of different types of masonry used in the featured projects.
This course is part of the Masonry Academy
This course is part of the Masonry Academy
Today's masonry solutions help bolster not only the aesthetics but the overall performance of modern hotels, resorts, and educational facilities across the United States and around the world. This course will examine the design strategies of several innovative projects where masonry takes center stage.
Detroit Foundation Hotel by McIntosh Poris Associates
Detroit
Thanks to a development and construction boom that began in 2011, downtown Detroit is now full of sleek, renovated office buildings. The Detroit Foundation Hotel, however, is a preservation project like no other.
Jennifer Conlin
Pendleton West Addition and Renovation at Wellesley College by KieranTimberlake
Wellesley, Massachusetts
A modern addition on the historic Academic Quad by KieranTimberlake is diminutive but has a quiet power and a complex agenda.
Beth Broome
Ace Hotel by GREC Architects and COMMUNE Design
Chicago
The Portland-based boutique hospitality chain Ace opened the $44-million, 159-room Ace Hotel Chicago designed by Chicago-based GREC Architects with interiors by Los Angeles COMMUNE Design.
James Gauer
The Robey Hotel in Chicago
Chicago
Antunovich Associates with Nicolas Schuybroek Architects and Marc Merckx turned a tiny Art Deco office building in the hip Wicker Park neighborhood into a boutique hotel, the Robey.
Blair Kamin
JW Marriott Venice Resort & Spa by Matteo Thun & Partners
Venice
An abandoned island of the lagoon is home to the new JW Marriott Venice Resort & Spa. The hotel chain took a chance on the remote location, a 20-minute boat ride from St. Mark's Square.
Josephine Minutillo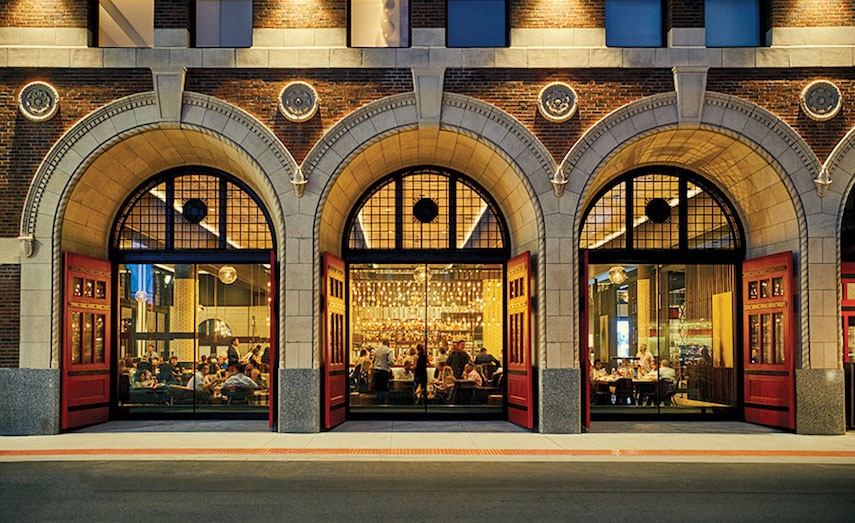 © Joe Vaughn
| | |
| --- | --- |
| | Echelon is the consolidated brand for all masonry products and services of Oldcastle Architectural including Trenwyth® Architectural Masonry, Artisan Masonry Stone Veneers®, Quik-Brik® Concrete Masonry Units, Amerimix® Bagged Goods and a complete portfolio of Performance Upgrades. As a single source masonry portfolio solution, Echelon delivers consistent, reliable product manufactured locally at more than 170 locations and delivered by an unrivaled logistics network. For more information, call (844) 495-8211 or visit EchelonMasonry.com |
Notice