Comfort Meets Creativity: Designing for Wellness and Longevity with Sustainable Products and Cool Color Trends
Good interior design increasingly means enhancing well-being and user experience through innovative sustainable approaches
Sponsored by Benjamin Moore & Co.
Learning Objectives:
Describe the sustainability strategies influencing interior design that support occupant wellness, longevity and vitality.
Discuss ways in which the latest technologies in zero- and low-VOC paints and finishes can help contribute to well-being, with respect to such factors as improved indoor air quality (IAQ) and mold, mildew and bacteria mitigation.
Explain how architects and interior designers can employ the power of nature to promote physical and emotional well-being with approaches such as the inclusion of biophilic design elements.
Identify color trends that promote a feeling of well-being within an interior space.
This course is part of the Interiors Academy
This webinar is part of the Interiors Academy
From a modern aesthetic viewpoint, what does "good" interior design mean? More and more, it encourages enhanced well-being, longevity, and an optimized user experience. Comfort and eco-friendly solutions go hand in hand, from specifying green materials, sustainable products and technologies, biophilic design elements, lighting strategies, and zero-VOC interior paints and finishes to successfully measuring carbon emissions and perhaps most important, educating clients on the value of building green.
This live webinar will explore the impact our interior surroundings have on wellness, longevity, and happiness. It will examine several projects that have seamlessly merged environmentally responsible interior design strategies with these overarching goals of occupant comfort, safety and well-being. The speakers will discuss the drivers for the sustainable approaches taken, along with details of the specific products, materials and even colors chosen to achieve their wellness-inspired design goals.
Among the highlighted projects will be the Boettcher Building project that Rowland + Broughton completed this year at the Aspen Institute. The rehabilitation of the Boettcher Building design goals began with seeking Landmark Designation to the Aspen Modern Inventory of historic structures. With this designation in mind, the team developed the primary design goal: to honor and respect the legacy of Herbert Bayer with a thoughtful restoration of the exterior and creative renovation of the interior to guide the building through the next four decades, with an emphasis on flexibility and innovation. Crucial to the entire work, the existing open-air central courtyard would need to be enclosed to provide greater year-round functionality and comfort.
Sarah Broughton, FAIA will present another innovative project, Meadow House, which was completed at the beginning of 2021. This Aspen Starwood residence accomplished goals of integrating the structure into its surroundings while opening it to the views, respecting and reflecting the natural environment, and encouraging integrated living. The home uses all natural materials and has many wellness features such as a spa and greenhouse.
Gensler's Kaley Blackstock will focus on design guidelines and evolving sustainable design practices. In her presentation, Kaley will review how clients have leveraged design guidelines as a framework to evolve sustainable thinking as part of the creative design process. Holt Renfrew, a high-end Canadian retailer commissioned Gensler to develop sustainable design guidelines for their interior design and construction operations. Walking through the development of these guidelines, Kaley will showcase how material specifications became the focus for driving sustainable design practices, and how the guidelines integrate with, and anticipate, evolving corporate sustainability reporting.
The presentations will be followed by a moderated discussion focused on how these innovative custom home projects address several key issues.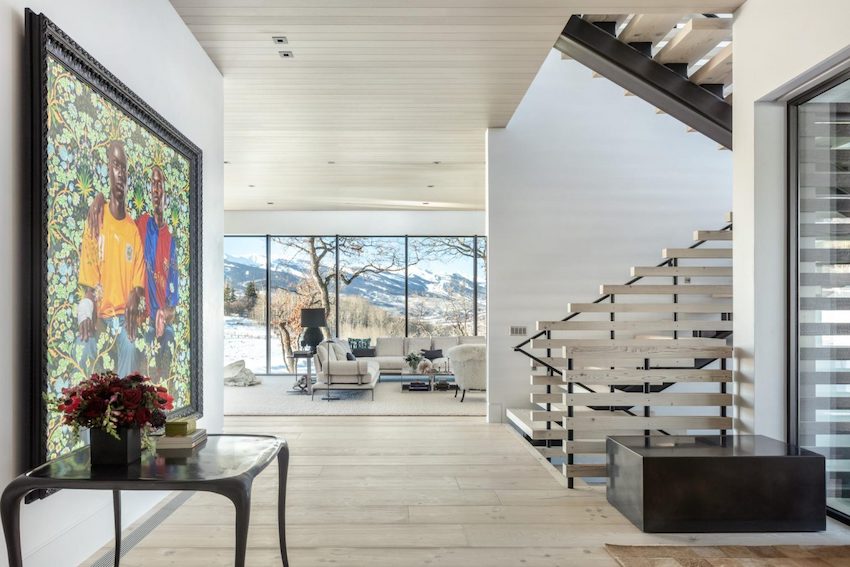 Photo courtesy of Benjamin Moore
| | |
| --- | --- |
| | As Principal of Rowland+Broughton, Sarah Broughton, FAIA brings over two decades of experience in the architecture and interior design industry. She is the champion of R+B's design philosophy and rigorous quality control standards, as well as a leader to her design staff. In addition, she is a highly respected colleague in the design community and among clients. |
| | Kaley Blackstock, LEED AP, WELL AP, Fitwel Amb., CDT, is a sustainability specialist working to advance Gensler's climate change goals and improve the built environment from an environmental, social and human health perspective. A trained architect, she has experience in certifying more than 40 LEED, WELL and Fitwel projects and has developed sustainability guidelines for key clients and institutions. She manages the firm's Sustainable Materials Resource Group, a firmwide specifications liaison, and works to advance Gensler's expertise in sustainable material specifications. |
| | |
| --- | --- |
| | Benjamin Moore & Co., a Berkshire Hathaway company, was founded in 1883. One of North America's leading manufacturers of premium-quality residential, commercial, and industrial maintenance coatings, it maintains a relentless commitment to innovation and sustainable manufacturing practices. The Benjamin Moore premium portfolio spans the brand's flagship paint lines, including Aura®, Regal® Select, CENTURY®, Ultra Spec®, Natura®, and ben®. The Benjamin Moore Diversified Brands include specialty and architectural paints from Coronado®, Lenmar® and Insl-x®. Benjamin Moore & Co. coatings are available primarily from its more than 5,000 locally owned and operated paint and decorating retailers. |
Originally published in June 2022
Notice