Colored by Design
The use of color in architectural practice can set the tone for the entire project.
Sponsored by Benjamin Moore & Co.
Architectural Record

1 AIA LU/Elective; 1 IACET CEU*; 1 AIBD P-CE; AAA 1 Structured Learning Hour; AANB 1 Hour of Core Learning; AAPEI 1 Structured Learning Hour; This course can be self-reported to the AIBC, as per their CE Guidelines.; MAA 1 Structured Learning Hour; NLAA 1 Hour of Core Learning; NSAA 1 Hour of Core Learning; NWTAA 1 Structured Learning Hour; OAA 1 Learning Hour; SAA 1 Hour of Core Learning
Learning Objectives:
Describe the dual purpose of the color-coded theme of the Spielman Children's Library.
List the properties of the Shikkui plaster finish in the Private Residence by Hiroshi Sugimoto.
Explain the implementation of the Eastern concept of different views of the same object used in the Private Office by Alvisi Kirimoto and CannonDesign.
Discuss the concept of anamorphosis.
This course is part of the Interiors Academy
This course is part of the The Interiors Academy
Below are a set of links to building type studies from Architectural Record, which are in-depth analyses of particular kinds of buildings, with photos, drawings, specifications, detailed descriptions, and design solutions. Click on each link below, read the article then complete the quiz to earn your credit and certificate of completion.
The experience of color for those inhabiting architectural spaces is an important aspect of design. Color can make a space seem wider or narrower, larger or smaller. But color is more than a simple perceptual tool to make the most of limited space; it can affect the human response in subtle ways. Learn how adding color to your design toolbox can refine your architectural thinking.
A Library by Skolnick Architecture + Design Partnership Features Colorful Wayfinding
Learn how color gives this facility a distinct character using a color-coded theme that both alludes to the Tree of Knowledge and acts as a wayfinding system.
Sheila Kim
Private Residence by Hiroshi Sugimoto, NMRL, and YUN Architecture
The walls of this high-rise NYC apartment glow with the soft sheen of a meticulously applied Shikkui plaster finish
Suzanne Stephens
See the Renovated Interiors of Starbucks' First Store in Italy
The store is designed to reflect Milan's rich heritage and status as Italy's fashion capital: vibrant colors permeate the entire space
Justin Chan
Private Office by Alvisi Kirimoto and CannonDesign
Touches of color, both soft and bold, throughout the mainly monochromatic office—unified by a creamy white carpet—are used to striking effect.
Josephine Minutillo
Color App and Reader Device Simplifies Color Selection
Paint color selection gets a technological upgrade with a virtual paint color fan deck and an affordable mobile digital color reader.
Peter J. Arsenault, FAIA
Rustic Townhouse by 4|Mativ
Faced with design constraints, this team used color, pattern and material to inspire the plans and set the tone for the entire project.
Diana Mosher
Review of 'Thinking Color in Space: Positions, Projects, Potentials'
The authors of this book explore how color intersects with geometry, light, and structure in a wide range of contemporary design projects.
Norman Weinstein
Hikma Religious-Secular Complex by Atelier Masomi and Studio Chahar
Hues of traditional local clay and earth, crisp white-painted concrete, and blue-painted steel shutters create the right balance for this multi-use complex in Niger.
Kelly Beamon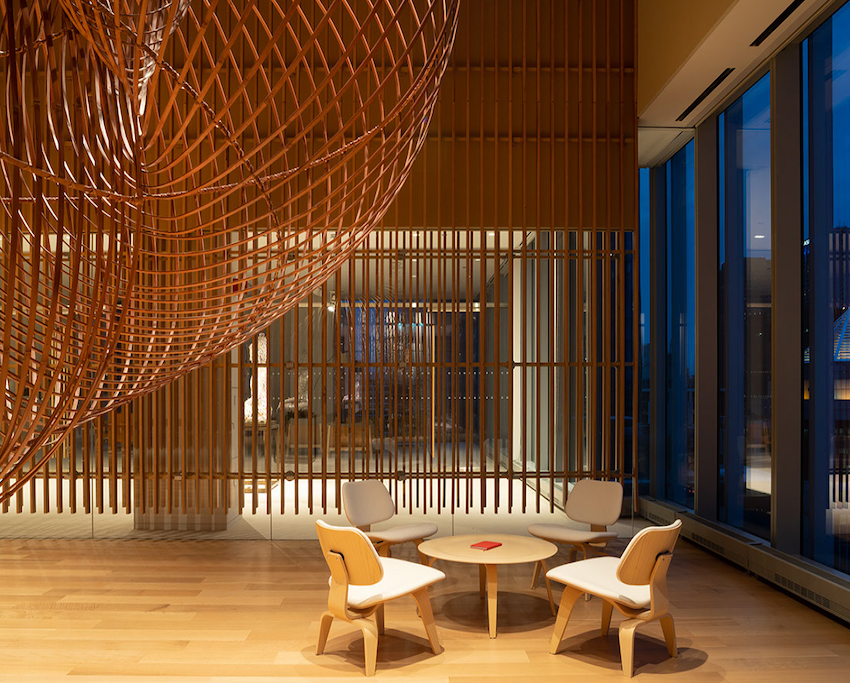 Photo © Nic Lehoux
A spiraling bamboo sculpture, over 6 feet in diameter and suspended 3 feet above the floor, punctuates the soaring volume of the Winter Green
Originally published in June 2020
Notice