Testing and Specifying Metal Roofs in High Wind Areas
By verifying the roofing systems pass key wind-related tests and carefully following product manufacturer's installation details, project teams can best ensure their buildings withstand high wind events
Sponsored by ATAS International
Meanwhile, Bressi has observed that the roofs which best withstand the high winds have no overhangs and very steep roofs. "There is a reason that the old timers in the Caribbean built everything without overhangs and pitched the roofs 7, 8, or 9 on 12."
In Hayward's experience rebuilding damaged condo units in Homestead, Fla., after Hurricane Andrew, he found that several sliding glass doors were broken by flying debris or high wind pressure at the corner of buildings where there was a significant amount of positive pressure interjected within the building. This, combined with the negative pressure/uplift on the exterior, resulted in the roofs' failure and consequently significant interior damage from rainwater intrusion. Therefore, he said, the design of the entire building envelope is critical.
Offering his own list of best practices for metal roof designs, the architect recommended specifying concealed fasteners and specifying appropriate metal finishes near coastal environments, including material gauge, roof substrate, sub-roof requirements, and insulation.
He added that generating a dew point analysis of the roof and wall assemblies are critical considerations when preparing specifications and drawings for the metal roofs or building elements. "The metal flashings, sub-roof membrane, and penetration details are critical for design and installation of a successful metal roof. Additionally, check with product representatives to make sure that the specs are up to date, and that a substitution procedure and form is included with the Division 01 specifications. If an alternate material is being proposed by the contractor, make sure that there is a way to compare 'apples to apples' and identify any costs savings, or required re-design efforts that must be accounted for."
Reid works closely with roofing manufacturers and has been involved in testing different types of systems.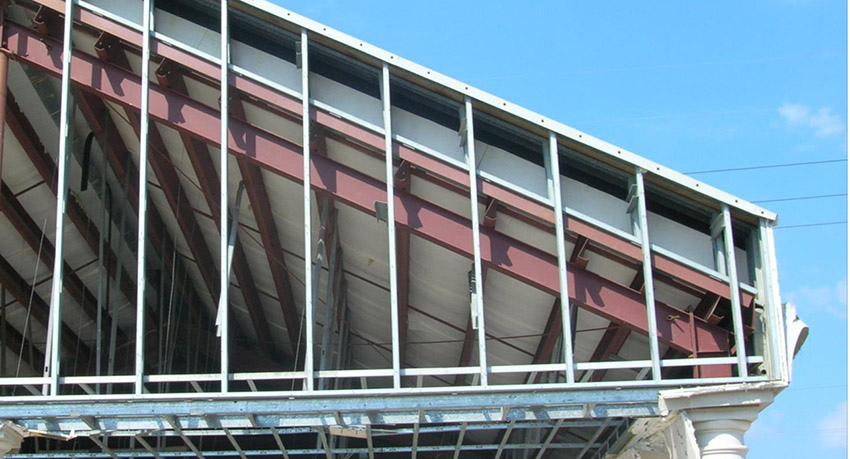 Photos courtesy of ATAS International
By spacing the purlins closer together in the perimeter zones, metal roofs are better equipped to withstand high winds.
"We've gone into the lab, built different systems and blew them up to see what they would do," he explained. "I've always been fascinated about the stretch of a standing seam roof, how the aluminum will bubble and raise up significantly between the seams. If you have proper seaming, your clips are properly placed, and you utilize the proper fasteners, it's incredible the amount of pressure that metal roofing can handle when it balloons like it does. It truly breathes."
Reid has also partnered with manufacturers to test and develop an extruded base cleat for all their coping systems. "Utilizing a 0.080 extruded base cleat and minimum of 0.050 aluminum for the coping has made a tremendous difference," he said.
Also of note are metal roof selections for coastal environments. While steel is a stronger material, it is prone to rust and can cause corrosion issues. Consequently, aluminum is the product of choice for buildings located next to the water. Architects usually specify 0.040 thickness, which is typically the heaviest gauge that can be easily roll formed and properly shaped to accommodate metal roof panel designs.
In the WBDG article, Smith offered the following recommendations for metal roof system installations:
If the panels are attached to wood or metal nailers, detail the connection of the nailer to its support. Pay particular attention to where the nailers are spliced over a support. Screws are recommended in lieu of nails to attach clips.
Develop secure perimeter securement and flashing details (i.e., panel eaves, rakes, hips, valleys and ridges, and flashings at hips, rakes and ridges). Common problems are excessive fastener spacings at these areas. Depending upon design wind loads, fasteners should typically be spaced from 3 inches to 12 inches on center.
In areas with a basic wind speed greater than 90 mph and for buildings with an eave height of 100 feet or greater (regardless of basic wind speed), along eaves, hips, and ridges, it is recommended that two clips be used at each rib. This conservative redundant practice recognizes the importance of the end clip in these critical locations.
Partnerships
In partnering with the right professionals to support a successful metal roofing design and installation, Hayward recommends selecting a product rep that offers good technical support, and preferably one that is a member of the Construction Specifications Institute (CSI) with Construction Documents Technology (CDT) or Certified Construction Product Representative (CCPR) certifications. "These professionals will be your trusted advisors, whether you're an architect or contractor, and hopefully keep you on the path to a successful roof and building installation. As architects, we do not have time to keep up with all the available and appropriate products or product changes, so it is important to build these relationships with product reps well before the project goes out to bid."
Ultimately, Bush places much value on contractors and manufacturers working hand in hand to deliver the best metal roofing solutions.
This starts with contractors trusting that manufacturers have created an optimized set of details based upon much hands-on experience and expertise in this realm. Consequently, at the minimum, contractors are highly encouraged to follow the manufacturer's installation instructions. If they choose to enhance and go beyond the details, based upon their own experience in their region and climate, this is encouraged.
It is possible to encounter a contractor who works in a particular geographic area, who is set on a particular detail and is unwilling to take the advice of the manufacturer. The contractor might claim that their way of doing things has worked, and that they have never experienced significant roofing failures from wind.
Experts would counter that the contractor has been very lucky and may never have encountered that one high-wind event that the code dictates, but it's a risky endeavor not to follow the installation instructions.
"You can always expand upon that and do a little heavier, or a little better, or decrease fastener spacing, but at the very least, use the intent of the manufacturer's details," said Bush.
In summarizing recommendations for architects, specifiers, and engineers looking to design the best roofing system to withstand high winds, Bush said:
Write proper test protocols into the roofing specification based upon the panel system type, i.e., structural, non-structural, metal shingle versus metal panel.
Enlist the services of an engineer to review the panel capacity and fastening to ensure performance of the metal roof system in its actual geographical location.
Provide proper supporting data to ensure performance based upon testing.
Properly recommend the type of metal roof panel for the project design, roof slope, and resistance to the local environmental loads, i.e., wind, rain, snow, hail, etc.
Ultimately, it's in the building team's best interest to pay heed to wind resistance testing, careful review of the building site and geographic location, consultation with experts, and careful attention to installation details to ensure the best results.
"All over the world, metal roofing has been battle tested by Mother Nature. For those who are increasingly concerned about extreme weather and storms, that makes the durability, long-lasting protection and reliability of metal roofing very appealing," concluded Renee Ramey, executive director, Metal Roofing Alliance.
Barbara Horwitz-Bennett is a veteran architectural journalist who has written hundreds of CEUs and articles for various AEC publications. www.bhbennett.com
| | |
| --- | --- |
| | Founded in 1963, ATAS International, Inc. is a leading manufacturer of metal wall cladding, metal roofing, ceilings, perimeter edge metal, and accessories. The ATAS portfolio features an expansive selection of products available in aluminum, steel, zinc, stainless steel, and copper. Standard profiles include ribbed wall panels, corrugated styles, standing seam and batten seam roof systems, metal shingles, shakes, tiles, and more. With sustainability at the forefront of modern building design, ATAS proudly supports green building objectives with solar-ready roof panels, insulated metal panels, cool roofing products, and solar air heating wall panels. The ATAS team consists of product and market specialists that provide a high level of support for your project. ATAS has four ISO certified manufacturing locations in the United States: two in Allentown, PA, one in Mesa, AZ., and they have recently added a new manufacturing location in University Park, IL. Learn more about the ATAS product line, service offerings, and continuing education programs: www.atas.com | 610.395.8445 |
Originally published in Architectural Record
Originally published in September 2021
Notice