Prioritizing Sustainability and Embodied Carbon Goals
Improve your embodied carbon awareness and learn how to meet your sustainability goals
This course is no longer active
Webinar On-Demand
Sponsored by Armstrong Ceiling and Wall Solutions
Learning Objectives:
Describe three ways you can help with the transformation of the building sector to reduce embodied carbon in materials and in the construction process.
Explain the difference between carbon emissions and embodied carbon.
Understand how materials, design, and planning can increase sustainability.
List two methods from the projects presented of prioritizing sustainability on your projects.
Credits:
This course can be self-reported to the AIBC, as per their CE Guidelines.
This course is approved as a Structured Course
This course can be self-reported to the AANB, as per their CE Guidelines
Approved for structured learning
Approved for Core Learning
This course can be self-reported to the NLAA
Course may qualify for Learning Hours with NWTAA
Course eligible for OAA Learning Hours
This course is approved as a core course
This course can be self-reported for Learning Units to the Architectural Institute of British Columbia
This webinar is part of the Sustainability Academy
The transformation of the building sector is underway. According to the Carbon Action Network (CAN), embodied carbon will be responsible for almost half of total new construction emissions between now and 2050. The overall goal is to radically reduce and ultimately eliminate the embodied carbon in building materials and construction. Architects play a key role in advancing a better built environment through their work, while new products and approaches can help the profession to prioritize sustainability by reducing a project's carbon footprint and even by becoming a carbon sink that can help remove greenhouse gases from the atmosphere.
Josiah Stevenson, FAIA, Principal in Charge and Senior Associate Kevin J. Bell , with Leers Weinzapfel will present the Anonymous Hall project at Dartmouth College, part of a wider campus renewal plan. Metrics show the project is close to net zero energy use. The building was stripped to its columns and slabs to remove hazardous materials in the existing library walls before construction could begin. As a reused concrete structure in a cold climate, the choices of highly insulated terra-cotta-clad walls, triple glazed windows, and a photovoltaic canopy created a building with low embodied energy that approaches net zero energy usage. The facade system is first-of-its-kind in the US, comprising multiple advanced technologies including vacuum insulated panels, krypton filled triple glazing, metal mesh integral shading, and toggle-held structural glazing (2″ IGUs).
Eric Corey Freed SVP Director of Sustainability, CannonDesign will explore how the standard and outdated business practices are holding back the industry from innovating new solutions. We'll examine the ways we eliminate or create blind spots to bold ideas and how to open up your company to engage in an innovation strategy to solve problems often assumed to be unsolvable. Based on insight developed working with Fortune 500 clients, we'll share how organizations, companies, and municipalities can accelerate their plans for sustainability, climate, carbon, equity, or resilience, while addressing the organizational limitations of waste, inefficiency, and fear. Discover how to create an innovation roadmap to define the new normal for your company, customers, clients, and colleagues. We'll explore the ways that traditional business thinking and industry standards are holding you back, losing you customers, and destroying your competitive advantage.
The presentations will be followed by a moderated discussion focused on how these innovative sustainability projects address several key issues.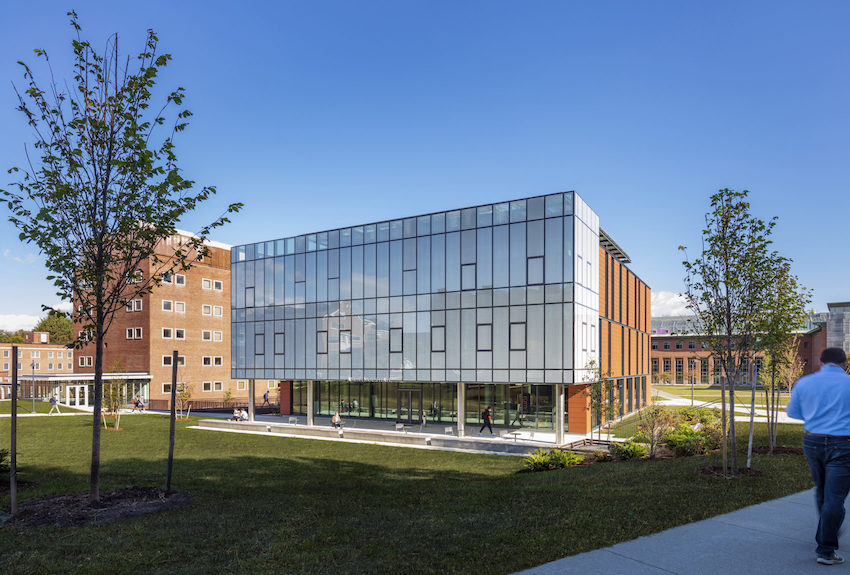 Photo courtesy of Leers Weinzapfel
Josiah Stevenson, FAIA, LEED, Principal, Leers Weinzapfel, A graduate of Dartmouth College and the Harvard Graduate School of Design, Josiah joined Leers Weinzapfel Associates in 1986 and became a Principal in 1998. Josiah leads the firm's community and civic projects giving special attention to how they relate to their historic contexts and our sustainable future. He founded the firm's environmental study group, Green Monsters, and works to lead the profession towards sustainable awareness. Josiah's dedication to both the conceptual and pragmatic dimensions of architecture have made him a particularly successful designer of complex renovations and additions. He has led the design of several award-winning civic projects in Boston and beyond.

From 2006 to 2011 Josiah taught a professional development seminar entitled "The New American Courthouse" at the Harvard Graduate School of Design Executive Education Program and has taught studios at Wentworth Institute of Technology. He is the author of several magazine articles on courthouse design and worked with the Commonwealth of Massachusetts to develop Courtroom Design Guidelines. Josiah has served on the Designer Selection Panel of the Massachusetts School Building Authority, was the former Commissioner of Design for the Boston Society of Architects, served on the their Honors and Awards Committee as both chair and member, on their Harleston Parker Committee, a group awarding the "most beautiful building in Boston" and served as their 2017 President.

Kevin J. Bell, AIA, Senior Associate, A graduate of the University of Michigan and native Michigander, Kevin received his Master of Architecture from the University of Virginia where he was a cofounder and editor of the interdisciplinary design and research journal lunch. Kevin joined Leers Weinzapfel Associates in 2006; bringing with him unique experience in allied fields including graphic design, information technology, and a hands on approach to design and construction. Kevin has five years experience as a graphic artist with the University of Michigan Medical School working on a variety of projects from interactive mapping, extensive print and web work, to temporary and permanent signage. Within the studio, he leads and coordinates digital technologies and their incorporation in the design process. Kevin has been an integral part of award-winning academic and infrastructure projects from the time of his arrival.

Kevin leads frequent studio discussions and instruction related to digital technologies and graphics and has been a guest critic at several area architecture schools.

Eric Corey Freed, RA, LEED Fellow, Director of Sustainability, Cannon Design, I want our team to be able to speak with them about clear, deployable strategies that can help them achieve their ESG, CSR and SDG goals. Let's instill in them a vision for how they can achieve their first net-zero energy-building, or their first carbon-neutral campus. Let's get bold in how we lead others to a resilient, regenerative future. That's the kind of "good trouble" I see us getting into on a daily basis!

Good trouble is what Eric Corey Freed, our Sustainability Director, has been getting into throughout his career. His unique combination of practical experience, academic research and thought leaders thinking helps positions him to champion and optimize our firm's commitment to sustainability in all of its embodiments: how we design buildings, talk about them, operate our own sustainable business practices, and strengthen our overall commitment to corporate responsibility.

A recognized and inspirational voice, Eric has authored 11 books on sustainable building design, has been featured in media ranging from the New York Times and CNN to HGTV, Good Morning America and Sundance Channel, and has facilitated sustainable design workshops and discussions for more than 300,000 people. A practicing architect with an emphasis on urban design, Eric has contributed to the design of more than 40 LEED and net-zero projects, consulted on hundred more, and been named one of the 10 Most Influential Green Architects.
Armstrong World Industries is a leader in the design and manufacture of innovative commercial ceiling and wall systems. At home, at work, in health-care facilities, classrooms, stores, and restaurants, Armstrong Ceiling & Wall Solutions offer interior options that help create healthy, sustainable spaces that protect people and cultivate well-being and comfort so they can be at their best.

Armstrong is committed to developing new and sustainable ceiling solutions, with design and performance possibilities that empower its customers to create beautiful, high-performance residential and commercial buildings. Armstrong continues to grow and prosper for the benefit of all its stakeholders. armstrongceilings.com/commercial


Originally published in July 2021
Notice