Back to the Office: Making the Workspace Healthy and Appealing
How to improve worker satisfaction and productivity with enhanced indoor environmental quality
Sponsored by Armstrong Ceiling and Wall Solutions
Learning Objectives:
Describe the connection between worker satisfaction and productivity and the environmental qualities of the workspace environment.
Explain how to improve acoustical quality in an indoor environment.
Define the strategies for creating enhanced indoor air quality.
List tactics for bringing natural light into office, retail, health care, manufacturing, educational, municipal, or manufacturing workspaces.
Describe the importance of occupant lighting control, temperature control, and ventilation control.
This course is part of the Indoor Environmental Quality: Healthy Design Academy
This webinar is part of the Indoor Environmental Quality: Healthy Design Academy
When stay-at-home mandates during the COVID-19 pandemic drove workers away from offices and into their homes, some time was created for reflection and a reset of sorts. What kind of offices and workspaces would draw people back to work? What does it take for people to feel good and to be healthy during their hours away from home? This webinar addresses these questions, illustrating design strategies for workspaces that elevate health and happiness. This is a net positive for companies, employees, and society.
This webinar illustrates how workplace questions are studied and answered, with a focus on the Armstrong World Industries (AWI) Living Lab, a dynamic pilot space at Armstrong's campus in Lancaster, Pennsylvania. The lab is designed to beta test new health-focused solutions and emerging innovations in workplace design. The lab is an activity-based work environment, which means it provides a range of spaces to comfortably accommodate a variety of needs throughout the day. Here, people can work on the move, taking advantage of technology to stay connected, even in outside settings. They can use the assortment of team-oriented rooms and informal open spaces for collaboration, or they can use enclosed rooms for focus work. This is simultaneously a proving ground for new products and a place to test drive mock-ups.
Advanced products adorn the lab, creating an indoor environment that reflects the outdoors. Specialty ceilings with open suspension systems, for instance, have translucent panels with circadian lighting emulating real sunlight. The strategy emphasizes other biophilic design elements such as outdoor views, warm wood tones, and deep earthy greens evoking growth, comfort, and wellbeing. Specific adaptations in the context of the COVID-19 pandemic, coupled with AWI's commitment to create the healthiest work environments possible, include the exploratory use of touchless and antimicrobial surfaces, as well as mineral fiber ceilings with concealed UV air purification. Building upon a 25-year relationship, Gensler and AWI's shared mission of improving the human experience through design has culminated in a critical, yet hopeful, moment of transformation. The Living Lab is an actively evolving embodiment of that mission. The lab will be presented by Ehren Gaag, AIA, LEED® AP, Design Director, Principal, Gensler; Linda Pileggi, Design Director, Gensler; and Alexandra Waltemyer, Senior Manager of Strategic Initiatives, Armstrong World Industries.
The presentations will be followed by a moderated discussion focused on how these innovative projects address several key issues.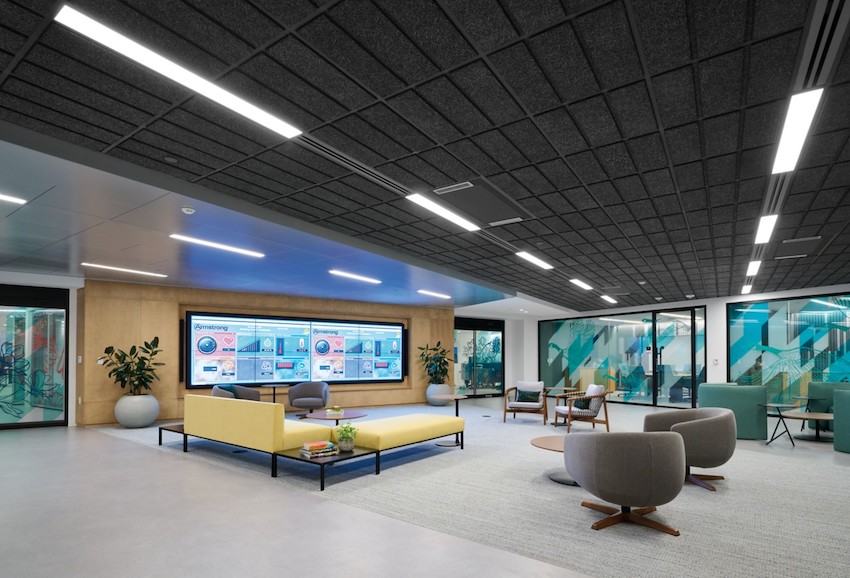 Photo courtesy of Armstrong Walls and Ceilings
| | |
| --- | --- |
| | Ehren Gaag, AIA, LEED® AP, Principal, Gensler Design leader, forward-thinking strategist, and product design expert, Ehren brings an inventive, cross-disciplinary approach to project work. In collaborations with Pandora, Price Modern, and T. Rowe Price, he's helped create balanced and flexible work settings that can adapt to the rapid changes occurring in workspaces. A proponent of dynamic office space that reshapes and transforms with shifting business demands, Ehren has introduced new and innovative methods to address the corporate office's shift to a more open and collaborative structure. His design approach weaves a practical understanding of the opportunities a building presents with fresh ideas for an evolving workplace. Ehren advises clients who are adopting next-generation workplaces on the best furniture solutions for their specific needs. He designs products for the commercial furniture industry, specializing in furniture and casegoods design for both manufacturers and corporate clients. Ehren holds a Bachelor of Architecture from the University of Cincinnati. |
| | Linda Pileggi, Design Director, Gensler, is a multidisciplinary design leader with a laser focus on accomplishing her clients' goals. By stitching together the most progressive ideas from practice areas including technology, education, sciences, and professional services, Linda creates truly unique environments. As a design director, she is a steward of a collaborative culture in which teammates and the client feel comfortable challenging one another to strive for transformative outcomes. Born and raised in Philadelphia, Linda spent a few years on the west coast in Gensler's San Francisco office before moving back to join the Gensler Philadelphia office in 2010. She earned a Bachelor's degree in Interior Design from the Philadelphia University and is an active member of the International Interior Design Association. Linda was selected as one of Gensler's "NextGen" leaders and participated in a program to develop up-and-coming talent as the next generation of leadership for the firm. She is a frequent speaker and moderator on topics related to client relationships and how design thinking equips individuals and organizations to recalibrate and rethink the challenges of today's ever-changing world, and has spoken at the B.PHL Innovation Festival since 2019. |
| | Alexandra Waltemyer, , Sr. Manager of Strategic Initiatives, Alexandra Waltemyer manages the Healthy Space strategy at Armstrong World Industries. She leads research and development of innovative product solutions that create healthier spaces to improve indoor environmental quality in schools, offices and healthcare environments. Her background is in engineering and agile project management, research and development, testing and operations in a number of industries. |
Armstrong World Industries is a leader in the design and manufacture of innovative commercial ceiling and wall systems. At home, at work, in health-care facilities, classrooms, stores, and restaurants, Armstrong Ceiling & Wall Solutions offer interior options that help create healthy, sustainable spaces that protect people and cultivate well-being and comfort so they can be at their best.

Armstrong is committed to developing new and sustainable ceiling solutions, with design and performance possibilities that empower its customers to create beautiful, high-performance residential and commercial buildings. Armstrong continues to grow and prosper for the benefit of all its stakeholders. armstrongceilings.com/commercial


Originally published in December 2021
Notice