Acoustical and Sustainable Design for Occupant Well-Being in Every Space
The role acoustical ceiling and wall systems can play in creating healthy living, work, and healing areas
Sponsored by Armstrong Ceiling and Wall Solutions
Learning Objectives:
Explore and understand the fundamental principles related to interior acoustic design and their relationship to green buildings and sustainable design.
Recognize and identify the acoustic needs for different design applications to improve occupant well-being.
Examine the new flexible design ceiling options available to provide interior acoustic treatments that are both visually appealing as well as acoustically appropriate for the space.
Discuss the various characteristics of high-performance ceiling and wall solutions that can contribute to sustainability standards and certifications.
Credits:
This course is approved as a core course
This test is no longer available for credit
This course is part of the Acoustics Academy
This course will focus on the key role acoustical ceiling and wall systems play in creating healthy interiors through acoustical, flexible, and sustainable design. In addition to providing a broad overview of the fundamental principles related to interior acoustic design, the course will identify the different acoustic needs and review case studies for three key design applications including educational spaces, office environments, and health-care facilities to emphasize the many ways balanced acoustical design can impact the lives of people where they live, work, heal, learn, and play. The course will conclude by assessing the various characteristics of acoustical ceiling panel materials and how they can contribute to sustainable building design and green building standards and certifications.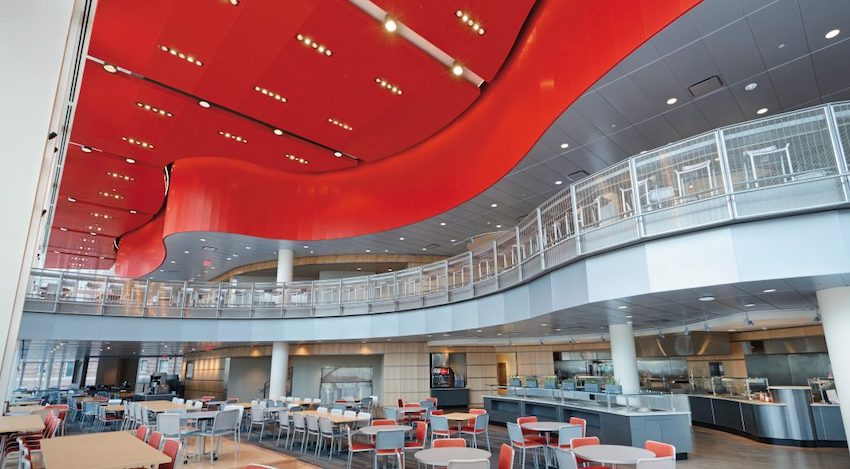 Photo courtesy of Armstrong Ceiling and Wall Solutions
Armstrong Commercial Ceiling and Wall Solutions is the global leader in acoustical ceilings and wall systems with the broadest portfolio of standard and custom metal and wood options available, including clouds, canopies, baffles, and blades.
Explore and interact with key industry products through our exclusive Interactive Product Spotlight on Time & Labor Saving Solutions.
Armstrong World Industries is a leader in the design and manufacture of innovative commercial ceiling and wall systems. At home, at work, in health-care facilities, classrooms, stores, and restaurants, Armstrong Ceiling & Wall Solutions offer interior options that help create healthy, sustainable spaces that protect people and cultivate well-being and comfort so they can be at their best.

Armstrong is committed to developing new and sustainable ceiling solutions, with design and performance possibilities that empower its customers to create beautiful, high-performance residential and commercial buildings. Armstrong continues to grow and prosper for the benefit of all its stakeholders. armstrongceilings.com/commercial


Originally published in December 2018
Notice