Architects are helping colleges and universities get to carbon neutrality—and beyond.
Architectural Record
Learning Objectives:
Discuss the varying definitions of carbon neutrality.
Outline what scopes 1, 2, and 3 emissions include.
Explain what carbon offsets are and their role in achieving carbon neutrality.
Discuss the challenges involved in achieving carbon neutrality on new and historic university campuses.
Credits:
This course can be self-reported to the AIBC, as per their CE Guidelines.
This course is approved as a Structured Course
This course can be self-reported to the AANB, as per their CE Guidelines
Approved for structured learning
Approved for Core Learning
This course can be self-reported to the NLAA
Course may qualify for Learning Hours with NWTAA
Course eligible for OAA Learning Hours
This course is approved as a core course
This course can be self-reported for Learning Units to the Architectural Institute of British Columbia
View course on architecturalrecord.com »
AMERICAN universities are in the forefront of research and scholarship—so it makes sense that these institutions would lead in making their facilities environmentally sustainable. In the last 15 years, hundreds of the country's higher-education institutions have committed to making their campuses carbon neutral. Yet only a tiny few—a dozen or so (or none, depending how the term is defined)—have so far achieved this goal. Erik Olsen, a managing partner in the New York office of the energy consultant Transsolar, has worked with a number of institutions aiming to decarbonize. "The best have detailed plans that they're far down the road of implementing," he says. "And the worst have no plan. And some only have plans to make a plan."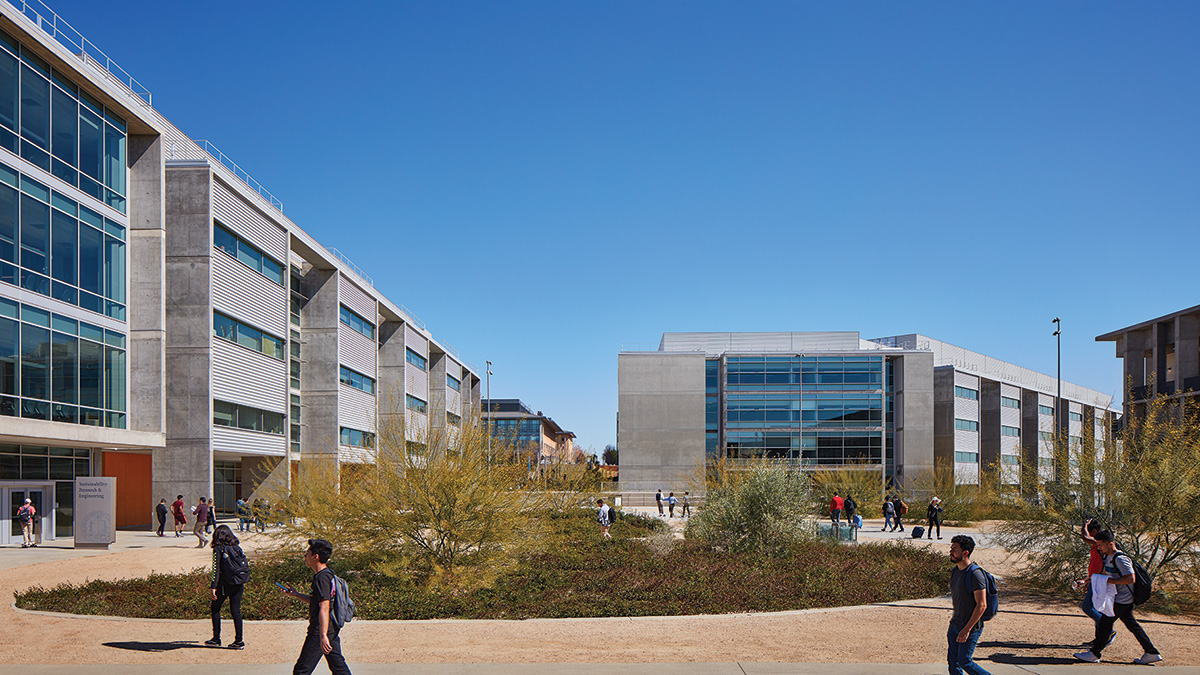 Photos courtesy of SOM © DAVE BURK
THE BUILDINGS of UC Merced, constructed according to a master plan by SOM, use simple materials, including corrugated metal and concrete, and have features such as deep overhangs to keep out the strong California Central Valley sun.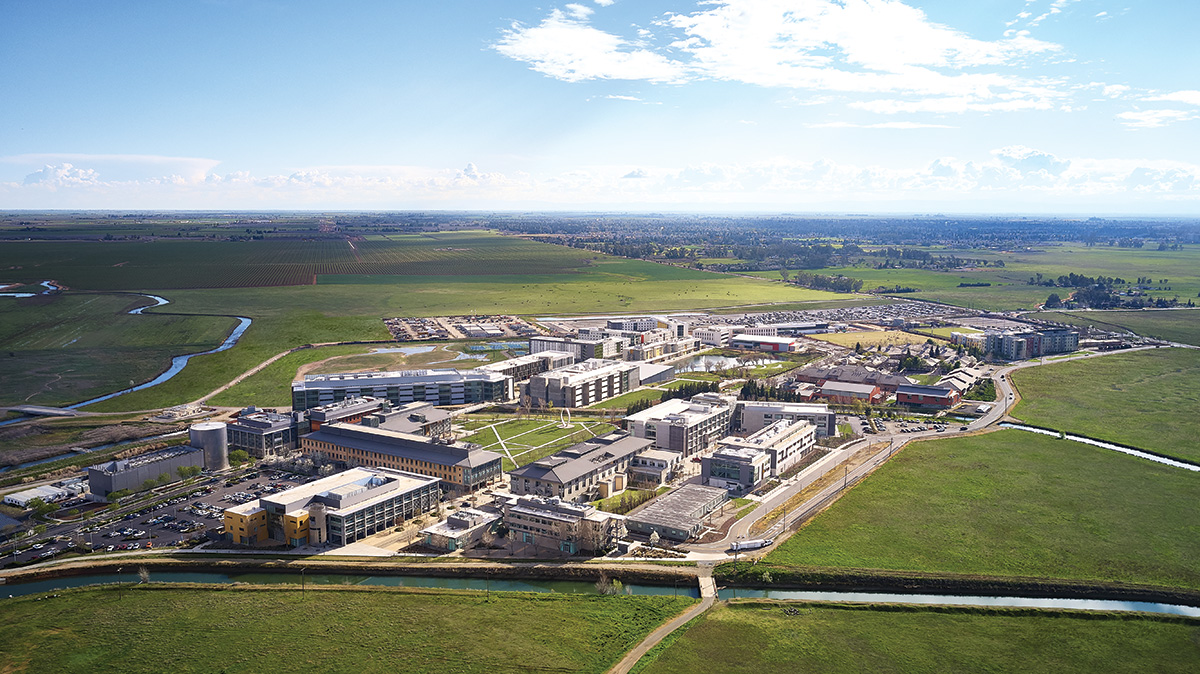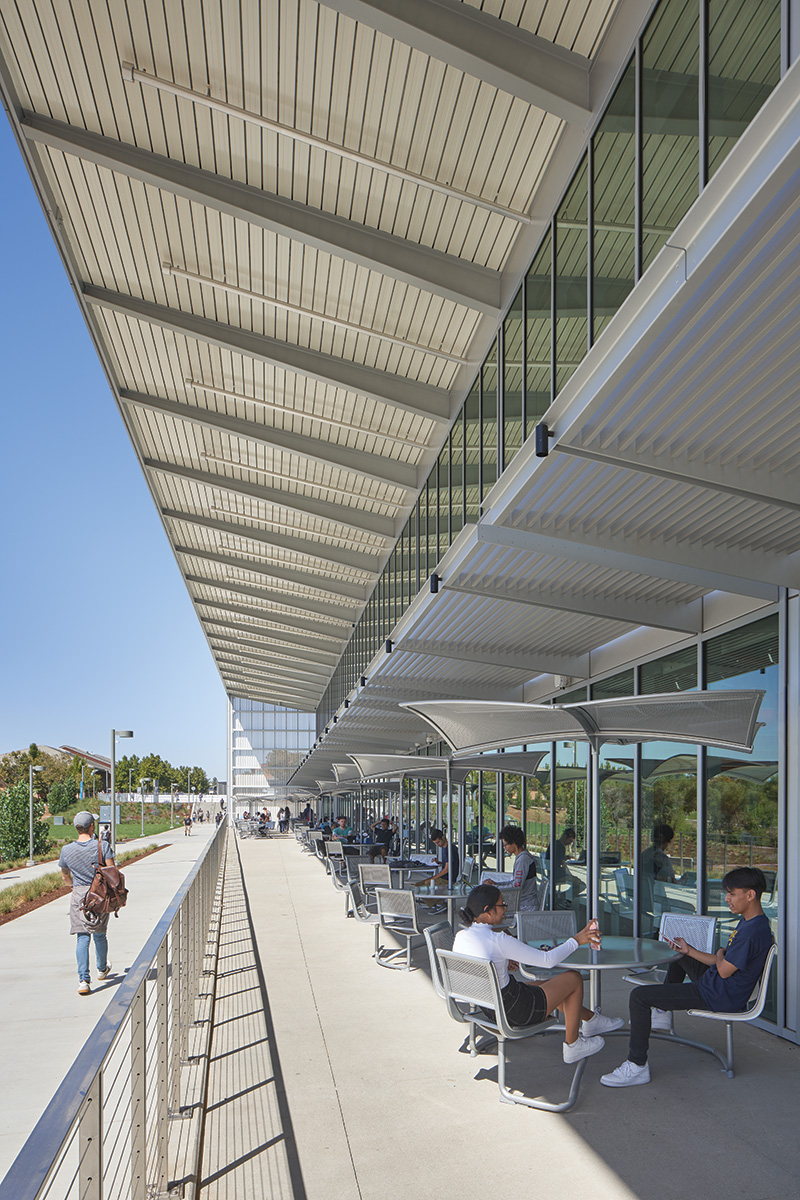 The dozen or so American campuses that have announced carbon neutrality account for their operational emissions only (not embodied emissions). Operational emissions are categorized into three "scopes." Scope 1 encompasses an organization's direct greenhouse-gas (GHG) emissions—for example, from burning fuel in boilers, furnaces, and vehicles. Scope 2 refers to indirect emissions from the organization's purchase of energy: emissions that occur at the generating facility are attributed to the energy's user. Scope 3 covers emissions that the organization causes indirectly, through business travel and employee commuting, for example. All of the carbon-neutral campuses account for Scope 1 and 2 emissions, and they vary as to whether they also include some Scope 3 emissions.
"Where architects can have the most impact is square in that Scope 1 bucket," says Rebecca Berry, principal and director of sustainability at Finegold Alexander. Several of the universities in Finegold Alexander's portfolio report about 70 percent of their emissions from Scope 1, she says.
No institution has so far achieved carbon neutrality without relying on carbon offsets—a reduction in GHG emissions that is used to compensate for emissions that occur somewhere else. A carbon-offset credit, certified by governments or independent certification bodies, represents an emissions reduction of one metric ton of CO2 or an equivalent amount of other greenhouse gases.
Offsetting is sometimes criticized as buying a way out of the problem. On the other hand, when the near-term cost of eliminating another ton of carbon becomes cost-prohibitive or logistically impossible, investing in a project that removes GHG on an institution's behalf can be the right thing to do, both for its mission and for the climate. Purchasing carbon offsets also puts a cost on emissions, and that can help tip the scales in favor of low-carbon choices.
Two universities make excellent case studies in demonstrating how architects can support institutional clients in achieving carbon neutrality. One is the new campus of the Uni­­versity of California, Merced, and the other, the historic campus of Colgate University in Hamilton, New York.
In 2020, the University of California, Merced (UC Merced), became America's first public research university to reach carbon neutrality, defined in this case as achieving zero net greenhouse-gas emissions for Scope 1 and Scope 2 emission sources. Founded in 2005, and located in California's San Joaquin Valley, UC Merced was originally built according to a SOM master plan, and then nearly doubled its footprint in 2020, following an updated master plan (also by SOM). With the university's mission of improving college-matriculation rates in the Valley, three-quarters of its students are their families' first generation to attend college, nearly two-thirds come from low-income families, and only 10 percent identify as white, making UC Merced a force for social justice as well as environmental responsibility.
The campus demonstrates that high-performance, energy-efficient development on a shoestring budget is possible, says Michael Duncan, a design partner in SOM's San Francisco office. The two SOM buildings constructed in 2005—a central power plant designed with Arup as a "living laboratory" and the Kolligian Library, in collaboration with Fernau and Hartman—cost between $209 and $285 per square foot. "Even in those days, that was pretty darn tight," says Dun­can. The now 815-acre, 9,000-student campus consists entirely of LEED-certified buildings, with all 11 structures of the recent expansion—including science buildings, residences, and a dining pavilion—achieving platinum-level certification.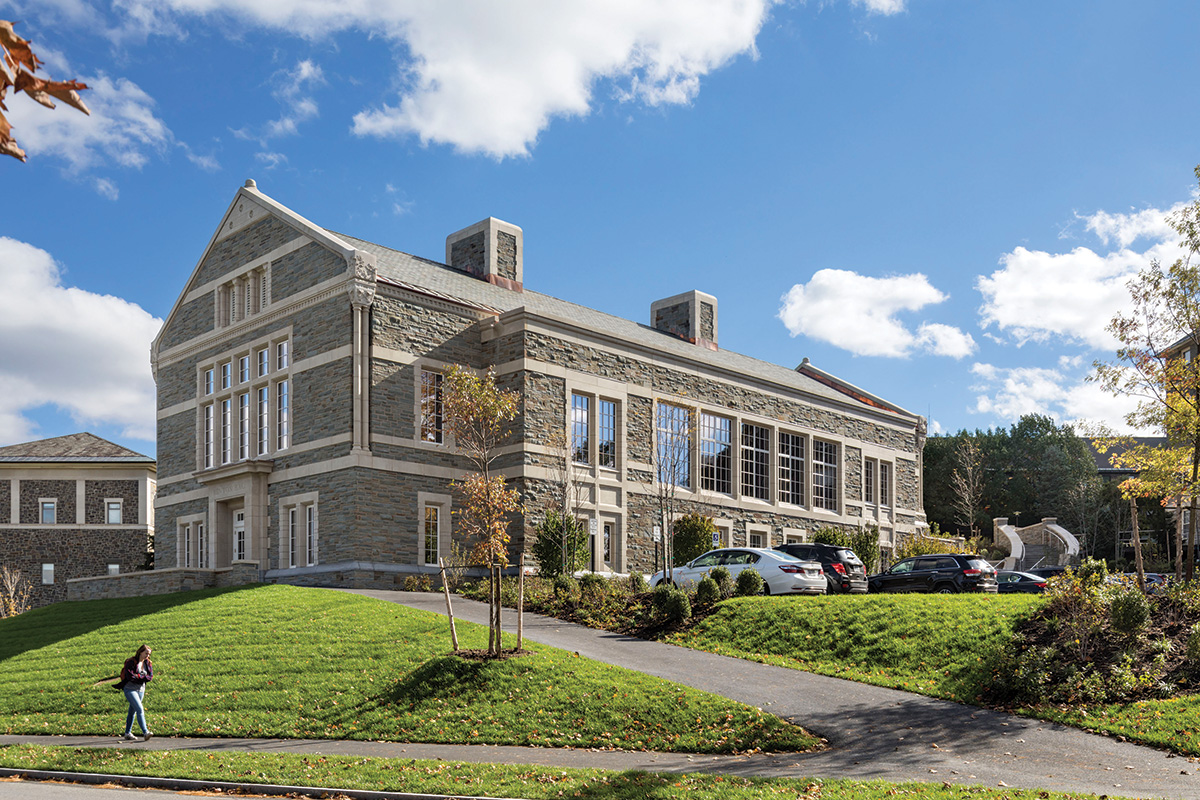 Photos courtesy of PETER AARON & ATELIER TEN
RESIDENTS in a pair of RAMSA dormitories that flank a quadrangle at Colgate are competing to see which building can operate most efficiently. A career-services center on campus, also by RAMSA, with an R-40 envelope, is designed to use to use 59 percent less energy than baseline.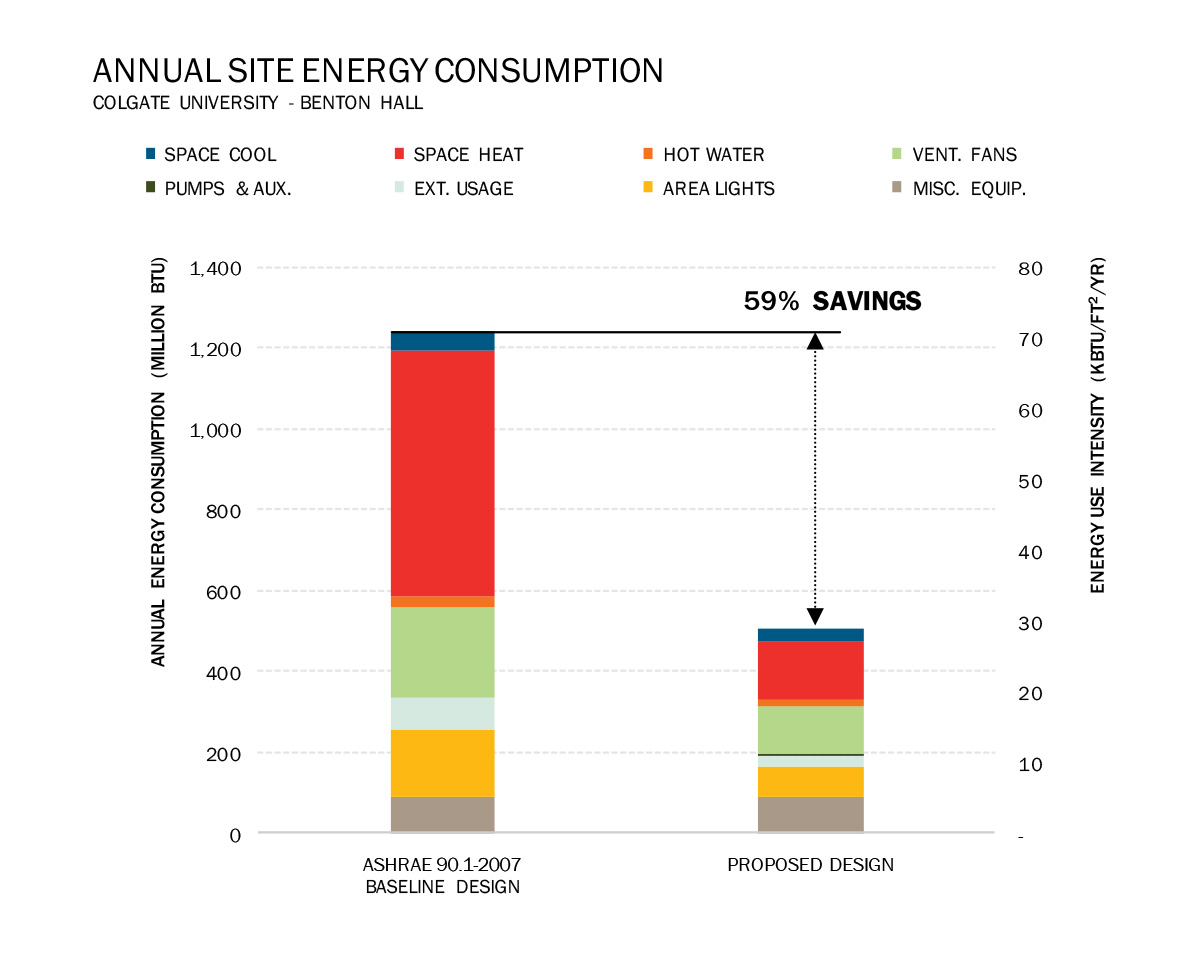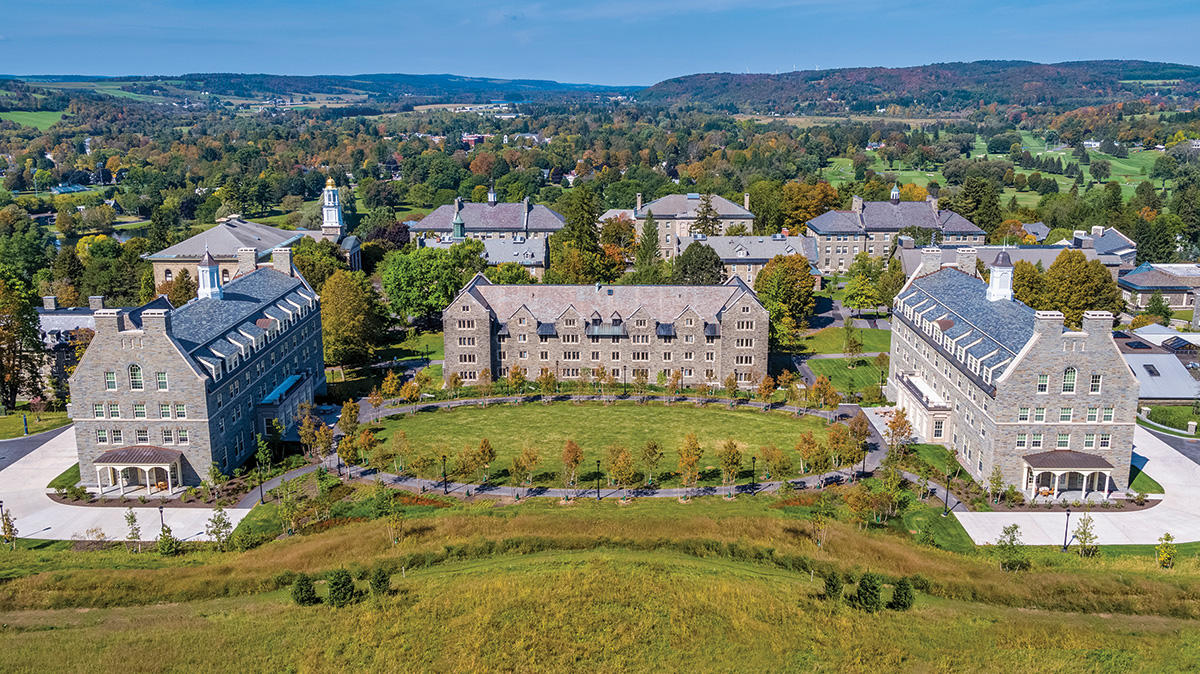 Inspired by the region's vernacular agricultural buildings, the campus architecture uses expressive tectonics, a stripped-down aesthetic, and simple materials, such as concrete and corrugated metal. Deep overhangs, screens, arcades, garage doors, and courtyards link indoor and outdoor spaces while controlling light, heat, and wind. Taller buildings are positioned to shade the streets.
With a compact footprint and building heights up to six stories, the development is more dense than is typical for the Valley, enabling the central power plant to provide efficient heating and cooling to the entire campus. The plant incorporates a superinsulated thermal-energy storage tank, reminiscent of a grain silo, which cools water at night, using off-peak energy, and then redistributes it to campus buildings during the day.
While the university continues working to reduce its remaining Scope 1 emissions—notably the use of natural gas in the central plant and in science labs—the purchase of offsets brings them to net zero. Complementing UC Merced's energy-efficient buildings, an 8.5-acre photovoltaic field and a 5-megawatt carport solar system, with 500-kilowatt battery storage, generate about 30 percent of the school's annual required electricity; for the remainder, the campus purchases clean electricity through the University of Cali­fornia's wholesale power program, thereby bringing its Scope 2 emissions to zero as well. Beyond the technical achievement, the campus's carbon-neutral status and ongoing efforts to improve it are integrated into UC Merced's academic, engagement, and operational programs. "It's not just the infrastructure," says Duncan. "It's the whole culture."
Originally published in November 2022
Notice