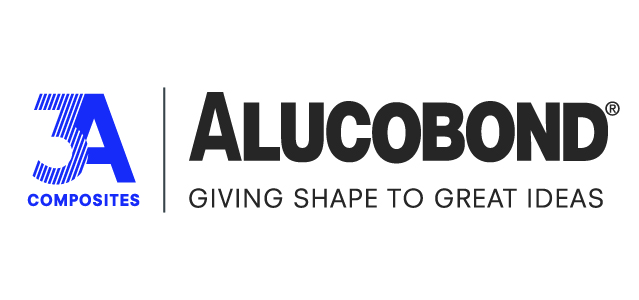 3A Composites USA, Inc. invented the first aluminum composite material and we've been leading the world in design innovation and manufacturing ever since. To help our clients build the future, 3A Composites remains focused on inspiring members of the architectural community to create their legacy with the next generation of buildings. ALUCOBOND® PLUS is manufactured in the United States in the Benton, Ky., plant of 3A Composites. The 3A Composites USA headquarters are based in Davidson, N.C.
ALUCOBOND® PLUS has been developed exclusively to allow architects and designers to meet the fire performance requirements of today's building standards while using ACM as the material of choice. Consisting of two sheets of smooth .020" aluminum thermo-bonded to a solid, fire retardant core, ALUCOBOND® PLUS offers proven product properties such as flatness, form-ability, durability and ease of fabrication. ALUCOBOND® PLUS allows architects to meet today's requirements set by the International Building Code (IBC). As a recyclable building material, it is manufactured with both pre-consumer and post-consumer waste; therefore, it can significantly contribute to earning LEED points and meet sustainability goals for projects.
The aluminum skins and core can be returned to the material cycle and reused for the production of new products while meeting increasing sustainability standards. ALUCOBOND® has an environmental product declaration (EPD) according to international ISO standards. The EPD provides information on the environmental impact and implications of the product, such as energy consumption, greenhouse gas emissions (CO2) or water consumption.
ALUCOBOND® PLUS is stocked in 86 trend-forward finishes providing specifiers and architects with a plethora of options. ALUCOBOND® PLUS is manufactured in Benton, KY.
www.alucobondusa.com

Course Library