The Ornamental Metal Institute of New York
The Ornamental Metal Institute of New York is a not-for-profit association created to advance the interests of the architectural, ornamental, and miscellaneous metal industries by helping architects, engineers, developers, and construction managers transform designs into reality.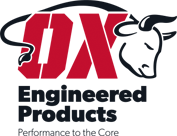 OX Engineered Products
Headquartered in Northville, MI, OX Engineered Products is a leading specialty manufacturer of structural sheathing and thermal insulation building products. OX provides a variety of building materials serving both the residential and commercial construction markets throughout the United States. OX products are designed to allow builders to save time and money while meeting the most stringent building codes.