Ecore USA
At Ecore, we are driven by this question: Can a floor do more? We believe the answer is YES! We are building our company and the products we offer based on the simple notion that floors should elevate beyond current expectations. We engineer performance well beyond industry standards related to acoustics, ergonomics, and safety.

Elemex Architectural Facade Systems
Elemex offers the architectural industry new design possibilities with code compliant facade systems that are tested on our proprietary Unity integrated attachment technology. With Unity, we are capable of panelizing and seamlessly integrating a wide variety of facade surfaces, giving you limitless design flexibility. Our systems are backed by comprehensive support across North America with our 360° Advantage.

Emser Tile
Established in 1968, Emser Tile, headquartered in Los Angeles, is the leading designer, marketer and producer of the world's finest tile and natural stone. By offering unparalleled service and a dynamic selection of products, Emser is one of the most comprehensive sources for interior and exterior products that include porcelain, ceramic, metal, glass, quarry, decorative accents and mosaics, cut-to-size stone, setting materials, and custom manufactured products made to your specifications.
Emser products are designed for both residential and commercial projects. Emser's nationwide locations plus four, state of the art distribution centers and over 3 million square feet of warehousing space, combine national presence with local service. This allows us to respond to the changing trends and technology.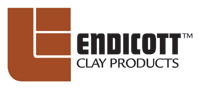 Endicott Clay Products
Since 1920, Endicott has been setting the standard for quality and craftsmanship with the industry's best thin brick, face brick, tile and pavers. You'll find Endicott on some of the most exciting new projects all across the U.S. and Canada.

EXACORTM MgO Board
Made of magnesium oxide (MgO) and an integrated mesh core, EXACOR
™
panels are non-combustible and structural, making them a streamlined single-layer solution for a smooth, structural base for floor coverings that can eliminate the need for wet-laid gypsum underlayment.
exacor.com